Staten Island, New York Car Donations
Donate Your Vehicle and Save Lives!
Ease the Burden of Breast Cancer Sufferers Through Staten Island, New York Car Donations
Did you know that Staten Island has the highest overall cancer incidence rate of all the boroughs in New York? That information comes from the American Cancer Society Cancer Action Network.
If you're a local and you care for the breast cancer sufferers and their families in your neighborhood, you might want to give them a helping hand by making a vehicle donation to us at Breast Cancer Car Donations through our Staten Island, New York car donations program. As you extend life-saving assistance to them, you'll also be able to get rid of that hunk of junk that's been hogging up valuable space in your backyard.
How We Help Breast Cancer Patients on Staten Island
Breast Cancer Car Donations operates vehicle donation programs on behalf of reputable IRS-certified 501(c)3 nonprofit organizations that are working hard to provide comprehensive breast health services to communities throughout the country. We process the auction sale of every vehicle that's donated us and hand over the proceeds to our charity partners so they can use the money in delivering their life-saving services to those whose lives have been touched by breast cancer.
You're probably aware that breast cancer treatment is expensive. Many patients who couldn't afford it often choose to suffer in silence rather than burden their families with the cost. If you take part in our Staten Island, New York car donations program, you'll give the underserved and uninsured breast cancer patients in your local area free and easy access to low-cost or no-cost breast cancer screening, diagnosis, and treatment services.
The Benefits of Taking Part in Our Car Donations Program
Getting your hands off a no-longer-needed vehicle has never been so easy with Breast Cancer Car Donations. We make sure that all our donors will have the best giving experience they could possibly have. Look over this list of benefits that you'll enjoy once you join our Staten Island, New York car donations program:
Since your charitable contribution is 100% tax-deductible, you'll enjoy a healthy tax write-off in the next tax season. Plus, you can finally quit paying for your unwanted vehicle's repairs, maintenance, insurance, and storage fees. Best of all, we'll have it towed away at no cost to you!
Unlike selling a used vehicle yourself, donating means not having to wait for hours, days, weeks, and months before a prospective buyer gives you the offer you were hoping to get. Plus, there's no need for you to spend time driving your vehicle to the auto shop when it breaks down for the nth time.
Lastly, since our team will take care of all the logistics and the paperwork concerning your donation, you won't have to spend more than five minutes of your time on making pickup arrangements with the towing company or setting all the documents in order.
Know that your donation will help ease the burden of breast cancer sufferers in your neighborhood. Thousands of hurting individuals and families will benefit from your kindness and generosity.
The Types of Vehicles You Can Donate
Although it's true that we can get more money from vehicles that are in good working condition, we won't hesitate to accept those that badly need a lot of work. You can donate any vehicle as long as you are in possession of its title. In case you've misplaced or lost the title, you can simply contact our title experts at 866-540-5069. We'll gladly help you obtain a replacement copy of your title quickly so you can proceed with your donation.
For now, look over the main categories of the types of vehicles that we're willing to accept in our Staten Island, New York car donations program:
Standard vehicles
Cars: coupes, convertibles, hatchbacks, luxury cars, sports cars, hybrids, sedans, etc.
Trucks: pickup trucks, panel trucks, extended cabs, box trucks, refrigerator trucks, dump trucks, etc.
Vans: cargo vans, passenger vans, minivans, family vans, etc.
SUVs: crossover versions, compact, mid-size, and full-size
Fun vehicles
Motorcycles: touring bikes, dirt bikes, scooters, choppers, mopeds, off-road bikes, cruisers, etc.
ATVs: three-wheelers, four-wheelers
Boats: fishing boats, catamarans, cruise ships, yachts, tugboats, speedboats, sailboats, pontoon boats, etc.
Others: Jet Skis, RVs, noncommercial planes, gliders, golf carts, snowmobiles, campers, trailers, motorhomes, etc.
Work vehicles
Construction vehicles
Landscaping vehicles
Farm equipment
Other vehicles
Riding lawnmowers
Motorized wheelchairs
How to Join Staten Island, New York Car Donations
You won't have to break a sweat when you donate a vehicle to us at Breast Cancer Car Donations. Just follow the steps below and you're on your way to becoming a hero to breast cancer patients in your local community:
1. Get in touch with us.
You can choose to donate your gift over the phone by ringing us up at 866-540-5069. We'll ask for your contact information and a few details about your vehicle (year, make, model, mileage, working condition, and availability of its title). You can also donate your vehicle by filling out our simple and secure donation form on this website.
2. Schedule your vehicle's FREE pickup.
We'll ask you to tell us your preferred date, time, and location for your vehicle's pickup. We'll then send a tow truck to collect your donation. We'll issue you a towing receipt before we haul off your vehicle. This receipt will release you from all liabilities on that vehicle from that point forward.
3. Receive your tax-deductible receipt by mail.
Your gift will be sold at auction. We'll then transfer the proceeds generated from its sale to our charity partners. You'll receive your tax-deductible receipt by mail within a few days after your vehicle gets auctioned off. Keep this document so that you can use it to claim your tax deduction when you file your itemized federal income tax return in the next tax season.
For more information about our donation process, check out our FAQs page. If you have questions that are not found on that page, don't hesitate to talk to one of our friendly staff by calling us 866-540-5069.
Donate Your Clunker Today!
Why hold on to a useless vehicle when you can use it to help save lives in your community? Jumpstart your Staten Island, New York car donations process by calling us at 866-540-5069 or filling out our online donation form today!
or Call Us Now at 866-540-5069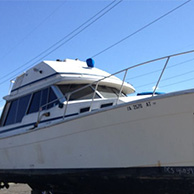 Excellent customer service!