Brooklyn, New York Car Donations
Donate Your Vehicle and Save Lives!
Participate in Brooklyn, New York Car Donations to Beat Breast Cancer!
Are you one of those folks who want to get rid of their clunkers quickly, for free, and with zero hassle? If so, then donating it to us at Breast Cancer Car Donations through our Brooklyn New York car donations program is your best option. You'll not only set yourself up for the fastest and most convenient way to dispose of your old beater, but you'll also give needy breast cancer patients a chance to get themselves treated and beat the deadly disease.
What is Breast Cancer?
Breast cancer is a life-threatening disease that's characterized by an uncontrollable growth of malignant cells in the breast tissues of the affected individual. In the United States alone, one in eight women is bound to be diagnosed with breast cancer within her lifetime. To give you a clearer idea, on average, a woman is diagnosed with the disease every 2 minutes and another one loses her life to the disease every 13 minutes.
This gives us no reason to wonder why this dreadful disease remains to be the second leading cause of cancer death among women in the United States. Breast cancer treatment doesn't come cheap, and constant treatment is often needed over a certain period of time. This harsh reality often prevents those who are uninsured from accessing much-needed breast health care.
What We Do to Ease the Burden of Breast Cancer Victims
Breast Cancer Car Donations believes that every person – regardless of age, gender, ethnicity, educational attainment, and socio-economic background – deserves to have free access to comprehensive breast health services. We demonstrate our commitment to attaining this objective by operating vehicle donation programs on behalf of like-minded IRS-certified 501(c)3 nonprofit organizations that we have partnered with. These charities operate programs and deliver life-saving breast health services for all who need them.
By joining our Brooklyn, New York car donations program, you'll help us generate the money that our charity partners need to cover the cost of their operations. We'll sell your donated vehicle through auction and use the proceeds to support the comprehensive breast health services that our charity partners provide to uninsured and underserved individuals in your community and elsewhere in the country. These nonprofits provide their beneficiaries with financial assistance as well as access to medical facilities so they can undergo full treatment. They also offer free breast cancer screening as well as other breast cancer prevention and education services.
Your Guide to Joining Brooklyn, New York Car Donations
Breast Cancer Car Donations makes it a point to provide our donors with a convenient charity platform. Here's a quick three-step guide to how our Brooklyn, New York car donations program works:
1. Contact us.
Tell us your interest in donating your vehicle by giving us a call at 866-540-5069. We'll ask for your contact details and bits of basic information about your vehicle, including its year, make, model, mileage, general working condition, and the availability of its title. You can also choose to donate your vehicle by filling out our simple donation form on this website.
2. Schedule your vehicle's pickup.
We'll call you back as soon as we verify the information you shared with us. We'll ask you to provide us with the date and time that are most convenient to you for your vehicle's fast and FREE pickup.
We'll then send over a licensed tow truck to haul your vehicle away from any location of your choice. You won't have to spend a single dime on towing because it's on us. You won't even have to be there when the tow truck shows up as long as you tell us where we can locate your keys and title inside your vehicle.
Before the tow truck leaves with your vehicle, the driver will hand you a towing receipt, which releases you from all liabilities pertaining to your vehicle from that point onward. Once you have this document, you can call your insurance provider for the cancellation of your coverage and your local DMV for the de-registration of your vehicle.
3. You receive your tax-deductible receipt.
We'll have your vehicle auctioned for the highest price possible. Once your vehicle is sold, we'll send your 100% tax-deductible sales receipt by mail so you can use this in itemizing your taxes when you file your federal income tax return in the next tax season.
For more information about how everything works in our donation process, check out our FAQs page. For inquiries, you may call us at 866-540-5069 or send us a message online.
Your Share of Donation Benefits
You may be surprised to find out that you stand to gain much when you take part in our Brooklyn, New York car donations program. Here's a list of the good stuff that you're going to enjoy once you donate your vehicle to us:
You'll qualify for a maximum tax deduction in the next tax season.
You get free car removal from any location of your choice and according to your preferred schedule.
You won't have to go through all the hassles associated with trying to sell a used vehicle yourself.
Skip the need to spend your hard-earned money on repairs, maintenance, and storage of a vehicle that you don't even want.
You don't have to spruce up your old beater to make it look more appealing because we'll take it as it is.
The Types of Vehicles You Can Donate
The best thing about donating to Breast Cancer Car Donations is that we're willing to accept nearly all types of vehicles in whatever condition they're in – as long as they're not abandoned or stolen. To make it possible for us to sell a vehicle at auction, we need its title or proof of ownership, which abandoned or stolen vehicles do not have.
However, in case you've just misplaced your vehicle's title, call us at 866-540-5069 and we'll gladly help you secure a duplicate copy of your title quickly so you can proceed with your donation.
Here's a list of vehicles that we welcome in our Brooklyn, New York car donations program:
Cars: sedans, compact cars, coupes, luxury cars, convertibles, hybrids, sports cars
SUVs: compact, mid-size, full-size, crossover versions
Vans: cargo vans, passenger vans, family vans, minivans
Trucks: mobile cranes, garbage trucks, refrigerator trucks, tank trucks, dump trucks, extended cabs, box trucks
RVs: toy haulers, folding and tent trailers, hybrid trailers, travel trailers, motorhomes, campers
Fleet vehicles: limousines, buses, minivans, vans, taxis, ambulances
ATVs: three-wheelers, four-wheelers
Motorcycles: scooters, mopeds, choppers, touring bikes, sports bikes, dirt bikes, off-road bikes, cruisers
Specialty vehicles: motorized wheelchairs, ATVs, golf carts, snowmobiles, riding lawnmowers
Work vehicles: landscaping vehicles, tractors, farm equipment, construction vehicles
Aircraft: gliders, noncommercial planes, helicopters
Water vessels: cruise ships, yachts, pontoon boats, catamarans, tugboats, sailboats, speedboats, fishing boats, motorboats
Today's a Great Day to Join Brooklyn, New York Car Donations!
If you have a clunker and a heart for hurting people, participate in our Brooklyn, New York car donations program to beat breast cancer today! Call us at 866-540-5069 or fill out our secure online donation form right now to get started!
or Call Us Now at 866-540-5069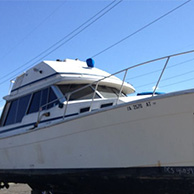 Excellent customer service!