Norwalk, Connecticut Car Donations
Join Norwalk, Connecticut Car Donations to Fight Breast Cancer!
Join Norwalk, Connecticut Car Donations to Fight Breast Cancer
Does your front yard look like a mini-junkyard with all those rusty non-running vehicles sitting on it? Perhaps you've totally given up all hope of ever getting around to giving each of those outdated clunkers a quick fix and cleaning them so you can sell them for a good price. Before your neighbors contact the homeowner's association or the city government to complain about the mess in your front yard, consider donating those unwanted vehicles to our Norwalk, Connecticut car donations program.
When Breast Cancer Rears Its Ugly Head
Did you know that based on the recent U.S. breast cancer statistics, one in every eight American women will develop invasive breast cancer over the course of her lifetime? That's 12% of the female population in the United States!
In case you're not aware, the most commonly diagnosed cancer among women after skin cancer happens to be breast cancer. In fact, based on statistical data, breast cancers will comprise about 30% of newly diagnosed cancers among women. Furthermore, for 2019 alone, an estimated 41,760 women in the United States are expected to lose their lives to breast cancer.
How We Fight Breast Cancer
We at Breast Cancer Car Donations and our IRS-determined 501(c)3 nonprofit partners believe that every individual – regardless of their gender, race, educational attainment, and socio-economic background – should stand a chance against breast cancer. When you join our Norwalk, Connecticut car donations program, you'd be joining nonprofits that are working tirelessly to fight this deadly disease. We'll auction off your donated vehicle and use the proceeds to support the programs and services they render. Thanks to your vehicle donation, needy breast cancer patients will be able to get financial assistance, counseling, therapies, and treatment while others will receive access to early breast cancer screening.
If you need more information about the ins and outs of our donation process or how your gift can save more lives, feel free to visit our FAQs page or send us a message online.
How to Donate Your Vehicle
Our Norwalk, Connecticut car donations process is so quick and painless that you won't even have to break a sweat to get it started. Our team will make sure that you'll have the most convenient and stress-free giving experience you could possibly have. Here's a quick guide to our donation process:
STEP 1: Reach out to us.
You can reach us by calling 866-540-5069 or by filling out our simple and secure online donation form. We'll ask you a few questions about your vehicle such as its year, make, model, mileage, working condition, and the availability of its title. We'll also need your basic contact information.
STEP 2: Schedule your vehicle's pick up.
Once we verify your information, we'll call you back to ask you when, what time, and where you want us to pick up your vehicle. A truck from a licensed towing company will head down to your designated location to haul off your vehicle – at no cost to you. The tow truck driver will hand you a towing receipt so you can be released from all liability on your vehicle from that point onward. This receipt will also enable you to cancel your vehicle registration and insurance coverage.
STEP 3: Receive your tax-deductible receipt by mail.
We'll send you your 100% tax-deductible receipt by mail within 30 days after your vehicle is sold at auction. You'll need this receipt when you claim your tax deduction in the next tax season.
Why Join Our Norwalk, Connecticut Car Donations Program?
The best part about taking part in our Norwalk, Connecticut car donations program is the fact that you'll be helping save the lives of underprivileged and uninsured breast cancer patients in your city. Aside from this, you will also have your own share of rewards. Here are some of them:
You won't need to suffer from the hassles of reselling a used vehicle.
Donating an old vehicle to us means you no longer have to bear the costs and undergo the hassles of trying to resell a second-hand vehicle yourself. We'll take your vehicle as it is or even if it has dents and is no longer in good running condition or not running at all.
You'll be free from the responsibility of caring for a car you no longer want.
You can forget about paying for the cost of your vehicle's maintenance, repairs, registration, and insurance, thus saving you a considerable amount of money.
You can donate any type of vehicle.
We won't limit your donation to cars because we accept any type of vehicle including all sorts of trucks, vans, SUVs, recreational vehicles, work-related vehicles, boats, planes, and even your dad's old riding lawnmower!
You'll get a huge tax break.
If your donated vehicle sells for $500 or less, you can claim a tax deduction that's equivalent to its exact selling price or its fair market value up to $500, whichever is higher. On the other hand, if it sells for more than $500, you can have a tax deduction that's equivalent to the exact amount for which it was sold.
Stand Up to Breast Cancer Now!
Are you ready to join the fight against breast cancer? Turn your clunker into a powerful weapon now! Call us at 866-540-5069 or fill out our online donation form and take part in our Norwalk, Connecticut car donations program.
or Call Us Now at 866-540-5069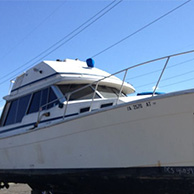 Excellent customer service!