Car Donation Greenwich, Connecticut
Use Your Old Car to Bring New Hope to Needy Breast Cancer Patients
Are you stuck with a vehicle that you no longer need? Instead of letting that eyesore clog your garage, why not simply donate it to us at Breast Cancer Car Donations through our Greenwich, Connecticut car donations program? Doing so will not only free you from the hassles of keeping an unwanted vehicle but will also allow you to extend life-saving assistance to needy breast cancer patients in your town.
Breast Cancer Statistics in the United States
A person gets diagnosed with breast cancer when cancer cells are found in their breast tissue. In the U.S. alone, 13% of the female population is expected to develop invasive breast cancer at some point in their lives. In its 2020 projections, the National Cancer Institute estimated some 276,480 new female breast cancer cases and 42,170 breast cancer deaths.
Moreover, the American Cancer Society states that breast cancer remains the most common type of cancer that affects women in the U.S., next to skin cancer. The same source points out that a woman who has been diagnosed with the disease has a 2.6% chance of dying from it.
A Closer Look at the People Who Live in Greenwich, Connecticut
Based on the latest data from the United States Census Bureau, Greenwich town in Fairfield County, Connecticut had an estimated population of 62,840 as of July 2019. The data also show that 5.4% of those under the age of 65 had no health insurance while 6% of the town's residents were classified as persons in poverty.
The town's impoverished residents who have no health insurance possibly include those diagnosed with breast cancer. Through our Greenwich, CT car donations program, you can extend life-saving assistance to these destitute breast cancer patients.
How We Help Breast Cancer Patients in Greenwich, CT
Breast Cancer Car Donations operates vehicle donation programs on behalf of reputable IRS-certified 501(c)(3) nonprofit organizations. These nonprofits work hard to provide comprehensive breast health services to communities throughout the country. We process the auction sale of every vehicle that's donated to us and hand over the proceeds to our charity partners so they can use the money to deliver their life-saving services to those whose lives have been touched by breast cancer.
Since breast cancer treatment is expensive. many patients who couldn't afford it often choose to suffer in silence rather than burden their families with the cost. If you take part in our Greenwich, CT car donations program, you'll enable the underserved and uninsured breast cancer patients in your local area to gain access to top medical facilities where they can get various types of treatment, including surgery, chemo, and radiation therapy. Other beneficiaries get to receive free breast cancer screening and prevention and education services.
These Fabulous Rewards Await You
You'll enjoy valuable rewards when you donate a vehicle to Breast Cancer Car Donations. You can count on us to make everything easy for you.
Here are some of the biggest perks you'll get when you take part in our Greenwich, CT car donations program.
You'll receive a top tax deduction in the next tax season.
You'll get free vehicle towing.
Our donation process is simple and straightforward and our customer service is superb.
We'll take care of all the logistics and the paperwork concerning your donation.
Quit paying for your unwanted vehicle's insurance coverage, registration, storage, maintenance, and repairs.
Savor the satisfaction of helping save lives.
Making a Greenwich, CT Car Donation Is Easy
We want to keep our donation process simple and straightforward. Expect to enjoy your best giving experience when you make a Greenwich, CT car donation.
To get you started, check out this step-by-step guide to our donation process:
1. Contact us.
You can choose to donate your vehicle online by filling out our donation form here or over the phone by calling us at 866-540-5069. Provide us with your contact information and a few basic details about your vehicle, including its year, make, model, and mileage. We also need you to give us an idea about your vehicle's working condition and a confirmation of the availability of its title.
2. Schedule your free vehicle pickup.
Pick a time, date, and place for your vehicle's free towing. We'll send a tow truck to haul your clunker away. If you wish to arrange a contactless pickup, just tell us where we can find your keys and title inside the vehicle.
3. Receive your tax-deductible receipt.
A few days after we get your vehicle sold at an auction, you'll receive your 100% tax-deductible sales receipt via mail. You need this document to claim your tax deduction in the next tax season.
If you have any questions or concerns about our donation program, including our donation process, feel free to contact us at 866-540-5069. You may also write to us here.
Feel Free to Donate Any Type of Vehicle
We're willing to receive any type of vehicle regardless of its condition in our Greenwich, Connecticut car donations program. Feel free to hand over to us a vehicle with a lot of miles on it or one that needs a few repairs.
Multiple donations don't faze us either, so don't hesitate to donate as many vehicles as you can to us.
Here's a list of the different types of vehicles we've been receiving from our donors:
Cars: luxury, compact, sports, station wagon, convertible, hybrid
SUVs: compact, full-size, crossover
Trucks: panel, pickup, box
Motorcycles: off-road bike, touring, cruiser, scooter
Vans: cargo, passenger, minivan
ATVs: three- and four-wheelers
Boats: sailboats, fishing boats, speedboats, tugboats, Sea Rays
Aircraft: gliders, helicopters, non-commercial planes
Small extra vehicles: Jet Skis, snowmobiles, motorized wheelchairs, riding lawnmowers
Large extra vehicles: campers, buses, RVs, motorhomes, bus conversions, tractors, campervans, landscaping vehicles, construction vehicles
Fight Breast Cancer in Greenwich, Connecticut Today!
Your vehicle donation will surely touch the lives of breast cancer patients in your town. Call Breast Cancer Car Donations at 866-540-5069 or fill out our online donation form now!
or Call Us Now at 866-540-5069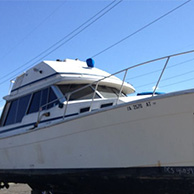 Excellent customer service!