Bridgeport, Connecticut Car Donations
Donate Your Vehicle and Save Lives!
Breast Cancer Patients in Bridgeport, CT Need Your Support
This year, Connecticut authorities estimate 3,490 new cases of breast cancer in women and 430 deaths from the disease in the state. Although the death rate has been going down over the years – thanks to early screening, diagnosis, and modern treatment – many breast cancer patients are still in need of vital assistance. One of the fastest ways you can help save their lives is by taking part in our Bridgeport, CT car donations program.
We at Breast Cancer Car Donations have a lifelong mission of supporting breast cancer patients throughout the United States. We accept used vehicles, auction them off, and use the proceeds to help fund our charity partners. These are IRS-certified 501(c)3 nonprofit organizations that provide their beneficiaries with easy access to medical facilities so they can undergo full treatment. They also offer free breast cancer screening as well as other breast cancer prevention and education services.
A vehicle that you might have already considered as useless can actually be a source of hope for breast cancer sufferers in Bridgeport, CT. If you're willing to help these women in their fight against the devastating disease, consider making a vehicle donation with us. Your generosity will mean the world to them and their families.
Why Make a Bridgeport, CT Car Donation with Us
Teaming up with Breast Cancer Car Donations is a decision you won't regret. Aside from the fact that you'll be supporting cancer-stricken women, you'll also be giving yourself tons of benefits. Expect these wonderful things to come your way:
Towing's on us. There's no need to shell out cash when you donate to us. Tell us where you want your car picked up, and our tow truck will be there within 48 hours.
No reselling hassles. Instead of worrying about the costly fees of repairs and ad placements, you'll find yourself problem-free as you wouldn't be paying for them anymore when you donate your vehicle. A huge money-saver, indeed!
No headaches of paperwork. Count on us to take care of all your necessary documents.
No need to deal with strangers. You won't have to entertain prospective buyers coming to your place to check your car, nor will you be wasting your time negotiating with hagglers.
A significant tax deduction. The best part of donating to our Bridgeport, CT car donation program is the hefty tax deduction that awaits you!
How Our Donation Process Works
At Breast Cancer Car Donations, we always see to it that our donors go through a donation experience that's completely free of stress. We make it our job to manage everything, including all the paperwork and the towing. To give you even better news, our towing service is available in all parts of the country!
Once you've decided to donate a car in Bridgeport, CT, just reach out to us. Give us a call at 866-540-5069 or simply fill out our online donation form. We'll ask for certain details about your car, after which we'll arrange a schedule for its free pickup.
A day or two later, expect a tow truck in your place. Be sure that you have your car keys and title ready for our driver to collect. You will then be handed a tow receipt, clearing you from the responsibilities of your car from that point forward.
Several weeks after the sale of your Bridgeport, CT car donation, we'll mail you your 100% tax-deductible sales receipt. You'll need this document to claim your tax incentives in the next tax season, so don't lose it.
Interested to learn more about our vehicle donation program? Check out our FAQs page or talk to one of our specialists at 866-540-5069!
Vehicles We Usually Take as Bridgeport, CT Car Donations
Unlike other car donation programs in Bridgeport, Connecticut, we accept nearly all kinds and types of vehicles, including those that are no longer in good running condition. As long as you're giving as an automobile that can still generate funds, we'll be more than happy to have it with us. Actually, we seldom turn down an offer.
To give you an idea of what we typically accept as donations, here's a quick list:
Standard vehicles: sedans, SUVs, trucks, vans
RVs: campers, motorhomes, pop-up trailers
Specialty vehicles: ATVs, motorized wheelchairs, golf carts, snowmobiles
Motorcycles: scooters, cruisers, dirt bikes, sports bikes
Watercraft: catamaran boats, yachts, jet skis, pontoon boats, motorboats
Not sure if we'll accept your damaged motorcycle? Call us at 866-540-5069 or send us a message online, and we'll tell you what we think! We have a good feeling that we'll still take it!
 
Take Action Today
Turn your old clunker into a life-changing instrument now! Help us save lives with it. Call us at 866-540-5069 and make a Bridgeport, CT car donation with us.
or Call Us Now at 866-540-5069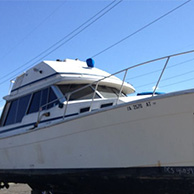 Excellent customer service!