Car Donation Danbury, Connecticut
Give Needy Patients a Fighting Chance to Beat the Big C
Donating a vehicle to Breast Cancer Car Donations makes a lot of sense if you're looking for ways to dispose of an unwanted vehicle while doing a good charitable deed in Danbury, Connecticut.
Aside from setting yourself up for the most convenient way to get rid of a clunker, your donation is also 100% tax-deductible! This means that if you itemize your deductions on your federal tax return, you can enjoy a huge tax break in the next tax season.
Best of all, your donation will help us raise the money that's needed to sustain our charity partners' critical programs and services for the benefit of the uninsured and underserved breast cancer patients who live in your city.
With your help, they'll gain access to timely breast cancer screening, diagnosis, treatments, as well as follow-up care.
In other words, you'll get a chance to save lives when you take part in our Danbury, CT car donation program. What could be any better than that?
What You May Not Know About Breast Cancer
Did you know that breast cancer is the second most common type of cancer that afflicts women in the United States? The latest U.S. breast cancer statistics show that it affects 13% of the female population in the country. This means that 1 in every 8 women will be diagnosed with invasive breast cancer at some point in her life.
Furthermore, the American Cancer Society estimates that for 2021, about 281,550 new cases of invasive breast cancer will be diagnosed in women and that about 43,600 women will lose their lives to this horrible disease.
About Danbury, Connecticut
According to the United States Census Bureau, the city of Danbury in Connecticut had an estimated population of 84,694 as of July 2019. Moreover, about 11.5% of its residents were listed as living in poverty and 18.5% were identified as persons under 65 years who don't have health insurance.
We can only assume that some breast cancer sufferers in Danbury are among the city's impoverished folks in Danbury who don't have health insurance.
You can extend a helping hand to them by donating any type of vehicle you no longer need to us at Breast Cancer Car Donations through our Danbury, CT car donations program. We'll use your donation to provide needy breast cancer patients in your city with low-cost or no-cost breast health services.
What Happens to Your Donated Vehicle?
Breast Cancer Car Donations is the online vehicle donation platform for reputable IRS-determined 501(c)(3) nonprofit organizations that are battling against breast cancer in communities across the United States.
All vehicles donated to our Danbury, CT car donations program go through a thorough assessment before they're sold at auction. Since we're affiliated with several auction houses, you can count on us to make sure that your donated vehicle will be sold through the one we believe will bring the highest sale price possible. We do this because we want our charity partners to get the most out of each donation. We also want you to get a top tax deduction.
The proceeds from the sale of your donated vehicle will be used to fund programs that aim to achieve the following goals:
Provide financial assistance to uninsured and underserved individuals so they can have access to breast cancer screening, diagnosis, treatment, and follow-up care;
Establish and improve link and referral systems for breast cancer patients to gain free access to local resources, services, and information that are customized according to each person's ethnic and linguistic needs; and
Raise public awareness of the nature of breast cancer, how to prevent it, and the importance of early detection.
How to Donate a Vehicle to Breast Cancer Car Donations
We're proud to say that our donation process is as easy as 1-2-3! Even if you're making a vehicle donation for the first time, we can guarantee you a smooth and pleasant giving experience. Take a look at the quick and simple donation process we follow in our Danbury, CT car donations program:
1. Reach out to us.
If you want to process your donation online, simply fill out the donation form we have here. However, if you prefer to do it over the phone, call us at 866-540-5069. Our lines are open 24/7. Just give us your contact details and your vehicle's year, make, model, mileage, etc., and you're good to go.
2. Allow us to pick up your vehicle for free.
Once we verify your information, we'll schedule your vehicle's fast and free pickup based on the date, time, and location of your choice. If you want to arrange a contactless vehicle pickup, tell us where we can find your keys and title inside your vehicle.
3. Receive your tax-deductible receipt.
A few days after we get your vehicle sold, you'll receive your 100% tax-deductible sales receipt via mail and/or email.
For more information on our vehicle donation program, check out our FAQs page. If you have any concerns or questions, you may call us at 866-540-5049 or send us a message online.
The Vehicles that Qualify in Our Program
You can donate to us nearly all types of vehicles regardless of their age or condition. We accept vehicles even if they're rusty and no longer running.
Look over this list of vehicles that we welcome in our Danbury, CT car donations program:
Cars: sedans, luxury cars, coupes, convertibles, hybrids, sports cars, wagons, hatchbacks
Vans: family minivans, camper vans, cargo vans, passenger vans
SUVs: compact, midsize, full-size, or crossover versions
Motorcycles: touring bikes, cruisers, scooters, off-road bikes, mopeds, sports bikes, choppers
Trucks: box trucks, pickup trucks extended cab pickup, panel trucks, refrigerator trucks, tank trucks
Boats: fishing boats, sailboats, tugboats, speedboats, houseboats, cruise ships, catamarans, pontoon boats, yachts
Specialized vehicles: riding lawnmowers, motorized wheelchairs
Fleet vehicles: SUVs, pickups, trucks, buses, cars, passenger vans, cargo vans, limousines, ambulances, taxicabs
Recreational vehicles: noncommercial planes; campers, travel trailers, snowmobiles, Jet Skis, RVs, motor homes, pop-up trailers, ATVs
Work-related vehicles: construction vehicles, tractors and farm equipment, buses, large trucks, landscaping vehicles
Let's Work Together to Make a Difference!
If we work together, we can make it possible for needy breast cancer patients in your city to live longer. Give them a fighting chance to beat cancer with your participation in our Danbury, Connecticut car donations program. Call Breast Cancer Car Donations at 866-540-5069 or fill out our online donation form now!
or Call Us Now at 866-540-5069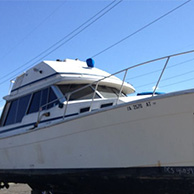 Excellent customer service!