Car Donation Fairfield, Connecticut
Car Donation Fairfield, Connecticut: Your Car Donation Can Help Save Lives!
Are you interested in doing a great deed while getting rid of an unwanted vehicle with no hassle and no cost to you? Breast Cancer Car Donations offers you a chance to do both when you donate that unneeded vehicle to us here in Fairfield, Connecticut.
We'll use your gift to generate funds for the critical programs and services that our charity partners provide to needy breast cancer patients residing in your town.
U.S. Breast Cancer Statistics You Need to Know
Did you know that 1 in 8 American women is expected to develop breast cancer within her lifetime? In 2021 alone, the American Cancer Society estimates that about 281,550 new cases of invasive breast cancer will be diagnosed and about 43,600 women will die from this terrible disease. Breast cancer is the most common type of cancer that affects women in the United States, next to skin cancer.
About Fairfield, Connecticut
As of July 2019, the United States Census Bureau confirms that the estimated population of the town of Fairfield in Connecticut was at 62,045, with women comprising 52.7% of the total number of residents. According to the same source, 4.3% of the population was classified as persons under the age of 65 who had no health insurance, while 5.2% comprised of persons in poverty.
It may not be farfetched to assume that some of the impoverished residents of Fairfield and surrounding areas who have no health insurance have fallen victim to breast cancer. That's why we have launched our Fairfield, CT car donations program to provide much-needed medical assistance to destitute breast cancer patients in your local area.
What We Do to Help Breast Cancer Sufferers
When it comes to breast cancer, early detection is extremely important. If the disease is detected early, the patient can have more treatment options as well as a better chance for survival.
However, if a patient's cancer was not detected early, the typical cost of breast cancer treatment is around $5,000 without private health insurance. That's an amount many financially struggling breast cancer patients can't afford.
To give them a chance to receive much-needed treatment, Breast Cancer Car Donations has teamed up with reputable IRS-determined 501(c)3 nonprofit organizations. We raise funds for their programs by selling vehicles donated to us. These charities use the funding we give them to provide their beneficiaries with financial assistance as well as access to medical facilities so they can undergo full treatment. They also offer free breast cancer screening as well as other breast cancer prevention and education services.
What's in It for You?
When you donate a vehicle to Breast Cancer Car Donations through our Fairfield, CT car donations program, you're signing up for a win-win situation. In exchange for your generosity, you'll get to enjoy the following:
Donating to us means getting rid of an unwanted vehicle without having to spend a single dime on towing. We'll pick up your car at a date, time, and place convenient for you.
Since we work with IRS-determined 501(c)(3) nonprofits, your donation will automatically qualify you for a top tax deduction in the next tax season.
Perhaps the best thing about donating a vehicle to Breast Cancer Car Donations is the deep sense of satisfaction you'll have, knowing that you're doing something that can potentially save lives.
Step-By-Step Guide to Making a Fairfield, CT Car Donation
Since we always have your convenience and safety in mind, we won't require you to step out of your home during the donation process. Here's a look at how you can donate your unwanted vehicle to help make Fairfield, Connecticut a better place for its residents:
STEP 1: Get in touch with us.
You may choose to process your donation by simply filling out our online donation form here or by giving us a call at 866-540-5069. Our lines are open 24/7 and we're equipped to handle vehicle donations from anywhere in the United States.
We'll ask for your contact information as well as your vehicle's year, make, model, and mileage. We'll also ask you to confirm the availability of the title of your vehicle and to give us an idea about its working conditions.
STEP 2: Schedule your free pickup.
Once we verify your information, we'll call you back to ask you to give us your preferred time, date, and location for your vehicle's free pickup. Since physical contact isn't necessary to donate your vehicle, we can arrange a free contactless pickup for you. We recommend that you place the keys and vehicle documents in a designated location inside your vehicle.
STEP 3: Receive your 100% tax-deductible receipt.
Once we get hold of your vehicle, we'll have it auctioned off in one of the best auction houses within our network. Within a few days following the sale of your vehicle, we'll send you your 100% tax-deductible sales receipt via mail and/or email.
If you're interested to learn more about our Fairfield, CT car donation program, feel free to visit our FAQs page. Should you have any questions or concerns, don't hesitate to call us at 866-540-5069 or leave us a message here.
The Vehicle Donations We Accept
Breast Cancer Car Donations accepts all sorts of vehicle donations regardless of their age, mileage, or condition. In most cases, we even take vehicles that need a lot of work. Take a look at this list of vehicle types that we welcome in our Fairfield, CT car donations program:
Cars: luxury, compact, sports, station wagon, convertible, hybrid
SUVs: compact, full-size, crossover
Trucks: panel, pickup, box
Motorcycles: off-road bike, touring, cruiser, scooter
Vans: cargo, passenger, minivan
ATVs: three- and four-wheelers
Boats: sailboats, fishing boats, speedboats, tugboats, Sea Rays
Aircraft: gliders, helicopters, non-commercial planes
Small extra vehicles: Jet Skis, snowmobiles, motorized wheelchairs, riding lawnmowers
Large extra vehicles: campers, buses, RVs, motor homes, bus conversions, tractors, campervans, landscaping vehicles, construction vehicles
Help Fight Breast Cancer in Fairfield, Connecticut!
You don't have to tie yourself down to a vehicle that you no longer want or need. Donate it to Breast Cancer Car Donations to help struggling breast cancer patients in Fairfield, Connecticut. Call 866-540-5069 or fill out our online donation form now!
or Call Us Now at 866-540-5069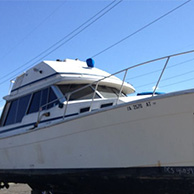 Excellent customer service!