Stamford, Connecticut Car Donations
Donate Your Vehicle and Save Lives!
Stamford, Connecticut Car Donations: Donate a Car, Save Lives
What's the point of keeping a dusty old automobile in your garage when you can actually get rid of it for a worthy cause? By handing it over to our Stamford, CT car donations program, you'll make it possible for needy breast cancer-stricken individuals in your area to get the treatment they badly need.
How Your Old Car Can Impact Lives
Breast Cancer Car Donations has been working tirelessly for years now to support the needs of breast cancer patients in the country. We've partnered with two like-minded charity organizations – the Women Involved in Nurturing, Giving, Sharing, Inc. (WINGS) and American Breast Cancer Foundation (ABCF) – in pursuance of our mission to bring life-saving assistance to uninsured and underserved breast cancer patients.
We sell via auction all vehicles donated to us and use the proceeds to support the programs and services being provided by our charity partners to their beneficiaries. Through your Stamford, CT car donation, you'll be helping:
Provide needy individuals with financial aid for diagnostic tests and screenings;
Provide other forms of support to patients and their families;
Provide funding for breast cancer research;
Educate the public on the importance of early breast cancer detection, the causes of breast cancer, and how to reduce chances of getting the disease through breast cancer awareness campaigns
A Donation Process You'll Love
If you're still figuring out where to donate your car in Stamford, CT, Breast Cancer Car Donations should be your top choice. Not only will you be given the rare opportunity to be a hero to the breast cancer patients in your community, but you'll also get to enjoy the experience of donating for a worthy cause. You'll enjoy our quick, convenient, and totally hassle-free donation process where we take care of everything – from handling your paperwork to hauling away your car without charging you a dime.
We know how complicated and frustrating it can be to process tax documents, which is why we won't trouble you with this task, which we'll do ourselves. As for our free towing services, we offer this practically everywhere in the country since we have vehicle donation programs in all 50 states.
Once you've come to a decision on joining our Stamford, CT car donations program, let us know through a phone call at 866-540-5069. You can also choose to provide your car's details through our online donation form here if you're unable to reach us. After obtaining all the necessary information about the vehicle you're donating, we'll schedule a date, time, and place for its pickup, which will, of course, be at your own convenience.
There's no need for you to be around at the time of the pickup for as long as you give us a heads up. Just be sure to leave your car title and keys behind. Expect to receive a tow receipt from us as soon as we get hold of your vehicle.
A few weeks after auctioning off your Stamford, CT car donation, we'll mail to you your 100% tax-deductible sales receipt. This serves as your ticket for claiming your tax deduction in the next tax-filing season.
Perks of Making a Stamford, CT Car Donation
Our quick and convenient donation process is only one of the many perks you get to enjoy when you team up with us. By choosing us as your charity partner, you'll experience numerous other benefits such as:
A costless way to get rid of an unwanted car
Skip the hassles and headaches of paperwork
Avoid the complicated process of reselling and advertising a used vehicle yourself
Free vehicle pickup whenever and wherever you like
Stop paying for your vehicle's maintenance, repair, and insurance fees
More space in your garage
With these amazing rewards waiting for you, there's no reason you'd want to opt for another car donation program in Stamford, Connecticut. Can't wait to enjoy a tax deduction? Begin your donation process today!
Vehicles We Accept for Donation
We're not really picky when it comes to the types and kinds of vehicles we accept from our donors. As a matter of fact, we're open to nearly all types of vehicles, provided they're not stolen or abandoned. This is why we often require prospective vehicle donors to hand us their vehicle's title during the pickup.
If you no longer have your vehicle's title with you, don't hesitate to inform us as soon as possible. That way, we can assist you on how you can get a duplicate form.
For our Stamford, CT car donations program, we accept:
Standard cars: sedans, compact cars, classic cars, SUVs
Fleet vehicles: trucks, minivans, vans, buses
Recreational vehicles: campers, motorhomes, pop-up trailers, travel trailers
Specialty vehicles: ATVs, motorized wheelchairs, golf carts, farm equipment, snowmobiles, riding lawnmowers
Watercraft: catamaran boats, jet skis, pontoon boats, yachts
Motorcycles: scooters, dirt bikes, sports bikes, motorbikes
Help Save Lives with Breast Cancer Car Donations
If you've been longing to do something simple yet extraordinary that would make a difference in the lives of your less fortunate fellow Americans, making a Stamford, Connecticut car donation is it. Help us fight breast cancer today. Donate to us at 866-540-5069.
or Call Us Now at 866-540-5069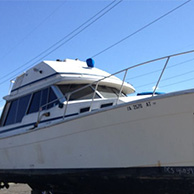 Excellent customer service!