Florida Motorcycle Donations
Florida Motorcycle Donations: Turn Your Motorbike Into a Weapon against Breast Cancer
By participating in our Florida motorcycle donations program, you'll be doing something that's truly extraordinary: saving the lives of breast cancer-afflicted women in your state. Donating your motorbike to us at Breast Cancer Car Donations will give hope to breast cancer victims that they will survive the disease since they can now hopefully undergo full treatment, something they and their families can't afford because of their limited financial capability.
Breast Cancer Car Donations transforms any type of motorcycle and other vehicles into funds. These proceeds are used to provide a wide range of free breast health services to all who need them, particularly to uninsured women who can't otherwise afford the cost of such services.
By donating to us a motorcycle that you no longer use, you allow our IRS-certified 501(C)3 nonprofit organization partners — the American Breast Cancer Foundation (ABDF) and Women Involved in Nurturing, Giving, Sharing, Inc. (WINGS) — to provide vital services such as:
Financial assistance to uninsured and underserved breast cancer patients, covering their surgery, oncology services, consultation, hospital fees and outpatient medication;

Connecting these patients to local facilities that offer free and accessible resources, information and other comprehensive breast health services;

Raising public awareness on breast cancer prevention, diagnosis, and treatment;

Pursuing research on prevention, screening, diagnosis, and treatment of breast cancer; and

Sponsoring charity and outreach events for the benefit of breast cancer patients
Local Cancer Resources
Florida has the 37th highest cancer death rate in the nation. Fortunately, there are many local treatment centers in the area. These include the Miami Cancer Institute on N Kendall Drive, the Sylvester Comprehensive Cancer Center on NW 12th Avenue and Tampa General Hospital's Cancer Institute on Tampa General Circle. Aside from treating patients, the Miami Cancer Institute conducts cutting-edge clinical research for breast cancer. It's also recognized as one of the best cancer programs in the country. 
The Sylvester Comprehensive Cancer Center provides cancer services to the South Florida community. It's recognized by the National Cancer Institute and offers advanced treatment for metastatic breast cancer. The Tampa General Hospital's Cancer Institute is one of the nation's best cancer hospitals. It's home to world-renowned surgeons and provides state-of-the-art therapies and tools to patients. This cancer institute also treats all types of cancer. 
A Simple and Efficient Way of Donating
At Breast Cancer Car Donations, we won't give you a hard time when you donate a moto in Florida. As a matter of fact, we'll manage everything for you right after you tell us your intent to donate. From the processing of your donation and tax-deduction papers to the free towing of your motorcycle, you can depend on us to get the job done.
Here's our fast and easy three-step Florida motorcycle donations process:
You contact us either by phone or by filling out our 

online donation form

. We'll need specific details about the motorbike you wish to donate. After verifying the given information, we agree on a date, time, and place to haul it off.

Our tow truck comes to pick up your motorcycle, usually a day or two later. Please note that this is absolutely free of charge. We will issue you a tow receipt during the pickup. This will relieve you from any liabilities on your motorbike, giving you the right to cancel its registration and insurance coverage and stop paying for them. Keep the receipt since you may need it for tax purposes.

We put your donated motorcycle up for auction, with the collected funds going directly to our nonprofit partners. At the same time, we start processing your tax papers. You'll receive a 100-percent tax-deductible sales receipt in your mailbox days after we sold your motorbike. The receipt shows your donated motorcycle's final selling price, the amount you may claim as your tax deduction when you file your itemized federal tax return for the next tax season.
That's how quick and straightforward it is to make a motorcycle donation to us. If you like the process, give us a call now at 866-540-5069.
The Benefits You'll Get from Your Motorcycle Donation
What's great about donating to Breast Cancer Car Donations is that you help cancer patients and their loved ones. You also get to experience your own share of joys from your donated vehicle. That's right! Thanks to that old and unwanted sports bike of yours, you'll have the opportunity to receive a fair tax deduction.
That's not all. By taking part in our Florida motorcycle donations program, you'll get these other incentives:
Free pickup and towing

A quick way of getting rid of an unwanted motorbike

More space for your garage or driveway

Avoid the difficulties of selling your car

No need to bother with paperwork – we do that for you.

Save money by not paying any more for car repair, registration, and insurance.

Feeling of happiness knowing that you'd be helping thousands of cancer-stricken women with your motorcycle donation
Motorcycle Types We Accept for Donation
We take almost all kinds of motorcycles regardless of their age or working condition in our Florida motorcycle donations program. Don't worry about donating a bike that's not in good running condition. We have our tow truck to take care of it. Trust us. We'll be very happy to accept as donation whatever it is that you plan to give us.
The types of bikes we normally accept are scooters, cruisers, touring motorcycles, mopeds, sports bikes, dual-sport motorcycles, and dirt bikes. If you wish to donate another one or another vehicle like a car or a truck, feel free to do so. We'd love to accept multiple donations!
Motorcycle brands we accept include:
Harley-Davidson

Honda

Kawasaki

Suzuki

Yamaha
Are you concerned that we might not take your old motorbike due to its poor condition? Have a chat with one of our friendly staff about it at 866-540-5069. Since we rarely refuse donations, there's a huge chance that we'll still accept it.
Help Save Lives Today!
A motorcycle you deem unimportant can turn into a weapon against breast cancer if you donate it to us. Call us now at 866-540-5069 to learn how to donate a motorcycle to charity in Florida. Together with us at Breast Cancer Car Donations, you'll have the power to save lives. We serve the entire state, including cities such as Cape Coral, Fort Lauderdale, Hialeah, Tallahassee and more.
Frequently Asked Questions
What perks come from donating your old motorcycle to Breast Cancer Car Donations?
You can obtain several benefits when you donate a motorcycle in Florida. Our donation process is convenient, and you can receive a tax deduction. Moreover, the proceeds from your donation will support the prevention, detection and research of breast cancer, helping to save lives. Additionally, you won't have to worry about selling paying for insurance, gas, storage or repairs. 
How does the donation process prioritize convenience for the donor?
When you're ready to donate a motorcycle in FL, our team will take care of all the details, from pickup to processing documentation. This makes the donation process seamless and easy for donors. Moreover, you won't have to deal with the hassles of selling your motorcycle. 
Can donors benefit from tax deductions after donating their motorcycle?
Yes, you can receive a tax deduction when you contribute to our program. After your motorcycle get auctioned off, we'll provide you with an IRS tax-deductible receipt.
or Call Us Now at 866-540-5069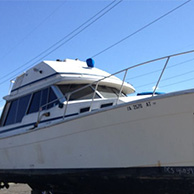 Excellent customer service!