Utica, New York Car Donations
Donate Your Vehicle and Save Lives!
It's a Win-Win Situation for You with Utica, New York Car Donations
Taking part in Utica, New York car donations is one way of saving the lives of our fellow citizens who are suffering from breast cancer. With the vehicles donated to Breast Cancer Car Donations, indigent breast cancer victims in Utica, New York will gain much needed financial support to win their battle against the dreaded disease.
Keeping an unused car in your garage or backyard is just a waste of space. Donating it would give you a chance to regain that garage space and at the same time, help transform the lives of women afflicted with breast cancer. Essentially, it's a win-win situation.
The fight against breast cancer is a long and hard one. It's physically, emotionally, and financially draining. However, with the help of our nonprofit organization partners, whose top priority is to give breast cancer patients a real fighting chance at surviving the disease, the fight could still be won.
How Car Donations Can Help Women with Breast Cancer
We believe that with each vehicle, we would be able to make a positive impact on many lives. That is one of the main reasons that motivated us at Breast Cancer Car Donations to create fundraising programs such as car donations in the city. Together with our certified 501(C)3 nonprofit partners, countless women with breast cancer would have a chance to have access to resources that would help them get on the road to recovery.
Proceeds from the sale of your donated vehicle will be used to carry out the following programs:
Women empowerment for breast cancer patients, providing them encouragement, strength, and inspiration to be able to help themselves throughout their journey;
Raising public awareness on the early detection, diagnosis, treatment, and the preventive measures of breast cancer;
Providing financial assistance to breast cancer patients to help cover the costs of their treatment, including surgery, laboratory tests, oral medications, and doctor's consultations.
Funding research on improving existing breast cancer treatment methods.
With your contribution, we can beat breast cancer in your community! Don't pass up this chance to make a difference! Call 866-540-5069 and join Utica, New York car donations today!
The Basics of Breast Cancer
Breast cancer is the result of the formation of malignant cells in the breast tissue.  It is now the most common form of cancer among women. According to Breastcancer.org's 2018 U.S. breast cancer statistics, one in eight women in the U.S. will get the disease in the course of her lifetime.
Breast cancer is also the second leading cause of death in women in the United States. Though the death rates seem to be steady for younger women, a decreasing rate has been observed in women over 50. Scientists and advocates believe the decrease is due to increased public awareness of the disease, early detection, diagnosis, and improved treatment.
Currently, there are over 3.1 million breast cancer survivors. This includes women who have completed the treatment and those who are still currently being treated.
Interesting Facts about Utica, New York
Utica is located in the Oneida County in New York. It had a population of 61,628 as of 2015, according to the Census Reporter.
The city is named after a Mediterranean seaport in North Africa known as Utica, Tunisia.
Mississippi, Pennsylvania, Ohio, Indiana, Illinois, Michigan, Minnesota, Montana, South Dakota, Nebraska, Iowa, Kansas, Missouri, Oklahoma, Kentucky, Maryland, and Alaska also have one city named after Utica, New York.
The first beer brewed after the lifting of the Prohibition was in Utica. The achievement is still printed on the cans and bottles of Utica Club beers up to this day.
Utica was where the first Woolworth five-cent store was established.
Why Choose Utica, New York Car Donations?
Whether you're donating a golf cart or a boat or any other vehicle, taking part in our Utica, New York car donations program will give you an opportunity to give back to the community and earn some benefits while you're at it.
If you're considering the thought of making a generous contribution, these are some of the rewards that you'll enjoy:
Since we partner with IRS-qualified nonprofit organizations, your car donation qualifies you for a tax write-off for the next tax-filing season.
Your car donation means you can stop paying for car repairs, maintenance, registration, and insurance.
More space in your garage.
Donating gives you a chance to get back that garage space and turn it into something more useful – like parking your brand-new car there.
Our donation process is quick and hassle-free.
We can arrange for a professional towing company to pick up your car. Not only that, we can have it done on a schedule that's most preferable for you!
We'll be the ones to pay for your vehicle's pickup and towing!
You don't have to worry about the paperwork.
Our team of experts will handle all required donation paperwork. We'll cover everything for you — from title transfer to tax-deductible receipt issuance.
Start Saving Lives Today!
Donating is the easiest and most effective way to help those whose lives are touched by breast cancer.  Your decision matters to them.
Spread the joy of giving today! Contact us at 866-540-5069 or fill out our online donation form to experience our hassle-free Utica, New York car donations process.
or Call Us Now at 866-540-5069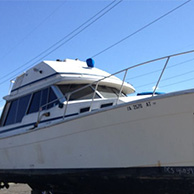 Excellent customer service!