St. Paul, Minnesota Car Donations
Donate Your Vehicle and Save Lives!
St. Paul, Minnesota Car Donations: Enjoy a Rewarding Donation Experience While Helping Save Lives
Did you know that taking part in our St. Paul, Minnesota car donations program can enable breast cancer victims to survive the disease and give them a new lease on life?
When you donate your old and unwanted car to us at Breast Cancer Car Donations, you will be helping us raise money for dedicated non-profit organizations that are waging a relentless campaign against breast cancer? These non-profits–  American Breast Cancer Foundation (ABCF) and Women Involved In Nurturing, Giving, Sharing, Inc. (WINGS) — use the funding you help provide to:
Help uninsured and underserved breast cancer patients gain access to medical screening, diagnosis, and treatment
Provide financial assistance to breast cancer patients, survivors, and their families
Fund research on more effective breast cancer treatment and cure; and
Boost information campaign to educate the public on the causes, prevention, and detection of breast cancer
You Won't Go Home Empty-Handed
In donating your preloved car to our car donations program in the city, we make sure you will not go home empty-handed. We have lined up a set of perks for you as our way of conveying our gratitude for your generosity and kindheartedness. Here are just a few of them:
Fast and free pickup and towing of your unwanted vehicle
We will haul away your vehicle that's just gathering dust in your garage at no cost to you.
We would help you maximize your tax deductions by ensuring that you would get top value for your donation when we have it sold at auction. You can then use the receipt that we would send you by mail to reduce your taxable income once you itemize your taxes.
We'll take care of all the paperwork — from title transfer to sending you your tax-deductible receipt.
Our 3 Quick Steps to Car Donation
Our St. Paul, Minnesota car donations process is quick and easy, so you save time and effort. There are only three easy steps to get your car towed at no cost to you
Step 1:
Give us a call at 866-540-5069. Provide us your contact information and a few details about the vehicle you're donating like its make and model, mileage, and vehicle identification number. Another option would be for you to fill out our online donation form.
Step 2:
Once we have verified the information you provided, we will make arrangements with an affiliate tow company from your area to pick up your car. The towing fee is on us, and you don't have to pay for anything. The tow truck will pick up your vehicle at your preferred time and date or as early as 24 to 48 hours after we make the towing arrangement. We will hand you a donation receipt that releases you from all liabilities on the car you're giving away, allowing you to de-register your vehicle, dispose of your license plates properly, and cancel your insurance coverage. Keep the receipt since you may need it for tax purposes.
Step 3:
After we auction off your car, we will send you your 100-percent tax-deductible sale receipt by mail, indicating your donated vehicle's final selling price. This will serve as the basis of your tax deduction claim when you file your itemized federal tax return.
The Vehicles We Accept and Those We Don't
We accept numerous types of vehicles in our St. Paul, Minnesota car donations program. You don't have to worry that we may not accept your vehicle. We accept all vehicles donated to us with only very few exceptions. Your car's condition doesn't even matter. Even if it has not run for years, we would still gladly accept it as your donation.
The only vehicles we cannot accept are those that have been abandoned or stolen and, obviously, without legitimate titles. We simply cannot sell vehicles without titles. However, if you have a title to the vehicle you're donating but only lost it or can't find it, no need to worry. Just call us and we will help you find a replacement title.
We also cannot accept severely damaged vehicles whose value is less than the cost of towing them.
Here is a partial list of the vehicle types we accept for donation:
Cars
Vans or minivans
Trucks
Motorcycles
RVs
Toy haulers
Jet skis
Yachts
Snowmobiles
Golf carts
Farm equipment
Boats
Non-commercial airplanes
Please check our vehicles accepted page for more information.
Donate Now!
You can be certain that all the funds that we will generate from your St. Paul, Minnesota car donations will be used to finance the programs for the benefit of breast cancer patients in your city. If you're ready to make your donation, or if you still have some questions in your mind, call us now at 866-540-5069! Take part in our car donations program and enjoy a rewarding donation experience from start to finish!
or Call Us Now at 866-540-5069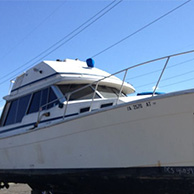 Excellent customer service!