Minnesota Car Donation
Donate Your Vehicle & Receive A Big Tax Deduction!
Breast Cancer Car Donation in Minnesota
When you've got a car, truck, motorcycle, boat, RV, or other vehicle that you know you're ready to part with, why not use it to make a Breast Cancer Car Donation in Minnesota? Car donations can generate vital funding for Breast Cancer nonprofits that are helping hurting patients and their families.
When you donate a vehicle to Breast Cancer in Minnesota, you become part of the team of people working to make a difference. Breast Cancer Car Donations takes vehicles of all kinds — from riding lawn mowers to pickup trucks — whether or not they're in working condition. This means you can donate a junk car or make an RV donation.
Learn more about how the donation process in the state works below.
Why Make a Donation to Support Breast Cancer Research in Minnesota?
Our organization takes car donations in MN and uses them to generate funds that go directly toward helping in-need families. When you make a donation, you not only free yourself from keeping a car you don't want, but you also can rest easy knowing it's going to a good cause.
Here are some of the big perks of getting involved:
A quick and easy donation process
Having your car hauled away at no cost to you
None of the hassles of trying to sell or negotiate a deal on your own
A way to help people affected by Breast Cancer
The joy of knowing you're changing lives
Vehicles That We Accept
Whether you're interested in making a boat donation in MN, donating a car that's no longer running or giving away a motorhome that's in great condition, we're glad to take it. Because we come to you and haul away your vehicle, it doesn't matter if it's currently running when you donate. Plus, every donation helps, so you can donate whatever you have.
We accept cars, trucks, vans, buses, RVs, boats, motorcycles, and more! If you aren't sure whether or not we'll accept what you have, just give us a call and ask.
How to Donate a Vehicle to Breast Cancer in Minnesota
The quick and easy donation process works like this — just let us know you want to donate and we handle the rest. Here's what you can expect:
Call us or fill out our form

. Let us know you want to donate by giving us a call or completing our online donation form. We'll gather some basic info about your vehicle and set up a pickup time.

Let us haul away your vehicle

. At the mutually agreed upon time, we'll come to you and tow your vehicle away — at no charge to you.

Wait for your tax receipt

. We use your vehicle to 

generate funds for local programs

 that are making a difference in the field of Breast Cancer. A few days later, we mail you a tax receipt for your records.
Once you get your tax receipt in the mail, feel free to cancel insurance and registration details. It's that simple!
Are you ready to donate a snowmobile, car, truck, motorcycle, van or boat that can makes a difference to patients with Breast Cancer and their families? Get in touch with us today.
Donate a Car to Minnesota Breast Cancer Nonprofits Today!
Looking for more information about donating in a particular area of Minnesota? Click on one of the cities closest to you from the list below.
or Call Us Now at 866-540-5069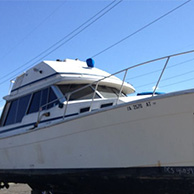 Excellent customer service!