Rome, New York Car Donations
Donate Your Vehicle and Save Lives!
Beat Breast Cancer with Rome, New York Car Donations
Experience a hassle-free and cost-free way of getting rid of your shabby old clunker by joining our Rome, New York car donations program. It's more sensible to donate an unwanted beater that's been rotting away in your garage for the benefit of those who've been diagnosed with breast cancer than to try and sell it or send it off to the nearest car graveyard. Imagine the lives you'll touch just because you've finally decided to let go of a car that you've been wanting to dispose of anyway!
Breast Cancer and Your Community
Rome, New York had an estimated total population of 32,415, according to the 2016 data released by the United States Census Bureau. Women constitute 48.6 percent of the population.
Based on the National Breast Cancer Foundation's report, breast cancer is now the most commonly diagnosed cancer type among women in the United States. In fact, on average, a woman receives breast cancer diagnosis every two minutes while another woman loses her life to this disease every 13 minutes. Furthermore, one in eight American women is bound to develop invasive breast cancer within the course of her lifetime.
Breast cancer is a grave issue that needs to be urgently addressed. We couldn't afford to be passive about this because it could affect any of our loved ones at any given time. If we invest in breast cancer research, implementation of affordable screening and diagnostic methods, cultivation of public awareness of breast cancer prevention, we could eliminate breast cancer and save countless lives.
How We Deal with Breast Cancer
Breast Cancer Car Donations serves as the vehicle donation handlers of two of the nation's leading breast health service-focused nonprofit organizations. These IRS-certified 501(c)3 nonprofits strive to provide accessible comprehensive breast health services to all individuals across the United States. These services in the area include:
Provision of cost-free mammograms, ultrasound, lab works, doctor's visits;
Information drives highlighting breast cancer prevention and the need for screening to enable early cancer detection;
Distribution of resource tools such as newly diagnosed patient kits;
Free follow-up care for five years following a patient's cancer remission;
Reduced fees for treatment such as radiation, chemotherapy or surgery;
Breast cancer research.
Our charity partners cannot deliver these services without the help of car owners who are willing to donate their vehicles to our Rome, New York car donations program. If you're ready to donate your beater today, you can call us at 866-540-5069.
You Can Benefit from Your Donation!
Joining our Rome, New York car donations fundraiser would not leave you empty-handed because you'll get to enjoy awesome rewards for your act of generosity! Here's a sneak preview of the good stuff that you're going to get:
Experience a straightforward donation process.
The last thing that anybody wants is a lengthy and confusing donation process. Ours is the exact opposite. By doing only the first step of our three-step donation process, you could quickly get your clunker off your property and save countless lives as well!
Have us handle the paperwork for you.
We will not impose any burden on you concerning required documentation for your car donation. Our experienced team will efficiently handle your vehicle's transfer of ownership and any of the documents required by the IRS.
Get 100% FREE towing services.
You can finally give your beater a quick goodbye kiss because we'll send professional towing personnel over to your vehicle's location to pick it up and haul it away FOR FREE!
You won't go through the hassles of selling your own car.
The thought of putting up ads, paying for possible repairs to make your car more appealing to buyers, and haggling with strangers is stressful enough. Why go through it when you could skip it altogether if you donate your car?
Imagine how much money you'd save if you stop paying for your clunker's costly maintenance, repairs, insurance, and registration.
Taking part in our Rome, New York car donations program would qualify you for a huge tax break where you could deduct the actual selling price of your car or its fair market value to your taxable income.
How You Can Join Rome, New York Car Donations
Did we mention that we accept almost all types of vehicle donations? You can donate your car, truck, van, tractor, motorized wheelchair, riding lawnmower, boat, airplane, helicopter, SUV, ATV, RV, jet ski, snowmobile and more! They don't have to be in the best condition because we accept non-running vehicles as well!
In a matter of minutes, you'll be on your way to becoming a breast cancer patient's hero. Just follow these three effortless steps:
Fill out our online donation form or call us at 866-540-5069.
Schedule your vehicle's pick-up!
Give us your vehicle's location and your preferred time and date for its pick-up!
Receive your tax-deductible receipt!
Expect us to send you your IRS tax-deductible receipt within 30 days after the sale of your vehicle at auction!
Do Something Meaningful Today
Turning your clunker into a life-saving donation has never been so easy! Join our Rome, New York car donations program by contacting Breast Cancer Car Donations at 866-540-5069 now!
or Call Us Now at 866-540-5069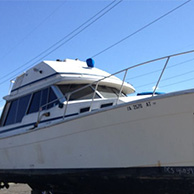 Excellent customer service!