Port Charlotte, Florida Car Donations
Donate Your Vehicle and Save Lives!
Port Charlotte, Florida Car Donations: Are You Ready to Join the Fight Against Breast Cancer and Help Save Lives?
Breast cancer remains as deadly and as pervasive as ever – the most common cancer in women in the United States, after skin cancers, and the leading cause of cancer deaths among American women, next to lung cancer.
The deadly disease continues to afflict hundreds of thousands of lives and claim tens of thousands of them every year in the United States – notwithstanding the gains made in breast cancer screening and treatment.
That is why we at Breast Cancer Car Donations have been relentless in our nationwide campaign to draw more public support in the fight against this dreaded disease. We have ongoing vehicle donations programs in every area in the country – from large cities to small communities like here in Port Charlotte, Florida – to encourage more people to support their fellow citizens in their own cities who have been victimized by breast cancer – particularly those who do not have the financial capacity to pay for the high cost of cancer treatment.
If you have a car or a truck or any other vehicle that you do not want anymore because it has seen its better days, consider donating it to our Port Charlotte, Florida car donations program. We assure that your auto donations will be used to save lives.
About Port Charlotte, Florida
Port Charlotte is where the good life is, having been considered as one of the best places in the United States to retire by at least three major publications. The unincorporated community and census-designated place lies in Charlotte County, Florida, and has a population of 54,392 as of the 2010 census. Women outnumber men here, with the female population placed at 28,320 while the male population is at 26,072.
Port Charlotte ranked No. 1 on CNNMoney.com's 2009 list of "25 Best Places to Retire." In 2012, U.S. News & World Report placed it as among the 10 best places in the United States to retire. Port Charlotte was also on Forbes' list of "25 Best Places to Retire in 2015."
Despite its affluence and good reputation, Port Charlotte – just like any other place in the United States – has not been spared from the ravages of breast cancer.
Learn More About Port Charlotte
Port Charlotte is situated about halfway between Sarasota and Fort Myers. This vibrant small town features miles of waterways, as well as golf courses, restaurants, and shopping and dining options. It's home to Charlotte Sports Park, Charlotte Harbor Preserve and several local cancer treatment centers. These include GenesisCare on Harbor Blvd. and Florida Cancer Specialists & Research Institute – Port Charlotte on Edgewater Dr.
In 2018 in Port Charlotte County, white individuals and African Americans were the two groups that had the highest cancer deaths per 100,000. This is compared to Asian or Pacific Islanders and American Indian and Alaskan Native individuals, which had the lowest mortality rates.
With Us, Donors Get Benefits, Too
By definition, donating is giving away something to others for charitable purposes without the giver expecting any favor in return.
However, we at Breast Cancer Car Donations have tweaked the definition a bit. In our Port Charlotte, Florida car donations program, we made sure that our donors will get some great perks to thank them for their generosity and willingness to join the fight against breast cancer. When you donate a car for charity, expect to receive these:
Zero difficulties in selling your car – we'll be the ones to sell it at auction.

No paperwork – we do that for you.

Save money by not paying any more for car repair, registration, and insurance.

Free pick-up and towing of your vehicle

More space in your backyard or garage to house your new car.

A deep sense of personal satisfaction for saving other people's lives
Where Your Car Donations for Breast Cancer Will Go
After you donate your old and unwanted car to our Port Charlotte, Florida car donations program, we will sell it at auction, with the proceeds going straight to our two charity partners — the American Breast Cancer Foundation (ABCF) and Women Involved In Nurturing, Giving, Sharing, Inc. (WINGS). These reputable non-profits will use the funding that partly came from you to sustain and improve their existing programs and services such as:
Financial assistance to uninsured and underserved breast cancer patients, covering their surgery, oncology services, consultation, hospital fees and outpatient medication;

Connecting these patients to local facilities that offer free and accessible resources, information and other comprehensive breast health services;

Raising public awareness on breast cancer prevention, diagnosis, and treatment;

Pursuing research on prevention, screening, diagnosis, and treatment of breast cancer; and

Sponsoring charity and outreach events for the benefit of breast cancer patients
Our Most Convenient Donation Process
We take pride in our fast and simple Port Charlotte, Florida car donations process, which has been designed to give utmost convenience to our donors. The process consists of three easy steps:
A simple call from you can save and transform the lives of many of those who have been touched by breast cancer. Give us a call at 866-540-5069 or fill out our online donation form to begin the process. We will only ask a few details about the vehicle you're donating – like its make and model, year, and VIN – and how we can reach you. You can donate not just cars or vans but all sorts of vehicles that you don't need anymore. We may require donors to present the title of the vehicle. Call us at 866-540-5069 so we can clarify this point.
After verifying the information you shared, we'll call you back and ask you to set the most convenient date, time, and place for the vehicle pick-up. Please note that this is absolutely free of charge. We will issue you a tow receipt during the pick-up. This will relieve you from any liabilities on your vehicle and gives you the right to cancel your car registration and insurance coverage and stop paying for them. The receipt is also a requirement for the processing of your top tax deductions.
Within days after we auction off your vehicle out, we'll send you your 100-percent tax-deductible sale receipt, indicating your donated vehicle's final selling price. This will serve as the basis of your tax deduction claim when you file your itemized federal tax return.
Donate a Car Now!
Are you ready to join the fight against breast cancer and help save lives? Is yes, call us right away at 866-540-5069 and get your free towing service for your Port Charlotte, Florida car donations! We serve the entire state of Florida, including nearby Fort Myers and Punta Gorda.
or Call Us Now at 866-540-5069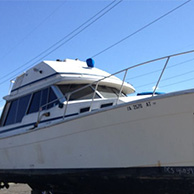 Excellent customer service!