Fort Myers, Florida Car Donations
Donate Your Vehicle and Save Lives!
Fort Myers, Florida Car Donations: Save Lives of Cancer Victims and Help Yourself As Well
You get the best of both worlds when you take part in our Fort Myers, Florida car donation program to support the fight against breast cancer and help the thousands of its needy victims. We serve the entire state of Florida, including nearby communities such as Cape Coral.
The proceeds from your donation will help Breast Cancer Car Donations in providing more funds to our nonprofit charity partners– American Breast Cancer Foundation (ABCF) and Women Involved in Nurturing, Giving, Sharing, Inc (WINGS, Inc). These two reputed nonprofits are fighting the deadly disease on various fronts, including:
Research on better and faster treatment and cure

Assistance to breast cancer patients who are uninsured and underserved

Information campaign to educate the public on cancer causes, prevention, and symptoms.
Benefits You Get for Joining Fort Myers, Florida Car Donations
While you extend support to breast cancer patients, you're also helping yourself since your Fort Myers, Florida car donations will entitle you to numerous benefits. They include the following:
You get 

top tax deductions

 after your vehicle is sold at auction. The tax deductions can grant you $500 or even more, depending on your vehicle's final selling price.

You get to free yourself from the hassles of doing paperwork when you try to sell your car and expenses for repairs, insurance payment, maintenance, and storing fees. When you agree to join our Fort Myers, Florida,

vehicle donation program

, we will take care of all the paperwork for you. We also accept cars or most 

types of vehicles

 even if they are old and not running anymore so you don't have to worry that your car donation might not qualify.

We pick up and tow your vehicle at zero cost to you within 24 to 48 hours after you inform us of your willingness to join the Fort Myers, Florida car donations.
Fort Myers, Florida Car Donations Process: 3 Steps
You are only three easy and quick steps away from getting those benefits and making a difference in the lives of breast cancer victims as well. Check out the steps below:
When you decide to

donate an auto

, visit our website and fill out our 

online vehicle donation form

. In lieu of that, you may also give us a call at 866-540-5069. Our polite and courteous front desk staff will walk you through the Fort Myers, Florida car donations process and provide you all the information you want. When you call, share with our company representative your car's make and model, Your preferred time and date for the pickup and towing, and your vehicle's location for the pick-up.

We will review and verify the information you provided us. After we finish the verification process, we will make arrangements with a local tow company for your free vehicle pick-up and tow. A local tow company will later call you to provide further information about the towing process.




The towing company will pick up and tow your car. The towing company crew will give you a towing receipt to release you from liabilities on your car. You may use that receipt as part of the documents you will attach when you file for tax deductions.

We will then auction off the vehicle you turned over to Fort Myers, Florida

car donations for cancer

. After we sell it, we will send you a letter informing you of your vehicle's final selling price. Our mail will also include your tax receipt. You may use that receipt when you claim your deductions in filing your personal income tax returns.
Fort Myers, Florida: Interesting Facts and Attractions
The City of Palms is the official nickname of Fort Myers, Florida. The city is one of the major tourist destinations in Florida.
The state of Florida has had colonial influence from Spain and Great Britain. Fort Myers is one of the first forts built in 1830 along the Caloosahatchee River. It was used as a base for operations against the Seminole, a Native American tribe.
During the Seminole Wars and Indian Removal period, the City of Palms was a strategic location because of its access to Atlantic waterways.
One of the best places to visit in the city is Fort Myer's Centennial Park located along the Caloosahatchee River. The park is a 10-acre community park offering wide spaces for picnics and casual strolls. Take your family to a relaxing place; enjoy the beautiful river view while your kids enjoy the playground.
The Railroad Museum of South Florida is a 3,200- square foot museum in Lakes Regional Park. Enjoy the train layout exhibits and artifacts and the authentic brass bell from an old locomotive train.
If you want to enjoy nature, you might want to visit Six Mile Cypress Slough Preserve located in Penzance Boulevard. You can enjoy 3,500 acres of wetland ecosystem with a boardwalk trail and interpretive center.
Get the best of both worlds now — benefits for cancer victims and yourself as well.
Join Fort Myers, Florida car donations by calling us at 866-540-5069.
or Call Us Now at 866-540-5069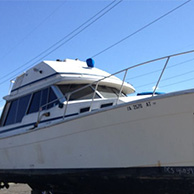 Excellent customer service!