Owings Mills, Maryland Car Donations
Donate Your Vehicle and Save Lives!
Owings Mills, Maryland Car Donations: A Classic Win-Win!
Do you know that donating your old and unwanted car to Breast Cancer Car Donations could change your life and those of a thousand others who are going through their breast cancer journey? While there are so many ways to make positive changes in your little corner of the world, taking part in our Owings Mills, Maryland car donations program is one of the best ways to do it because both the donor and the donee will get to enjoy awesome benefits.
You'd enjoy the convenience of getting your unwanted vehicle out of your driveway and at no cost to you while those with breast cancer will receive financial support for their treatment and much more. It's the textbook description of a win-win situation!
Before you decide to sell that clunker of yours or send it off to the nearest car graveyard, why not consider making a difference in your community by participating in our Owings Mills, Maryland car donations fundraiser?
How Breast Cancer Affects Your Community
Knowing the risk factors for breast cancer may have got you thinking about yourself, your loved ones, and your community.
According to the United States Census Bureau, Owings Mills had an estimated total population of 30,622 as of 2010 when the latest official census was taken. A huge chunk of the community's population (over 55 percent or 16,842) comprised of women who are the prime target of breast cancer.
Do you know that a woman is diagnosed with breast cancer every two minutes and one woman dies of it every 13 minutes? In Maryland alone, the incidence rates of breast cancer increased from 2010 to 2014 according to the 2017 report of the Maryland Department of Health and Mental Hygiene. Furthermore, in 2014, a total of 4,771 new breast cancer cases were reported among the women in the state with 862 deaths recorded.
There's Still a Reason to Hope
If the statistical data seem overwhelming for you, think about how a woman feels when she is diagnosed with breast cancer. Questions start flooding in: "Why me? Am I going to survive this? How much will the treatment cost? Where can I go to get help?"
However bleak this situation may seem, there's still a reason to hope. With the help of concerned organizations and individuals who are committed to easing the concern of those people whose lives are touched by breast cancer, we can increase the number of survival rates across America – starting in your own city!
How Car Donations Impact Breast Cancer Patients
We at Breast Cancer Car Donations operate fundraisers such as Owings Mills, Maryland car donations on behalf of our certified 501(c)3 charity partners. Our mission is to help those who have been diagnosed with breast cancer to live better and longer lives. Proceeds of all donated vehicles are used to make the delivery of these services possible:
Reduced fees for breast cancer screenings and diagnostic tests;
Provision of free newly-diagnosed patient kits containing valuable information about breast cancer, options for treatment, survivor networks, encouraging handwritten notes from breast cancer survivors, and many more;
The assistance of health care workers called Nurse Navigators who'll provide guidance to patients who need someone to help them locate the best facilities and care providers;
Follow-up care for breast cancer survivors for five years following remission (includes lab work, mammograms, and doctor's visits);
You can donate your unwanted car today so that you could help us reach more people with these services. Participate in our Owings Mills, Maryland car donations program by calling us at 866-540-5069 today!
Donating a Car is Rewarding!
We mentioned that joining our Owing Mills, Maryland car donations fundraiser is a classic win-win because it also benefits you as much as it benefits those with breast cancer. Check out the perks of being a donor:
You won't have to pay for towing!
Was the thought of having to spend more cash for towing services one of the reasons why you kept holding on to that shabby old car? Worry no more because if you donate it to us at Breast Cancer Car Donations, we're going to give you fast and free towing services! Moreover, a professional towing company will give you a towing receipt on the day of your vehicle's pickup so that you can legally cancel your vehicle's insurance coverage and registration.
No stressful paperwork for you!
You can count on our seasoned team of experts to address any document concerns related to your donation. We're known to give the best customer service as we make sure that your lost title is replaced, or your tax-deductible receipt is delivered to your doorstep on time.
The donation process is a piece of cake!
You can be sure that the process for Owings Mills, Maryland car donations is incredibly easy!
All it takes is for you to call 866-540-5069 or fill out our online donation form. Give us a few details about yourself and your car. Next, you can schedule your free pickup by giving us your preferred time, date, and your vehicle's location. Lastly, you'll receive your tax-deductible receipt!
Donating a car to us will qualify you for a tax write-off equivalent to either the actual sale price of your donated vehicle or its fair market value. You can claim this if you itemize your deductions using the tax-deductible sales receipt we'll send to your home address within 30 days after your car gets sold at auction.
Do Something Great!
At present, there are over 3.3 million breast cancer survivors who are grateful for their second chance at life. If you've been planning to get rid of your rusty old car for the longest time, why not donate it to give others who were recently diagnosed with breast cancer a better chance to survive it?
Contact us at 866-540-5069 to get free towing services, maximized tax deductions, and other rewards for your Owings Mills, Maryland car donations!
or Call Us Now at 866-540-5069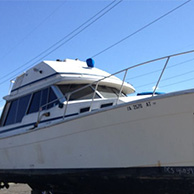 Excellent customer service!