Newark, New Jersey Car Donations
Donate Your Vehicle and Save Lives!
Newark, New Jersey Car Donations: Join Us and Turn Your Beat-Up Car into a Life-Saver
The lack of money remains as the biggest obstacle for surviving breast cancer for its impoverished victims. Treatment is available, but its cost is unreachable for many who contract the deadly disease, particularly those who are uninsured.
Without financial support, indigent breast cancer patients could not avail themselves of life-saving treatment, forcing them to give up the fight and just wait for their final breath.
Shall we sit idly by and just watch them die? To the best of our capability, we at Breast Cancer Car Donations are here to help our poor fellow Americans who are suffering from breast cancer.
Here in this city, we have set up our Newark, New Jersey car donations program to seek your support in helping save the lives of our beleaguered fellow citizens reeling from breast cancer. Breast Cancer Car Donations is a nationwide non-profit organization that generates funds all over the United States for the benefit of underprivileged breast cancer patients. Just like its counterparts in other towns and cities of the country, our Newark, New Jersey car donations program is geared to providing funds for use in the treatment of needy breast cancer patients in this city.
That old car gathering dust in your garage may have some sentimental value for you, that's why it's still there. But that car can have much more value than just the sentimental kind when you donate it to us. It can potentially save the lives of people in your own city and perhaps in your community.
What Can You Do to Help?
When you donate your unwanted car to us, you'll help decrease the incidence rates of breast cancer deaths in your city. The proceeds from your donation will be used to generate funding for groundbreaking breast cancer research and provision of breast health services that would exclusively benefit Newark residents.
At the same time, when you decide to donate that car, you will relieve yourself from the burden of keeping an unwanted vehicle. Moreover, you will not come out of this charitable undertaking empty-handed since you will receive substantial benefits for donating your car to a truly worthy cause, including a handsome tax deduction.
How to Join Our Cause
We made donating to charity a pleasurable experience in our Newark, New Jersey car donations program. Expect a fast, easy, and no-hassle donation process when you decide to join our cause. It takes three simple steps for you to reach out and extend assistance to fellow citizens suffering from breast cancer:
First, get in touch with us either by filling out our online donation form or calling us at 866-540-5069. Tell us about the details of your vehicle – year purchased, model, brand, and a few more details. This will take just a few minutes of your time.
After you notify us of your donation, you can schedule the fast and free pick-up of your vehicle at your earliest convenience. We'll immediately arrange for an affiliate towing company to pick up and tow your vehicle. We will give you a donation receipt that will release you from all liabilities on your car, giving you the right to cancel and stop paying for your car insurance and registration.
Within 30 days after we auction off your vehicle, we'll send you your 100 percent tax-deductible sale receipt, indicating your donated vehicle's final selling price. This will serve as the basis of your tax deduction claim when you file your itemized federal tax return.
Benefits in Store for You as Donor
We earlier mentioned about the benefits you stand to gain when you join our Newark, New Jersey car donations program. Here are some of them:
Significant tax deduction
Charitable donations made to us are 100 percent tax deductible. We also make sure that you'd get a maximum tax deduction by selling your car to the best auction house where it can fetch its best price.
No more repairs and maintenance expenses
Once your car undergoes repair after the warranty period is over, more repairs and maintenance are bound to follow because of the natural wear and tear of machine parts. Break free from these never-ending repairs by simply donating your aging car.
Pick up and towing of your car is free.
We shoulder all towing expenses as our way of saying "thank you" to you for your generosity.
No paperwork on your part.
We will take care of sorting out your car's documents.
Avoid the hassle of selling your car.
You don't need to advertise or negotiate with potential buyers and do other activities associated with selling your car. We'll do that for you.
What Vehicle Types You Can Donate
We accept almost all types of vehicles for our Newark, New Jersey car donations program as long as they come with your proof of ownership. We need this document so that we could sell it at auction.
You can also donate more than one vehicle. Here are common types of vehicles we accept for donation:
Cars: sedans, vans, SUVs, trucks, motorcycles, buses, pickups
RVs: recreational vehicles, motorhomes, campers, travel trailers, pop-up trailers, fifth wheelers
Specialty vehicles: ATVs, snowmobiles, motorized wheelchairs, riding lawn mowers, tractors, farm equipment.
Boats and planes: sailboats, motorboats, fishing boats, yachts, pontoon boats, houseboats, jet skis, non-commercial airplanes
On a case-to-case basis, even if your car is not in running condition, you can still donate it. The only instance when we would respectfully decline a donated vehicle is when it turns out that the vehicle is abandoned or stolen and has no title.
Donate Now!
If you're ready to make your car donation, or if you still have some questions in mind, call us now at 866-540-5069! Take part in our Newark, New Jersey car donations program and enjoy a great donation experience from start to finish!
or Call Us Now at 866-540-5069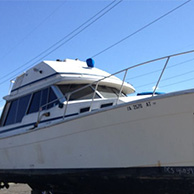 Excellent customer service!