Jersey City, New Jersey Car Donations
Donate Your Vehicle and Save Lives!
Join Jersey City, New Jersey Car Donations To Help Save Lives of Breast Cancer Victims
If you have an old beater that's just gathering dust while hogging up space in your garage, you must probably be thinking about how you can get rid of it. If you simply donate that vehicle to us at Breast Cancer Car Donations through our Jersey City, New Jersey car donations program, you'd give breast cancer patients in your city greater chances of beating this deadly disease. Plus, you'd also get your hands off that no-longer-needed vehicle for free with very little effort on your part.
A Closer Look at Breast Cancer
A person who has breast cancer experiences an uncontrolled growth of breast cells. This is caused by genetic abnormalities brought forth by the normal aging process or inherited genes from a parent.
Breast cancer is the second most commonly diagnosed cancer among women in the United States and the second leading cause of cancer death in the country as well. In fact, studies have shown that one in eight women in the United States will be diagnosed with breast cancer in her lifetime and over 40,000 will lose their lives to it on an annual basis.
Breast Cancer Car Donations and the Charities We Work With
Breast Cancer Car Donations supports IRS-determined 501(c)3 nonprofit organizations that are devoted to helping individuals whose lives have been touched by breast cancer so they can live better and longer lives. We help our charity partners achieve their goals by operating car donation programs on their behalf so that they can devote more of their time to their critical life-saving mission. We're in proud partnership with:
American Breast Cancer Foundation (ABCF)
The ultimate goal of this nonprofit organization is to reduce disparities in terms of access to breast cancer diagnosis and treatment. They pursue this goal by maintaining programs that seek to educate and provide financial support to underserved and uninsured individuals in communities throughout the United States. With the help of their link and referral systems, free access to local resources, comprehensive breast health services, and ethnically and linguistically customized information, individuals seeking breast cancer screening or treatment are well served.
Women Involved in Nurturing, Giving, Sharing, Inc. (WINGS)
WINGS is a nonprofit organization that focuses on providing its beneficiaries with comprehensive breast cancer treatment including surgery, oncology services, outpatient medications, and other services as needed. They're also actively involved in raising public awareness on breast cancer as well as outreach programs.
The proceeds from the sale of vehicle donations made through our Jersey City, New Jersey car donations program will go toward our charity partners' projects in your city. In other words, if you donate your clunker to us, you'll help increase breast cancer survival rates in Jersey City, New Jersey. Your shabby old beater may seem worthless to you now, but to the people who have been fighting breast cancer for a long time, it's a potential life-saving instrument.
Reasons for Joining Jersey City, New Jersey Car Donations
If you have an old commuter car, a Jet Ski, a truck, or any other type of vehicle that you're itching to get rid of, when you participate in our Jersey City, New Jersey car donations program, you'll play a critical role in the fight against breast cancer.
Our vehicle donation process is incredibly fast and easy; it won't even take you more than five minutes to complete the most important part.
To give you an idea of why donating your vehicle to us makes a lot of sense, check out these top reasons for joining our Jersey City, New Jersey car donations program:
You can reduce your tax burden in the next tax season because your gift is 100% tax-deductible.
Vehicle pickup is always free with Breast Cancer Car Donations.
Our team will handle all the logistics.
We'll collect your vehicle from any location of your choice at a time and day convenient for you.
You'll be free from any responsibility related to your vehicle's maintenance, storage, and repairs.
You'll feel great, knowing that you'll be helping save the lives of individuals afflicted with breast cancer.
Our Easy Way for You to Make a Lasting Impact in Your Community
Our vehicle donation process is made up of three incredibly easy steps. It assures zero stress on your part while we do the heavy lifting. Take a look at our donation process and see for yourself:
Give Breast Cancer Car Donations a call at 866-540-5069 or fill out our donation form on this website.
Provide us with the basic details about yourself and your vehicle. We'll verify your given information and make the necessary arrangements for your vehicle's fast and FREE pickup. A tow truck from an affiliate licensed towing company will collect your vehicle and hand you a receipt that releases you from all liability on your vehicle from that point onward.
We'll sell your vehicle at an auction and send you your tax-deductible sales receipt via mail within 30 days following the sale. You'll need this receipt when you claim your tax deduction in the next tax season.
If you want to know more about our vehicle donation process, call us at 866-540-5069 or send us a message online. You can also check out our FAQs page for more information.
What Are You Waiting For?
For breast cancer patients who are fighting for their lives, time is of the essence. Help them beat this disease by joining our Jersey City, New Jersey car donations program. Call us at 866-540-5069 or fill out our online donation form to get started!
or Call Us Now at 866-540-5069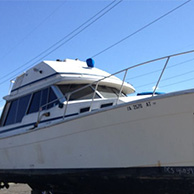 Excellent customer service!