Middle River, Maryland Car Donations
Donate Your Vehicle and Save Lives!
Support Breast Cancer Patients with Your Middle River, Maryland Car Donations
Whoever said that taking part in Middle River, Maryland car donations would give thousands of individuals who are going through their breast cancer journey the chance to live longer was … absolutely right!
When breast cancer rears its ugly head, the person who's being diagnosed usually feels like the world is crashing down on her and that her life is out of control. The usual questions would be: "Why me? How much time have I got left to live? Will I even make it? How much would the treatment cost? Can I even afford it?"
Meanwhile, on the other end of the spectrum of personal crisis, you're staring at that old, shabby clunker that's been bleeding your finances dry for the longest time. Questions start ringing in your ears: "How can I get rid of this without spending more cash on repairs? If I give this away to charity, what will I get in return? Where can I donate this to?"
If you donate a vehicle to us at Breast Cancer Car Donations here in the city, you'll make life easier and better for yourself and for a thousand others who've been diagnosed with breast cancer.
Breast Cancer Facts
Nowadays, almost everybody knows that when a malignant tumor develops in a person's breast tissues, it's breast cancer. The American Cancer Society projects that an estimated 266,120 new cases of invasive breast cancer, as well as 63,960 new cases of non-invasive breast cancer, will be diagnosed in the United States this 2018. The same source points out that this year alone, breast cancer is expected to claim the lives of 40,920 women.
The National Breast Cancer Foundation, Inc. confirms that this deadly disease happens to be the second leading cause of cancer death among American women. In fact, in the United States, there's a 2.6 percent chance that a woman would die from breast cancer. That's one in 38 people!
The 2017 Cancer Data report by the Maryland Department of Health declares that in 2014 alone, 4,771 breast cancer cases were diagnosed among the women in Maryland and 862 breast cancer deaths within the state were reported as well.
How Your Car Donations Will Benefit People with Breast Cancer
Fundraising programs such as our Middle River, Maryland car donations are set up and operated by us at Breast Cancer Car Donations on behalf of our certified 501(c)3 nonprofit partners so that the latter could fully focus on their delivery of comprehensive breast health services all over the United States. These services are intended to give people with breast cancer a real fighting chance at outliving it:
Financial assistance for screening and diagnostic procedures such as mammograms, lab work, ultrasound and physician visits;
Raising public awareness through information campaigns that highlight breast cancer prevention;
Financial assistance for breast cancer treatment such as surgery, chemotherapy, radiation, doctor's visits and labs;
Distribution of free resource tools such as the Newly-Diagnosed Patient Kits containing all the much-needed information and more for the recently diagnosed;
Financial assistance for follow-up cases for five years following the patient's remission.
You can join the fight against breast cancer by participating in our Middle River, Maryland car donations. Call 866-540-5069 to save lives today!
Say 'Hello' to Your Donation Rewards
The best thing about our Middle River, Maryland car donations program is that it's beneficial to all the parties involved – a win-win situation, so to speak. Here's a sneak peek at the rewards you'll be reaping in exchange for your donation.
First, you'll need to call 866-540-5069 or fill out our online donation form to let us know about your contact details and your vehicle's year, make, model, mileage, running condition and availability of its title. Next, you can give us your preferred schedule for your free pickup. Lastly, you'll receive the tax-deductible receipt within 30 days after your donated vehicle gets sold at auction.
Towing is 100 percent FREE!
You don't have to pay for the services of a professional towing company because we'll have that covered! You can enjoy the convenience of having your car hauled away for free on your most preferred time and date! Plus, if you're busy, you don't even have to be there on the day of the pickup as long as you tell us beforehand where we could locate the title and keys inside your vehicle.
You won't handle the paperwork!
When it comes to handling the required documentation for your donation, we won't disappoint you. Our team will see to it that all paperwork is processed efficiently within the required time frame.
You can claim the tax rewards for your donation if you itemize your deductions on your taxable income using the IRS tax-deductible receipt that we'll send you by mail days after we sell your vehicle at auction. The amount of your tax deduction would be based on the actual sale price of your car or its fair market value, whichever is higher, in certain cases.
Think about how much money you can save if you get rid of your unwanted car. No more extra expenses for insurance, maintenance, repairs, and registration!
No more hassles associated with selling!
Selling a car that's old and less than appealing would mean that you'll need to have some bodywork and repairs done to make it more marketable. Coupled with the cost of time and money involved in putting up ads, replying to emails, taking calls, meeting with potential buyers, and haggling with them, do you really think that getting rid of your car is worth all this trouble?
The Most Practical Way
Nothing makes more sense than going for the most practical way to help others and get your hands off your beater – Middle River, Maryland car donations. What are you waiting for? Contact us at 866-540-5069 today!
or Call Us Now at 866-540-5069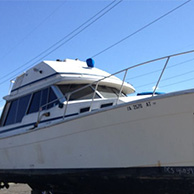 Excellent customer service!