Elgin, Illinois Car Donations
Donate Your Vehicle and Save Lives!
Help Breast Cancer Sufferers Get Better through Elgin, Illinois Car Donations
If you happen to own an ancient car, why not just donate it to a charity that supports a worthy cause and one that can provide you great benefits as well? By donating it to us at Breast Cancer Car Donations through our Elgin, Illinois vehicle donation program, you'll be making a difference in the lives of breast cancer-stricken women in your lovely hometown. You'll make it easier for them to beat the devastating disease.
How Your Unwanted Beater Can Save Lives
At Breast Cancer Car Donations, it's our lifelong mission to help individuals struggling with breast cancer. Through our Elgin, Illinois car donations program, we're able to fund the IRS-certified 501(c)3 nonprofit organizations that we have partnered with, thus helping them deliver top-quality breast health services to all individuals who need them. These are some of the services they provide:
Connect breast cancer patients to local health facilities that provide free medical resources;
Grant financial aid for uninsured individuals to cover their expenses on treatment, surgery, hospital fees, oncology consultation, and medication;
Fund breast cancer research, particularly on prevention, screening, diagnosis, and treatment;
Provide counseling services for breast cancer patients and their families;
Hold fundraising events for the benefit of breast cancer patients.
Awesome Rewards You'll Get from Your Donation
Now that you're fully aware of how your donated vehicle can help breast cancer patients in your community, it's time you learn about the numerous benefits it will bring you. That's right – you'll also have your own share of rewards for your good deed!
By taking part in our Elgin, Illinois car donations program, expect these exciting perks to head your way:
Get a top tax deduction.
Experience a stress-free donation process
Get free pickup and towing services wherever your vehicle is located within the United States.
Towing takes place at a time and date of your preference.
No need to drain your brain from paperwork.
Avoid wasting your time, energy, and money in trying to sell a second-hand vehicle yourself.
Give yourself the honor of working with reputable breast cancer nonprofits in their life-saving mission.
Free up space in your garage or driveway
Save cash when you stop paying for your vehicle's insurance, repair, and maintenance fees.
Get the personal satisfaction of knowing that your donation will be used to help save lives.
Our Donation Process Explained
Donating your unneeded clunker will only take a few minutes of your time when you do it with Breast Cancer Car Donations. Since we care so much for our kind-hearted donors, we've made our donation process as convenient and hassle-free as possible. Here's a preview of what's going to happen when you take part in our Elgin, Illinois car donations program:
Step 1: You reach out to us.
When you're ready to donate a car for charity, get your phone and call us at 866-540-5069 or simply fill out our online donation form. Provide us a few basic details about the vehicle you're donating, such as its make, model, VIN, year, mileage, title availability, and working condition.
Step 2: We collect your car.
We'll return your call to schedule your vehicle pickup. You can tell us the most convenient date, time, and place for you to turn over your vehicle to us. We'll assign a licensed towing company to collect your vehicle on the appointed date.
Take note that our towing service is completely free of charge. Also, you don't have to be around during the pickup. Just notify us ahead of time that you won't be able to make it, so we can provide you additional instructions.
Before we take your vehicle, we'll issue you a towing receipt. This receipt allows you to de-register your vehicle at your local DMV and cancel its insurance coverage.
Step 3: We deliver your tax-deductible receipt.
Once we get hold of your vehicle, we'll sell it in one of the best auction houses in our network. Within 30 days following its sale, we'll mail you your 100-percent tax-deductible sales receipt. This receipt is your ticket to claiming your tax deduction when you file your itemized federal income tax return in the next tax season.
Learn More About Elgin
Located in Cook and Kane counties, Elgin boasts a diverse community, historical museums, world-class parks, a thriving cultural arts scene and more. It's situated along the banks of the Fox River and is about 38 miles from Chicago. Elgin is one of the largest and fastest-growing cities in the state. 
The area is also home to three local cancer treatment centers. These include Advocate Sherman Hospital on Randall Road, the Northwestern Medicine Delnor Hospital on Randall Road and the Ascension Saint Joseph Hospital on North Airlite Street. These centers offer advanced cancer care services, including breast cancer treatment. Department teams consist of compassionate staff members, skilled nurses, surgeons and radiologists as well as board-certified oncologists. These centers offer a multi-disciplinary approach, innovative treatment options, guidance and support.
The Types of Vehicles That You Can Donate
Unlike other vehicle donations platforms, Breast Cancer Car Donations accepts nearly all types of vehicles regardless of their age, mileage, or condition. We'll take whatever you'll offer – as long as it comes with a vehicle title. In case you've lost your title, please inform us so we can assign one of our title experts to assist you in obtaining a duplicate copy of your title.
We serve the entire region, including nearby Aurora, Naperville and Rockford.
For our Elgin, Illinois car donations program, we usually take the following vehicles:
Cars: sedans, luxury cars, coupes, convertibles, hybrids, sports cars, wagons, hatchbacks
Vans: family minivans, camper vans, cargo vans, passenger vans
SUVs: compact, midsize, full-size or crossover versions
Motorcycles: touring bikes, cruisers, scooters, off-road bikes, mopeds, sports bikes, choppers
Trucks: box trucks, pickup trucks extended cab pickup, panel trucks, refrigerator trucks, tank trucks
Boats: fishing boats, sailboats, tugboats, speedboats, houseboats, cruise ships, catamarans, pontoon boats, yachts
Specialized vehicles: riding lawnmowers, motorized wheelchairs
Fleet vehicles: SUVs, pickups, trucks, buses, cars, passenger vans, cargo vans, limousines, ambulances, taxicabs
Work-related vehicles: construction vehicles, tractors and farm equipment, buses, large trucks, landscaping vehicles
Others: noncommercial planes; campers, travel trailers, snowmobiles, Jet Skis, RVs, motorhomes, pop-up trailers, ATVs
Team Up with Breast Cancer Car Donations Now!
Help breast cancer sufferers get better, paving the way for their declaration as cancer-free. Allow us to convert your shabby car into a life-saving instrument by taking part in our Elgin, Illinois car donations program. You can contribute car donations for cancer by calling us at 866-540-5069 or filling out our online donation form now! 
FREQUENTLY ASKED QUESTIONS
What is Breast Cancer Car Donations' Elgin, Illinois car donations program?
Our vehicle donation program in Elgin is a program that works to end breast cancer. We take your car donations and use the proceeds from auction to help fund IRS-certified 501(c)3 nonprofit organizations. These organizations help support individuals with breast cancer. For example, they offer financial aid for uninsured patients, counseling services, free medical resources and more. 
What benefits do I get if I donate my vehicle to Breast Cancer Car Donations' Elgin, Illinois car donations program?
You can receive numerous benefits from contributing to our program, including a stress-free donation process. Aside from freeing up space in your garage, you'll also receive a tax deduction and free towing services. Moreover, you don't have to worry about paperwork, as we'll handle all the details and logistics. Best of all, you'll help fund breast cancer nonprofits and save lives. 
How can I donate my car to your vehicle donation program?
Once you decide to donate your vehicle to our program, you can call us at 866-540-5069 or fill out our online donation form. Simply provide the basic details regarding your car, such as its year, make, model, working condition and title availability. Then, we'll have your vehicle towed for free and provide you with a towing receipt. Once we auction off your car, you'll receive a 100% tax-deductible sales receipt in the mail. 
What types of vehicles can I donate to Breast Cancer Car Donations' Elgin, Illinois car donations program?
We accept a wide range of vehicles, no matter their milage, age or condition. Our car donation program also accepts motorcycles, boats, trucks and ATVS as well as specialized, fleet and work-related vehicles. However, your car must come with a vehicle title.
or Call Us Now at 866-540-5069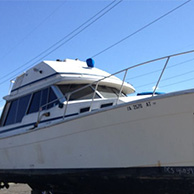 Excellent customer service!