Damascus, Maryland Car Donations
Donate Your Vehicle and Save Lives!
Help Us Ease the Suffering of Breast Cancer Victims and Save Their Lives With Your Damascus, Maryland Car Donations
Are you already tired of getting your old car repaired every now and then? Clearly, you wouldn't want to spend all your money on its endless repairs, right? Do you think it's time to move on?
You have three options. You can send it to a junkyard, sell or trade it, or donate it to a charity.
Sending it to a junkyard allows you to quickly get rid of it and get an easy and low payout. Selling or trading can be good, but are you up to long hours of tedious work of advertising your old car?
The best option for you is to donate it to charity, specifically to us, Breast Cancer Car Donations, through our Damascus, Maryland car donations program. We can easily get it off your hands. You will also receive a substantial tax deduction, thanks to your generosity.
However, the main and ultimate purpose of your car donation is to help ease the pain and suffering and save the lives of the thousands of breast cancer victims in the United States.
That's right: Your car donation will be able to help save the lives of these individuals, mostly women, who are grappling with the deadly disease.
Why Choose Breast Cancer Car Donations
When you donate your car to us, you will not only help people with breast cancer and get a tax deduction but also get a load of advantages! Here are some of them:
Easy to follow donation process
We will pay for your car's pickup and towing
We will take care of everything, meaning no paperwork
Hassle-free way of getting rid of your old car
Regain space in your garage
No more paying for costly repairs, insurance, and registration
'What Do Victims of Breast Cancer Get from My Donation?'
The proceeds from the sale of Damascus, Maryland car donations will go directly to our IRS-certified 501(c)(3) nonprofit organization partners, the American Breast Cancer Foundation (ABCF) and Women Involved In Nurturing, Giving, Sharing, Inc. (WINGS).
They will use the funding to sustain and expand their breast health support programs that provide vital services to all individuals who need them, particularly those afflicted with breast cancer. The services include:
Financial assistance to uninsured and underserved Americans undergoing treatment for breast cancer;
Effective treatment and rehabilitation of breast cancer patients;
Support for breast cancer patients' families;
Funding research on advanced methods of breast cancer prevention, screening, diagnosis, and treatment;
Launching campaigns to boost public awareness of the causes, symptoms, prevention, and detection of breast cancer.
'What Is Your Car Donation Process?'
We have come up with a simplified Damascus, Maryland car donations process that's geared to provide convenience to our donors.
The process begins when you fill out our online donation form or call us directly at 866-540-5069. In either of the two options, you need to provide us your contact details and your car's year, make, model, mileage, VIN, general condition, and title availability.
After we verify the information you shared, we'll get back to you to arrange the schedule for your vehicle's pickup and towing at your convenience.
A tow truck from a professional towing company in your area that's affiliated with us will then pick up your car. Before they haul off your vehicle, you'll get a donation receipt that releases you from all liabilities on your car, granting you the right to cancel and stop paying for your car's registration and insurance coverage.
Your car will be delivered straight to the best auction house in the city where we'll try our best to secure the best selling price for your car. Within 30 days following the sale of your car, you will receive from us your 100-percent tax-deductible sales receipt. You will need this receipt to claim your tax deduction when you file your itemized IRS income tax return for the next tax-filing season.
That's all to it! Quick, easy, and straightforward, isn't it? If you have questions though, you can give us a call. Our donation specialists are waiting for you. You can also check out our FAQs page.
'Do You Accept Other Vehicles for Donation?'
Yes, aside from cars, we at Breast Cancer Car Donations accept nearly all other types of vehicles in our Damascus, Maryland car donations program.
We are very flexible in our options in accepting vehicles. This gives us the chance to accommodate more vehicle donations. This way, we'll be able to help more breast cancer victims.
Here are some of the types of vehicles we accept for donations:
Cars: sedans, vans, SUVs, trucks, motorcycles
Boats: sailboats, motorboats, fishing boats, yachts, pontoon boats, houseboats, personal watercraft (like jet skis)
RVs: motorhomes, campers, travel trailers, pop-up trailers, 5-wheelers
Specialty vehicles: ATVs, snowmobiles, motorized wheelchairs, riding lawn mowers, tractors, farm equipment
Fleet vehicles: cars, passenger vans, cargo vans, SUVs, pickups, trucks, buses
Non-commercial airplanes
No More Sufferings!
Breast cancer continues to inflict suffering on many of our fellow citizens. You can do something to ease their suffering and save their lives by taking part in our Damascus, Maryland car donations program.
Once you are ready to commit, contact us right away at 866-540-5069! Donate your car now!
or Call Us Now at 866-540-5069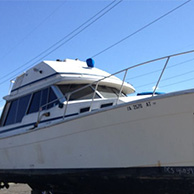 Excellent customer service!