Chicago, Illinois Car Donations
Donate Your Vehicle & Transform Lives!
Donate to Breast Cancer Car Donations in Chicago, Illinois
Did you know that car donations in Chicago, Illinois can play a crucial role in the fight against breast cancer? By working with us to make a cancer car donation, you provide support to our partner nonprofit organizations that aim to put an end to this deadly disease.
Breast Cancer Car Donations transforms your vehicle donation into a source of funding for local nonprofits, enabling the latter to assist cancer patients and their families. A car you no longer need can be turned into a source of funds for the prevention, screening, and treatment of breast cancer.
Have you always wanted to part ways with an old automobile that has been sitting idly in your garage? Don't want to go through the complicated process of selling and looking for potential buyers? We've got a solution for you – donate it to our Chicago, Illinois car donations program!
Disposing of an old car for a worthwhile cause is undeniably a great idea. Through a car, truck, boat, motorcycle or RV donation, you are giving hope and positivity to cancer-stricken women all over the country.
Chicago: The Windy City
Chicago, with a population of about 3 million, is the third largest city in the country. Many nicknames have been given to the city, including the City of Big Shoulders, the City that Works, the Second City, and the Windy City, which is the most popular moniker for Chicago.
The city has a lot of notable residents. The first African-American woman to win a Pulitzer Prize, Gwendolyn Brooks, hails from the Windy City. The country's first female African-American senator, Carol Braun, as well as the founder of the Hull House and the first female American Nobel Prize winner, Jane Addams, are also Chicago's own.
The city of Chicago prides itself not only on its people. It actually has introduced a lot of firsts in the world. Here are just some of them:
The invention of the remote control

The world's first Ferris wheel

The first all-color TV station

The Chicago River as the only river that flows backward

The creation of Twinkie

The establishment of the country's first blood bank
How Does the Donation Process Work?
One of the best things about Breast Cancer Car Donations is the convenience it provides donors. By choosing to work with us, you won't be stressing yourself on how to dispose of your unwanted vehicle, including the paperwork that goes with it. From the free towing to the processing of the tax receipt, we make sure that you go through a very smooth process of making Chicago, Illinois car donations.
All you have to do is contact us. Once you're ready to hand over your old vehicle, call us or fill out our online form below. We'll need some basic info about your vehicle, after which we'll arrange a date and time to tow it away.
At the time of pickup, which usually takes place a day or two after we receive your request, you don't need to be present. Paying for it isn't necessary either.
We use your Chicago, Illinois car donations to generate funds for local nonprofits that are committed to making a difference in the lives of breast cancer patients.
Days after your vehicle has been sold, expect a tax receipt in your mailbox. You'll be needing it to claim your tax deduction.

See how simple and quick it is to make a vehicle donation to us? Looks like you just found one of the best car donation programs in Chicago, Illinois!
What Vehicles Qualify as Chicago, Illinois Car Donations?
Whether you plan to donate a car that's no longer in running condition or a fully-functioning minivan that you don't need anymore, we'll be happy to have it with us. Since we will send a tow truck to haul your vehicle away, you don't have to worry about its non-working condition. Donate a junk car! 
Breast Cancer Car Donations is not picky when it comes to vehicle types, either. In fact, we gladly accept almost all kinds of automobiles for our Chicago, Illinois car donations program. Make a boat donation or give us your RV! Examples of vehicles we accept include:
Trucks

Specialty vehicles

Fleet vehicles

Recreational vehicles

Boats

Motorcycles

Jet skis

Farm equipment
If you still find yourself quite unsure about your vehicle's physical state or condition, don't hesitate to give us a call and open up about your concerns. You may also check out our FAQs page for more details.
Why Work with Breast Cancer Car Donations
By now, you must be already aware of how impactful a vehicle donation can be to helping women battling breast cancer. Giving away an old car to our Chicago, Illinois car donations program not only provides more space for your driveway. It also gives you a sense of fulfillment and joy knowing that you are making a difference in the lives of cancer victims.
Getting involved with our fight against breast cancer is such a huge thing to be proud of. With your good deed comes a string of rewards such as:
A stress-free donation process

Free towing and pickup of your vehicle

Relief from the hassles of selling or advertising your car

Freedom from paying for your car's insurance, restoration, and maintenance

A possible huge tax deduction
Make a Chicago, Illinois Car Donations Today
Ready to donate your car in Chicago and use it as a tool against breast cancer? Start changing lives in this area today! Get in touch with us at 866-540-5069 and donate to our Chicago, Illinois car donations program.
or Call Us Now at 866-540-5069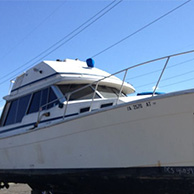 Excellent customer service!