Joliet, Illinois Car Donations
Donate Your Vehicle and Save Lives!
Turn Sufferers Into Survivors through Joliet, Illinois Car Donations for Breast Cancer
Each year, breast cancer claims thousands of lives in America. Although the survival rates continue to rise, thanks to early screening and modern treatment methods, the devastating disease continues to claim an unacceptable number of lives, and many patients are still in dire need of assistance.
That's the reason why we at Breast Cancer Car Donations are here. We serve as the online vehicle donation platform for some of the country's reputable IRS-certified 501(c)3 nonprofit organizations that are dedicated to providing life-saving assistance to breast cancer patients.
We would like to invite you to join our advocacy of saving the lives of cancer-stricken individuals by taking part in our Joliet, Illinois car donations program.
We can turn any old vehicle that you no longer need into a critical instrument that will enable breast cancer patients in your local area to successfully fight off the devastating disease. We'll sell your clunker at auction and use the proceeds to help fund the programs of our charity partners.
These charities use the funding we provide them to deliver the following services to their beneficiaries:
Financial assistance to uninsured and underserved women (covering expenses including oncology consultation and services, outpatient medication, surgery, and hospital bills);

Linking patients to facilities that provide accessible resources and a wide range of breast health services;

Funding ongoing research on breast cancer prevention, screening, diagnosis, and treatment;

Organizing fundraisers and outreach events for the benefit of patients;

Promoting public awareness on the importance of early screening and diagnostic tests.
The Benefits that Our Donors Receive
We believe that generous and kind-hearted people deserve great rewards for their good deeds, which is why we give our donors tons of perks. When you participate in our Joliet, Illinois vehicle donations program, get ready to receive these amazing benefits:
A handsome tax write-off;

Free vehicle removal;

No paperwork on your part;

Stop spending huge bucks for your vehicle's repair, maintenance, and insurance coverage;

Avoid the hassles and costs of selling a used vehicle yourself;

Free up space in your garage or driveway;

Team up with reputable cancer organizations;

Feel satisfied knowing that your donation will help save lives in your community.
How Our Donation Process Works
What sets us apart from other vehicle donation programs is the fact that we have an incredibly quick, straightforward, and stress-free donation process. Participating in our Joliet, Illinois car donations program will only take a couple of minutes of your time.
Here's a brief guide to our simple three-step donation process:
Reach out to us.
There are two ways for you to contact us. Either call us at 866-540-5069 or fill out our online donation form. We'll need to know certain details regarding your vehicle, such as its year, mileage, make, model, present condition, title availability, and VIN.
We tow your vehicle.
After verifying the information you shared with us, we'll ask for your most convenient date and time to hand over your vehicle to us. We'll then pick up your vehicle at your place or wherever it is located in the United States. Take note that the towing service we provide our donors is free of charge. Before our tow truck driver leaves with your vehicle, we'll issue you a towing receipt. This frees you from all liability on your donated vehicle from that point forward and allows you to cancel your DMV registration and insurance coverage.
You receive your tax-deductible receipt.
We'll fix and polished your vehicle before sending it to one of the auction houses within our network. Within 30 days following the sale of your vehicle, we'll send you your 100-percent tax-deductible sales receipt. You can use this document to claim your tax deduction when you file your itemized federal income tax return in the next tax season.
For more information on how to donate a car for charity, feel free to visit our FAQs page. If you have questions or other concerns, you can talk to one of our donation specialists at 866-540-5069 or send us a message online.
The Types of Vehicles We Normally Accept
Do you worry that we might not accept your beat-up car? No need to feel that way! We'll gladly take it in a flash!
Breast Cancer Car Donations is open to pretty much all types of vehicles regardless of their age and condition. As long as you have the title of the vehicle you're offering to donate, we'll take it! In case you misplaced or lost your title, please let us know as early as possible so we can help you obtain a replacement copy of your vehicle's title
So, what vehicle types usually qualify for our Joliet, Illinois car donations program? Find out below!
Cars: 

sedans, luxury cars, coupes, convertibles, hybrids, sports cars, wagons, hatchbacks

Vans: 

family minivans, camper vans, cargo vans, passenger vans

SUVs: 

compact, midsize, full-size or crossover versions

Motorcycles: 

touring bikes, cruisers, scooters, off-road bikes, mopeds, sports bikes, choppers

Trucks: 

box trucks, pickup trucks extended cab pickup, panel trucks, refrigerator trucks, tank trucks

Boats: 

fishing boats, sailboats, tugboats, speedboats, houseboats, cruise ships, catamarans, pontoon boats, yachts

Specialized vehicles: 

riding lawnmowers, motorized wheelchairs

Fleet vehicles:

 SUVs, pickups, trucks, buses, cars, passenger vans, cargo vans, limousines, ambulances, taxicabs

Work-related vehicles: 

construction vehicles, tractors and farm equipment, buses, large trucks, landscaping vehicles

Others: 

noncommercial planes; campers, travel trailers, snowmobiles, Jet Skis, RVs, motorhomes, pop-up trailers, ATVs
If you have more than one vehicle that you no longer need, go ahead and donate as many as you can. The more donations you make, the more breast cancer patients you'll be able to help, and the more tax deductions you'll receive!
Learn More About Joliet
Joliet and the surrounding area are home to several prestigious cancer treatment centers dedicated to serving people diagnosed with breast cancer. Some centers include Ascension Illinois – Cancer Care Joliet, located on Madison St.; Presence Saint Joseph Medical Center, also on Madison St.; and UChicago Medicine Comprehensive Cancer Center, located on Silver Cross Blvd. in New Lenox.
Give Your Clunker a New Home Now!
It's time to let go of your old beater and give it a new home at Breast Cancer Car Donations. You'll be in awe when you find out how many lives you can help when you donate a vehicle to charity. Get in touch with us at 866-540-5069 or fill out our online donation form to start your donation process now! We serve the entire Chicago metro area, including nearby neighborhoods such as Beaver Creek, Bevan Acres, Cunningham, Deer Run, Emerald Lawns, Fall Creek, Goodson Park, Highlands, Idyleside, Joliet Trail, Krings Acres, Longleat, Minwood Glen, North Prairie, Picardy, Rock Run, Stonegate, Twin Oaks and Warwick.
or Call Us Now at 866-540-5069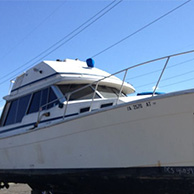 Excellent customer service!