South Carolina RV Donations
Donate Your Vehicle and Save Lives!
Increase Breast Cancer Patients' Survival Chances 
Through South Carolina RV Donations
When you participate in our South Carolina RV donations program, you will be raising the hopes of a lot of breast cancer patients that they can survive the disease. Your RV donation to Breast Cancer Car Donations will impact greatly on the lives of our fellow Americans suffering from breast cancer as well as their families. You will virtually be giving the victims of the disease a second chance in life.
What You Need to Know About Breast Cancer
Breast cancer happens when malignant tumors develop in the breast. These cells can spread all over the body by escaping from the original tumor and entering the blood or lymph vessels.
The still mysterious disease poses a serious threat to the lives of women in the United States and elsewhere. In fact, experts say one in eight women in the U.S. will develop the disease during her lifetime.
According to its 2018 report, the American Cancer Society says an estimated 266,120 new cases of invasive breast cancer will be diagnosed in women this year. Additionally, 63,960 new cases of in-situ or non-invasive breast cancer will be diagnosed in women in 2018.
Although the disease is rare for men, 2,550 males are expected to be diagnosed with the disease this year.
Sadly, death is sometimes inevitable with breast cancer. This year, experts estimate 41,400 breast cancer deaths–40,920 for women and 480 for men.
However, it's not over till it's over. If breast cancer is detected in its early stages and the right treatment is performed, the victim has a good chance of surviving the disease.
How Your RV Donation Will Help Breast Cancer Victims
Your participation in our South Carolina RV donations fundraiser will enable us to generate funds for our nonprofit organization partners—the American Breast Cancer Foundation (ABCF) and Women Involved In Nurturing, Giving, Sharing, Inc. (WINGS). The proceeds from the sale of your RV at auction will be used to sustain and even expand our charity partners' comprehensive breast health programs that provide life-saving assistance to breast cancer patients in particular.
These IRs-certified 501(c)3 nonprofits deliver services to all who need them. The services include:
Helping uninsured individuals gain access to breast cancer screening, diagnosis, and treatment;
Providing financial assistance to breast cancer patients, survivors, and their families;
Funding research on more effective breast cancer management and treatment;
Boosting information campaign to educate the public on the causes of breast cancer, how to prevent the disease, and how to detect it early for more effective treatment.
The Rewards You'll Get for Your RV Donation
Contributing to our South Carolina RV donations program will give you an overwhelming sense of satisfaction, knowing that you'll be helping save the lives of your fellow Americans stricken with the deadly disease.
It's not only good feelings you'll have when you donate your RV to us at Breast Cancer Car Donations. You'll also receive material rewards for supporting our noble cause. Here are some of the benefits you'll get for your RV donation:
Get a top tax deduction.
Get 100-percent free and fast towing services.
Go through a donation process that's quick, easy, and convenient.
Free yourself from the responsibility of paying for insurance and registration.
Say goodbye to RV repairs and maintenance.
We will do the required paperwork for you.
No need to go through the hassles of selling your RV.
Regain garage space after we haul off your RV.
The Other Vehicles You Can Donate
We accept various types of recreational vehicles in our South Carolina RV donations program. You can donate to us your old and unwanted campers, motorhomes, travel trailers, pop-up trailers, 5-wheelers, and toterhomes among others.
We also accept other vehicle types such as cars, vans, trucks, SUVs, pickups, motorcycles, ATVs, riding lawnmowers, snowmobiles, motorized wheelchairs, golf carts, tractors, farm equipment, buses, various types of boats and non-commercial aircraft.
We gladly accept multiple donations of various vehicle types. We also accept vehicles even if they are not in good running condition.
Here's How You Can Donate Your RV to Us
It is really easy to donate an RV to us at Breast Cancer Car Donations. Our South Carolina RV donations process is quick, efficient, and convenient. It consists of just three easy and simple steps:
Step 1:
Give us a call at 866-540-5069. Simply tell us that you want to take part in our RV donations program. Provide a few details like your RV's make, model, year, mileage, general condition (whether running or non-running), and title availability. You can also fill out our online donation form.
Step 2:
Once we have verified the information you provided, we will make arrangements with a professional towing company to pick up your RV on the date, time, and place most preferable to you. The towing fee is on us, and you don't have to pay for anything. You don't have to be present during the pickup, and you can just assign anybody to represent you. During the pickup, a representative from the towing company will hand you or your designated representative a towing receipt that releases you from all liabilities on your vehicle, allowing you to lawfully cancel its registration and insurance coverage.
Step 3:
We'll take your RV to the best auction house in your city. Within 30 days after we auction off your vehicle, you'll receive your 100 percent tax-deductible sales receipt, indicating your donated RV's final selling price. This will serve as the basis of your tax deduction claim when you file your itemized federal tax return.
Do It Now!
There is no other time to donate but now! Contact us at 866-540-5069 and take part in our South Carolina RV donations program. Donate an RV and help save lives!
or Call Us Now at 866-540-5069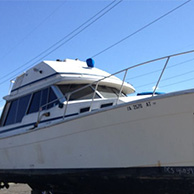 Excellent customer service!