Ohio Motorcycle Donations
Donate Your Vehicle and Save Lives!
Help Save Lives and Get Awesome Benefits Through Ohio Motorcycle Donations
Has anybody ever told you that our Ohio motorcycle donations program was intentionally designed to be extremely fast and easy? We at Breast Cancer Car Donations made it that way so that more people across the United States can get rid of their unwanted motorcycles quickly. At the same time, this enables us to provide free and accessible breast health services to more people.
Are you ready to give away that old motorbike in your driveway? How about putting that old thing to better use?
When you take part in our Ohio motorcycle donations fundraiser, you'll not only make a significant contribution to a worthy cause, you'll also get to enjoy awesome benefits for yourself!
Your Donation Goes a Long Way!
As heartbreaking as it sounds, breast cancer has been plaguing Ohio just like the rest of the United States. In 2017, Ohio recorded 9,430 new cases of breast cancer and 1,690 breast cancer deaths, according to the American Cancer Society. As stated in the Ohio Cancer Incidence Surveillance System, mortality rates in Ohio were 8 percent higher compared to other states during the years 2010-2014.
To help fight this deadly disease, we at Breast Cancer Car Donations have committed ourselves to work tirelessly with our nonprofit organization partners—the American Breast Cancer Foundation (ABCF) and Women Involved in Nurturing, Giving, Sharing Inc. (WINGS). With our common goal of helping save people's lives, we've continuously dedicated our efforts to raise funds so that our nonprofit partners can deliver the following services:
Financial assistance to breast cancer patients, survivors, and their families;
Comprehensive research for the most effective treatment of breast cancer;
Full access to medical facilities for screening, diagnosis, treatment and proper care for those who are uninsured and underserved;
Campaign promotions to raise public awareness about the causes, symptoms, early detection and prevention of breast cancer.
Your participation in our Ohio motorcycle donations program can help us reach more individuals who need help! It may seem like a simple gift, but this might actually be a person's only chance to survive breast cancer. You can make a difference today by calling us at 866-540-5069 to jumpstart your motorcycle donation process!
Donating Your Motorcycle Is Fast and Easy!
Breast Cancer Car Donations made sure that our Ohio motorcycle donations process is nothing but a cinch. Here's a step-by-step guide on how it works:
This is the only thing that you actually have to do. Call 866-540-5069 or fill out our online donation form. Provide us the information about your vehicle such as its make and model, year, current mileage, general condition, and title availability. If you have lost the title, let us know so we can help you obtain a replacement title quickly. Leave your contact details with us so that we can easily get in touch with you.
Tell us when and what time would you like us to pick up your vehicle and where shall we pick it up. Take note that the towing service is FREE and your presence during the pickup is not at all required.
Based on the schedule that you have arranged, a professional towing company in your area will pick your vehicle up and haul it off. You'll receive a towing receipt that will enable you to de-register your vehicle, dispose of your license plates properly, and cancel your insurance coverage.
Once your vehicle has been successfully auctioned off, we'll send you a 100-percent tax-deductible sales receipt via mail. You need this document in claiming your tax deduction when you file your income tax return. The tax deduction you can claim will depend on the selling price of your vehicle or its fair market value.  In a nutshell, if your motorcycle was sold for less than $500, you can claim the exact sales price or your motorcycle's fair market value not exceeding $500, whichever is higher. If it sells for over $500, you can claim the exact selling price.
Other Vehicles Are Welcome!
Motorcycles aren't just the only vehicles that we accept for donation. We welcome single and multiple donations, running and non-running vehicles, vehicles with missing or damaged parts, and all of the following vehicle types:
Cars, vans, SUVs (sport utility vehicles), trucks, motorcycles
Sailboats, motorboats, fishing boats, yachts, pontoon boats, houseboats, personal watercraft (i.e. jet skis)
Recreational vehicles (RVs), motorhomes, campers, travel trailers, pop-up trailers, 5-wheelers
ATVs, snowmobiles, motorized wheelchairs, riding lawn mowers, 4x4s, tractors, farm equipment
Fleet cars, passenger vans, cargo vans, SUVs, pickups, trucks, buses
Donations Are Mutually Beneficial!
Yes, the main purpose of this donation is to help fight breast cancer, and that's a noble act indeed. But do you know that as a donor, you get to enjoy multiple benefits as well? Participating in our Ohio motorcycle donations program will enable you to:
Avoid the hassles of selling your vehicle, looking for prospect buyers, putting up sale signs and ads, and handling all the paperwork that comes with the sale.
Eliminate the need for paying unnecessary insurance and maintenance fees for a vehicle you're not using anymore.
Get rid of your extra, unwanted or battered motorcycle for free.
Vacate that driveway which you're either paying for, leasing or been wanting to empty for perhaps another vehicle.
Claim a maximum tax deduction.
Get that priceless sense of fulfillment for doing a charitable act.
Ready to Help Save Lives?
If you are, contact us at Breast Cancer Car Donations right away at 866-540-5069 to give back to your community by joining our Ohio motorcycle donations program today!
or Call Us Now at 866-540-5069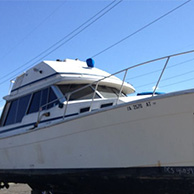 Excellent customer service!