Nevada Motorcycle Donations
Donate Your Vehicle and Save Lives!
Help End the Suffering of Breast Cancer Victims With Your Nevada Motorcycle Donations
Did you know that a single motorcycle donation can help end the suffering of a breast cancer patient? By taking part in our Nevada motorcycle donations program, you'll give individuals afflicted with this terrible disease a positive outlook on life.
That motorcycle of yours, whether it's old or not so old, running or non-running, can turn into a weapon against breast cancer if you donate it to us at Breast Cancer Car Donations.
We'll generate funds from your donated motorcycle, which will then be used to support the breast health programs and services being provided by our two reputable nonprofit organization partners, namely the Women Involved in Nurturing, Giving, Sharing, Inc. (WINGS) and American Breast Cancer Foundation (ABCF). Both foundations are known for their shared mission of finding a way to beat breast cancer and helping its victims.
If you've been itching to get rid of a motorcycle that's been sitting uselessly in your garage, donating it to us sounds like the perfect way to do it. Not only is it a fast and simple process, it's also completely free! Most of all, you get to help save lives and raise breast cancer awareness, leading to early diagnosis and more effective treatment.
Why Choose Breast Cancer Car Donations?
Are you looking for a reliable motorcycle donation program in Nevada that offers excellent service? Breast Cancer Car Donations might just be what you've been looking for this whole time. Let's explain why.
When you choose to work with us, consider yourself free from stress and big responsibilities. The only thing you'll be doing during our entire Nevada motorcycle donations process is to initiate it. Once you do that, we'll take over and finish the rest.
To give you an idea, here's how it basically works when you donate a motorcycle to us:
First:
Inform us about your decision to donate either through a phone call or by filling out our online donation form. Give us details about the motorcycle you plan to donate. After obtaining and verifying the information you provided, we'll schedule a convenient date and place to pick up your motorcycle.
Second:
We'll assign a professional towing company in your area to do the job of hauling off your motorcycle. Please note that this is absolutely free of charge. We will issue you a tow receipt during the pickup. This will relieve you from any liabilities on your motorcycle and gives you the right to cancel its registration and insurance coverage and stop paying for them. The receipt is also a requirement for the processing of your top tax deductions.
Third:
We'll put your motorcycle on the auction block. Once it is sold, the proceeds will go straight to our trusted partners. A thing that you consider useless will thus become an instrument for saving lives. We'll mail you your 100-percent tax-deductible sales receipt within 30 days after your motorcycle is sold. Your donated motorcycle's final selling price as shown in the receipt will serve as the basis of your tax deduction claim when you file your itemized federal income tax return for the next tax-filing season.
That's pretty much everything you need to know about donating to us. If this looks convenient to you, why don't you go ahead and call us today at 866-540-5069 to start your donation process?
Exciting Benefits for Our Donors
At Breast Cancer Car Donations, you'll have the opportunity to enjoy several incentives when you join our Nevada motorcycle donations program. As you may already know, you'll be getting a huge tax deduction from your donated vehicle.
Here are several other good things to expect when you decide to donate your motorcycle to us:
Be able to get rid of an idle motorbike without spending a single dollar
Experience a quick and hassle-free donation process
Avoid the headaches of dealing with paperwork
Free and fast pickup and towing of your donated vehicle
Declutter your driveway or garage
No need to sell or look for possible buyers
Feel great knowing that your motorcycle donation will make a huge impact on the lives of women struggling with breast cancer
The Types of Motorcycles and Other Vehicles We Accept for Donation
Regardless of their age or condition, these are the types of motorcycles we normally accept in our Nevada motorcycle donations program:
Touring motorcycles
Mopeds
Dirt bikes
Sports bikes
Scooters
Dual-sport motorcycles
Cruisers
One of the many reasons why our donors find it pleasurable to work with us is the fact that, unlike other organizations like us, we accept vehicles that are no longer function well.
We also accept a wide range of vehicles for donations, including cars, vans, trucks, SUVs, trucks, RVs, pickups, ATVs, snowmobiles, motorized wheelchairs, riding lawn mowers, tractors, farm equipment, boats and even non-commercial airplanes.
If you have other vehicles that you wish to donate to charity, we'd gladly welcome them. We love multiple donations because they mean more benefits for breast cancer patients.
Feel free to give us a call if you have concerns about your motorcycle's eligibility for our Nevada motorcycle donations program. Contact us at 866-540-5069 and one of our friendly donations specialists will be happy to hear you out.
Join Us in Fighting Breast Cancer Today!
Have you always wanted to participate in the fight against breast cancer? This is the ideal moment to do so. With the simple act of donating a motorcycle to us at Breast Cancer Car Donations, you can help thousands of women afflicted with the disease. Call us now at 866-540-5069 and get free towing services and maximized tax deductions with your Nevada motorcycle donations!
or Call Us Now at 866-540-5069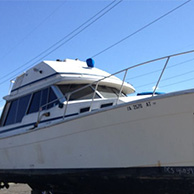 Excellent customer service!