Los Angeles, California RV Donations
Top 7 Benefits of Making L.A. California RV Donations
When people decide to make L.A. California RV donations, they become catalysts for change in the lives of thousands of women in the city who are on their breast cancer journey. If you are one of those people who wonder how they can help make the world a better place to live in, a vehicle donation is certainly one of the easiest ways to do so. We're here to show you how.
How to Get Rid of an Old RV
You're looking at your junky, old RV—a fully contained home-on-wheels—and you're taken back to the time when the kids were little and the road trips you took as a family were epic. Now that you're retired and the kids have grown up, you realize that it's now a hassle to keep using the RV for camping trips. As much as you would want to keep the old thing for sentimental reasons, you know in your heart that it has hit the end of the road.
Considering how densely populated Los Angeles is, you could be one of the countless RV owners out there who are thinking of parting ways with their preloved vehicle through selling, trading, or scrapping—anything! Although your RV was good while it lasted, what's not good is to move it to the RV graveyard.
The good news is, there is a way to get it off your driveway without you breaking a sweat or spending a single dime! Sounds too good to be true? We'll show you how to do it.
We at Breast Cancer Car Donations pride ourselves in supporting renowned charities that are doing all they can to fight breast cancer. We want these nonprofit organizations to focus on their life-saving missions, that's why we took on the responsibility of managing their car donation program.
We sell all donated vehicles we receive and use the proceeds to support the comprehensive breast health services that our nonprofit partners deliver to various communities throughout the country, including here in Los Angeles, California. These services focus on breast cancer prevention, screening, diagnosis, and treatment.
If you want to support the fight against breast cancer AND get your old RV out of your hands, then donate it to us!
Top Gains of Donating Your RV
When you go for L.A. California RV donations, you would gain a lot more than you think. Here's the good stuff that you would get to enjoy once you decide to donate your RV to us.
1. The RV donation process is quick.
Donating RVs has never been easier and convenient! Once you decide to donate by filling out our online donation form and giving us a few salient details about your RV, you're done! It would only take a few minutes of your precious time.
2. Get a top tax deduction.
We work with legitimate IRS-certified 501(c)3 nonprofit organizations, which means that if you donate your RV to us, you can be sure that your donation will be 100% tax-deductible. You can claim your top tax deduction in the next tax season.
3. Hassle of dealing with difficult buyers—begone!
You know that a lot could seriously go wrong with your RV over time, and the repairs wouldn't be cheap. Dealing with potential buyers is time-consuming and is always a hassle. Not to worry, Breast Cancer Car Donations will most likely accept your RV donation regardless of its condition.
4. Less clutter!
Once you donate your RV to us, you'll have more room in your driveway. Simplify your life as you join us in making a difference in the lives of the breast cancer-afflicted women in your city!
5. Take advantage of our FREE pickup and towing!
Motorhomes can be difficult and expensive to move from place to place. Don't let this be an excuse for you to hold on to it. Make your life easier by letting us haul your RV away—free of charge!
6. Let us handle all the paperwork!
Bask in the joy of convenience as you enjoy the outdoors free from your unwanted RV while we handle all the stressful paperwork!
7. Know that your donation would help breast cancer patients in L.A.!
We make sure that 100% of the proceeds from the sale of your donated RV will stay local. You can be confident in the fact that you'll be helping individuals in your community who have been diagnosed with breast cancer.
Local Treatment Centers in L.A. 
Known as the entertainment capital of the world, Los Angeles offers numerous attractions. These include Venice Beach, the Sunset Strip, movie studios, theme parks, exciting nightlife and more. The area is also home to some local cancer treatment centers. These include the USC Norris Comprehensive Cancer Center on Eastlake Ave. and the UCLA Jonsson Comprehensive Cancer Center on Le Conte Ave. 
The USC Norris Comprehensive Cancer Center provides care for 14 different cancers, including breast cancer. In fact, it's ranked as a top cancer care hospital. This cancer center offers patients renowned doctors and specialists, innovative therapies, clinical trials and a multidisciplinary team approach to care. The UCLA Jonsson Comprehensive Cancer Center is a leader in cancer research and clinical care. Treatments include clinical trials, various therapies, breast surgery and more. Care teams consist of radiologists, pathologists, counselors, oncologists and surgeons.
Helping Breast Cancer Patients in L.A.
Imagine a woman having her breast cancer diagnosed at its early stage, thus greatly increasing her chances of survival, because of the free screening services that our charity partners have provided. Imagine a needy breast cancer patient receiving free treatment services, also courtesy of our nonprofit partners. Let these thoughts sink into your mind, then turn them into reality by donating your RV to Breast Cancer Car Donations.
Call us at 866-540-5069 and get free towing services for RV donations in Los Angeles, California! We serve the entire region, including nearby Anaheim, Long Beach, Riverside, Santa Ana and more.
FAQs
What advantages does RV donation offer?
Not only will you be helping to fight breast cancer, but you'll also qualify for a tax deduction. 
What types of RVs do you accept for donation?
We accept a variety of RVs no matter if they're in working condition or not. Examples include motorhomes, travel trailers, pop-up campers, fifth wheels and more.
Why should I donate my RV instead of selling it?
Donating your recreational vehicle lets you avoid the expenses and hassles of selling it.
How convenient is the donation process?
Our donation process is quick and easy. Reach out to us when you're ready to donate and we'll schedule a free pickup and tow of your RV. 
What difference does my RV donation in Los Angeles make?
The funds from your motorhome donation will help support nonprofits that are fighting this disease. It'll go toward prevention, screening, diagnosis, treatment and finding a cure. 
How can I donate my RV to Breast Cancer Car Donations?
Simply fill out our online form or call us to get started. Our skilled team will handle the rest.
or Call Us Now at 866-540-5069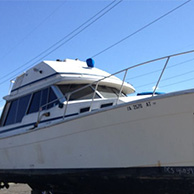 Excellent customer service!