Georgia Motorcycle Donations
Donate Your Vehicle and Save Lives!
Georgia Motorcycle Donations: Help Increase the Chance of Survival of Breast Cancer Patients
If you have a motorcycle that you don't use anymore or you want to get rid of, consider donating it to our Georgia motorcycle donations program for the benefit of our fellow citizens who have fallen victim to breast cancer.
We at Breast Cancer Car Donations have fully committed ourselves to helping our fellow Americans who are battling breast cancer. We work with well-respected nonprofit organizations whose primary purpose is to deliver essential breast health services to all individuals, particularly breast cancer patients who could not afford the high cost of treatment.
Our charity partners—American Breast Cancer Foundation (ABCF) and Women Involved In Nurturing, Giving, Sharing, Inc. (WINGS)—have been working tirelessly to give breast cancer victims a second chance in life, helping them cope and fight the horrible disease along with their families.
Financially capable or not, emotionally stable or not, those people battling breast cancer need all the help they can get. That's why we have set up numerous vehicle donation programs all over the country that are solely meant to generate funds to help breast cancer patients in every possible way.
How Breast Cancer Patients Will Benefit from Your Donations
The proceeds from the sale of your Georgia motorcycle donations will be used to fund our nonprofits. They will then use the funds to carry out various support programs and services for the benefit of breast cancer patients. The services they render include:
Financial assistance to uninsured and underserved breast cancer patients, covering their surgery, oncology services, consultation, hospital fees and outpatient medication;
Connecting these patients to local facilities that offer free and accessible resources, information and other comprehensive breast health services;
Raising public awareness on breast cancer prevention, diagnosis, and treatment;
Pursuing research on prevention, screening, diagnosis, and treatment of breast cancer;
Sponsoring charity and outreach events for the benefit of breast cancer patients
 Breast Cancer Facts
Breast cancer has been known to mankind ever since ancient times. The disease has been mentioned in almost every period of recorded history. It has struck countless women and some men as well from all parts of the world.
The first to recognize the disease were the ancient Egyptians. The oldest description of breast cancer (although the word cancer was not used) was discovered in Egypt written in a papyrus, a page from an ancient Egyptian textbook on trauma surgery that dates back to 3000 BC. Called the Edwin Smith Papyrus, it describes eight cases of tumors or ulcers of the breast that were removed by cauterization. It says the disease has "no treatment."
Here in the United States, it is said that one out of eight women will be diagnosed with breast cancer over the course of her lifetime. Today, there are about 3.3 million survivors of breast cancer in the country. Although it is common in women, breast cancer also attacks some men.
A 2018 report released by the American Cancer Society estimates that there will be 268,670 new cases of invasive breast cancer (266,120 in women and 2,550 for men) this year. This figure does not include yet the estimated 63,960 new cases of non-invasive, or in situ, breast cancer in women this 2018.
The same report estimates that there will be 41,400 breast cancer deaths (40,920 in women and 480 for men) this year.
Why Choose Breast Cancer Car Donations?
The great thing about our Georgia motorcycle donations program is that it allows car donors to get tons of perks. Here are some of them:
Our donation process is easy and fast.
We'll sell your motocycle for you.
No paperwork needed.
Fast and free towing services.
Easily get rid of your motorcycle.
You avoid the hassle of trying to sell your motorcycle.
Stop spending for insurance, registration, and expensive maintenance fees.
Free up space in your garage.
Our Easy Georgia Motorcycle Donations Process
It's so easy to participate in our Georgia motorcycle donations program that it will take you just a few minutes to initiate it in the comforts of your home. After that, you can sit back and relax and just wait for the process to finish.
You can start by filling out our online donation form or, if you want to talk to one of our donations specialists, you can call us at 866-540-5069. We will ask for your contact information and motorcycle's year, make, model, and mileage. We will also ask if it still runs and if you have the title with you.
We will verify the information you've given. Once we're done, we'll call you back and ask you your preferred date, time, and location for the pickup. Then, we'll assign an affiliate towing company to tow away your motorcycle. We will hand you a donation receipt, a document that releases you from all liabilities on the motorcycle you donated, allowing you to de-register it, dispose of its license plates properly, and cancel its insurance coverage. Keep the receipt since you may need it for tax purposes.
Once towed, your motorcycle will be auctioned off. Within 30 days after someone buys it, you will get a 100-percent tax-deductible receipt in the mail. The receipt shows your donated motorcycle's final selling price, which will serve as the basis of your tax deduction claim when you file your itemized federal tax return for the next tax-filing season.
If you have another vehicle to donate, please do! We warmly accept multiple vehicle donations. We also accept nearly all types of vehicles.
Ready to Save Lives?
If you are ready to proceed, contact us at 866-540-5069, and let's get started with your Georgia motorcycle donations!
or Call Us Now at 866-540-5069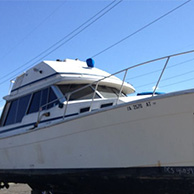 Excellent customer service!