Georgia Golf Cart Donations
Donate Your Vehicle and Save Lives!
Give Hope to Breast Cancer Victims With Your Georgia Golf Cart Donations
If you're planning to upgrade to a newer golf cart model but can't seem to think of a way to dispose of your old one, consider joining our Georgia golf cart donations program. The proceeds from the sale of your donated golf cart will be used to deliver life-saving services to breast cancer patients.
With our vehicle donation programs, we at Breast Cancer Car Donations are able to generate funds that are used by our nonprofit organization partners to provide breast health services to all individuals who need them. The services include providing uninsured and underserved breast cancer patients access to proper healthcare facilities as well as financial assistance for treatment to increase their chances of surviving the disease.
Despite the continued efforts of medical professionals and scientists to improve the chances of breast cancer survival, the disease continues to claim the lives of thousands of women every year. Breastcancer.org's latest statistics report projects that this year, 266,120 new breast cancer cases will be diagnosed and 40,920 are expected to die from the disease in the United States. According to GeorgiaGov's report in 2016, breast cancer is the most commonly diagnosed cancer and the second leading cause of cancer death in women across the state.
The exact cause remains to be a mystery to both doctors and scientists, although it is believed that certain risk factors such as gender, age, and genetic mutations caused by exposure to radiation can contribute to its development. Since 1989, breast cancer-related deaths have been decreasing, and it is thought that the improved treatments, increased awareness, and early detection through screening have contributed to the decrease in mortality.
The Fight Against Breast Cancer Continues
Breast Cancer Car Donations hopes to continue increasing the survival rates of breast cancer patients by generating funds through vehicle donations. By doing this, we will be able to help breast cancer-stricken women gain access to proper medical care without them worrying about the cost.
We are proud to be working hand in hand with IRS-registered 501(c)3 charities such as:
American Breast Cancer Association (ABCF)
ABCF primarily focuses their efforts on the early detection and diagnosis of cancer. They have programs that help breast cancer patients in their battle to fight off this deadly disease. This nonprofit is also dedicated to providing women with educational resources for the prevention of breast cancer as well as financial assistance to aid in their treatment.
Women Involved in Nurturing, Giving, Sharing, Inc. (WINGS)
WINGS' mission is to bridge the gap between diagnosis and treatment of breast cancer. They use their network of physicians and healthcare facilities to help breast cancer patients have access to a more affordable and comprehensive life-saving care and treatments.
Everyone who's diagnosed with breast cancer deserves to have a real fighting chance to survive it. You can help them live longer and stronger by joining Georgia golf cart donations today! Call 866-540-5069 and have one of our donors' reception officers walk you through our donation process!
You'll Enjoy Great Rewards for Your Donation!
When you take part in our Georgia golf cart donations, you open the door for heaps of good karma and loads of rewards to go your way! Your generosity will get you these:
Since we partner with 501 (c)(3) non-profit organizations, you'll get to enjoy a tax deduction that you can claim in the next tax season. We're able to maximize your tax write-off by refurbishing your donated golf cart before putting it on the auction block to increase its sale value.
Donating your unused golf cart means that you can finally regain that garage space and turn it into something more useful for you!
Avoid the hassle of selling
When you donate your golf cart, you get to skip the part where you advertise the sale of your vehicle and avoid the hassle of negotiating with strangers.
Enjoy a straightforward process of donation
In just three easy steps, your golf cart will be on its way to save lives.
Since there won't be a need for you to pay for your golf cart's insurance and maintenance, you could save your money for a brand-new vehicle or a much-needed vacation!
Knowing that your donation could help save the lives of Georgia women who are currently battling breast cancer makes all the difference in the world.
Our 3-Step Donation Process
One of the advantages of donating to our Georgia golf cart donations program is its quick and convenient process. Here's how it works:
You can start by picking up your phone and calling us at 866-540-5069 and we'll have our friendly staff guide you through the process of donating. You can also choose to fill out our online donation form.
Step 2. Schedule your free pick up.
Once your request has been processed, we'll arrange with a licensed towing company to pick up your vehicle at its location at your convenient time and place. Don't worry: You won't have to pay for anything. Towing is on us!
Step 3. Wait for your tax-deductible receipt.
Once your golf cart is sold at an auction, a 100-percent tax-deductible sales receipt will be mailed to your address. The amount stated there will be the basis of your tax deduction claim when you file your itemized federal income tax return next tax season.
Put a Smile on Someone's Face Today!
If you have a golf cart lying in your garage taking up space, donate it now and give those who were diagnosed with breast cancer a reason to smile. You can also donate to us other vehicles lying around your property that you don't need anymore. Breast Cancer Car Donations accepts nearly all types of vehicles.
Join the fight against breast cancer today and help increase the breast cancer survival rates in Georgia! Contact us at 866-540-5069 today to get a healthy tax write-off for taking part in our Georgia golf cart donations!
or Call Us Now at 866-540-5069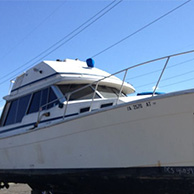 Excellent customer service!