Donate Your Junk Car
Donate Your Vehicle and Save Lives!
Donate a Junk Car to a Good Cause – the Fight against Breast Cancer
Do you have an old car that you no longer find useful and is just lying in your backyard gathering dust? Are you searching terms such as "donate my junk car" online, trying to figure out what to do? You want to get rid of it but don't know the best way to do it. You could make a junk car donation with no title, but it may elicit more questions. Do you try to sell it or just send it off to a junkyard?
There is a third option – and it's much, much better than the first two. What you can do instead is donate the junk car to charity via Breast Cancer Car Donations. Selling your clunker will give you a lot of hassle and will likely cost you even more than the amount you will get from the buyer. On the other hand, dumping your run-down car to the junkyard also means expenses for nothing since you will have to pay for the towing service.
However, if you donate your junk car to us at Breast Cancer Car Donations, you will provide life-saving benefits to indigent breast cancer patients. At the same time, you get plenty of rewards as well! You may not know it, but that old car just sitting in your garage, backyard, or driveway may be the key to the survival of many victims of breast cancer in America.
The proceeds from the sale of your donated car will be used in so many beneficial ways. Our charity partners will use the funding to:
Provide financial assistance to uninsured and underserved Americans who are battling breast cancer

Pursue research on prevention, screening, diagnosis, and treatment of breast cancer

Boost campaigns for public awareness of the causes, symptoms, prevention, and detection of breast cancer

Sponsor charity and outreach events for the benefit of breast cancer patients
Why Choose Us for Your Junk Car Donations?
There are a lot of reasons why you should choose us to receive your junk car donations. Here are some of them:
It is very easy to

donate your junk car

to Breast Cancer Car Donations. Time is important and we will make sure that none of it will be wasted.

Junk car buyers often do not come to your place and pick up your junk car for free. However, if you donate it instead to us, you will get free towing service. You don't even need to be there during the pickup.

Selling a junk car and finding the right buyer can be difficult. It can take up to a few weeks or even months. If you donate to us, selling your car will no longer be your problem since we will be the one to do it for you by putting your car on the auction block.

Are you still paying for the insurance and registration of your old junk car? Don't you think it's useless paying a lot for something you no longer use? If so,

donate your junk car

to us and you'll no longer have to pay anything for that car.

You don't have to bother yourself with paperwork since we will be the one to do that as well. You can even

donate a junk car without a title

.

We accept multiple car donations and there are car donation programs in all the 

50 states in America

.

Get a 

huge tax deduction

 if you

donate your junk car.

The best of them all is you will be helping countless breast cancer patients with your junk car donations.
Do We Accept Junk Cars for Donations?
In most cases, we accept vehicles for donation regardless of their condition. We tend not to focus on that aspect. If the car you're donating has not run for years, if it has many dents and scratches, we will still accept it! We are here to help and we're not very selective in accepting vehicles for donation. However, we do not accept abandoned vehicles with no ownership and vehicles that are too heavily damaged that they have little or no more value.
Types of Vehicles We Accept for Donation
Commonly donated vehicles are cars, pickup trucks, and SUVs. However, Breast Cancer Car Donations accepts a wide variety of vehicles. We accept not only common vehicles but also others like RVs, boats, motorcycles, and more! Let us give you some more examples of the vehicles that qualify for donation to us.
Vans or minivans

Campers

Trucks

Yachts

Jet skis

ATVs

Golf carts

Farm equipment

Motorized wheelchairs

Fleet vehicles
Check out more of the vehicles we accept by visiting our accepted vehicles page.
The Process of Donating a Junk Car
You can call us at 866-540-5069 or fill out our 

online donation form

. We will need just the basic information about yourself and the car you're donating. We then arrange a time, date, and place for the pickup at your convenience.

A licensed towing company from your area will then come to pick up and tow your car away. We will hand over a donation receipt that will enable you to cancel your car's registration and insurance.

We will put your car on the auction block where we will try to get the highest possible price for it to our mutual advantage. Once the car is sold, the proceeds will go straight to our non-profit partners for them to use the funding to sustain their various programs for the benefit of indigent breast cancer patients.
Days after your car is sold, you will get a tax-deductible receipt from us by mail. This will enable you to claim a maximum tax deduction when you file your itemized federal tax return.
There is more to your junk car than you think. Choose the best option, donate your junk car and make a difference in the lives of breast cancer patients fighting for their dear lives. Contact us at 866-540-5069. Donate your junk car now!
or Call Us Now at 866-540-5069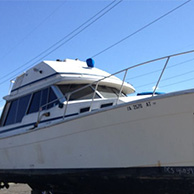 Excellent customer service!