White Plains, New York Car Donations
Donate Your Vehicle and Save Lives!
Provide Lifelines to Breast Cancer Victims Through White Plains, New York Car Donations
Do you have a very old car that you've always wanted to get rid of but can't find the best way to do it? Let Breast Cancer Car Donations assist you!
Your best option is to donate it to us! You'll not only easily get rid of it but also help in providing the needs of thousands of people affected by breast cancer. You are their hope of winning the battle against this horrible disease.
If you are interested in our White Plains, New York car donations program, check out the guidelines given below.
Why Work With Breast Cancer Car Donations
When you take part in our car donations fundraiser in the area, you'll enjoy numerous benefits. We want to make sure that our donors also get rewarded for their good deeds. Here are a few things that you will cherish receiving:
You get to receive a maximized tax deduction.
Our donation process is very easy to do.
We provide fast and free pickup and towing services.
We will handle everything for you.
No paperwork needed.
Free up space in your garage.
You're free to cancel your car's insurance and registration, meaning you can save more money.
You'll say goodbye to expensive repairs.
Where Will Your Car Donation Go?
Your car will be placed in one of the best auction houses in the city. It will be sold based on its fair market value. To know its fair market value, you can look for a reliable source online such as Kelley Blue Book.
We're going to do our best to get the highest price possible for your car. Once it is sold, the proceeds will go directly to our charity partners—the American Breast Cancer Foundation (ABCF) and Women Involved in Nurturing, Giving, Sharing, Inc. (WINGS). They are among America's top and certified 501(c)(3) nonprofit organizations.
Your car will be used to generate funds to finance various outreach programs that deliver essential breast health services to all individuals who need them, breast cancer patients in particular.  These services include:
Financial support for needy individuals seeking breast cancer screenings, diagnostics, treatment, and other related procedures;
Funding breast cancer research on more advanced and effective ways of treating breast cancer, possibly leading to the discovery of the cure for the disease;
Helping enhance public awareness about early detection and prevention of breast cancer.
What Vehicles Are Good For White Plains, New York Car Donations
We accept nearly all types of vehicles. No need to worry about its condition, too. Here are some examples.
Cars
SUVs
Vans or minivans
Motorcycles
RVs
Campers
Boats
Jet skis
Snowmobiles
Tractors
Golf carts
How to Start Your Car Donation with Us
You already have an idea how a car donation program works, and now you want to join one such program. However, you don't know the best group to join in and how to do it.
Well, you're in luck! Here at Breast Cancer Car Donations we will give you the best giving experience in our White Plains, New York car donations program.
You can start of by contacting us. You can either fill out our online donation form or simply call us at 866-540-5069. Either way, you need to tell us a few basic details about the vehicle you're donating such as it make and model, year, mileage, general condition, and title availability. Tell us also your contact details. You can also attach a picture of your car on the donation form if you want. Once you are done, just click the "Donate Now" button.
The information you shared will be submitted to our system. After a few minutes, you will receive an email confirmation for your generous donation. You will receive a call from us within one business day to schedule your car's pickup on the day, time, and place most convenient to you.
We'll assign a professional towing company to pick up your car. Before the tow truck leaves with your car, they will give you a tow receipt that will release you from all liabilities, enabling you to lawfully cancel your car registration with the DMV and insurance coverage.
After your vehicle gets sold at auction, we will send you by mail your 100-percent tax-deductible sales receipt bearing the actual sales price of your vehicle. This will serve as the basis of your tax deduction claim when you file your itemized federal income tax return for the next tax-filing season. You can claim the indicated amount as your tax deduction if it's higher than $500. If your car's selling price is lower than that, you have the option to base your tax deduction claim on your vehicle's fair market value if the latter is higher than the selling price.
Make the Right Move Now!
You and your car are the lifelines that breast cancer victims are waiting for to help them overcome the terrible disease. Contact us at 866-540-5069 and join our White Plains, New York car donations now!
or Call Us Now at 866-540-5069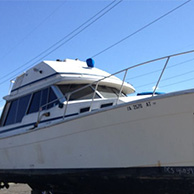 Excellent customer service!