Towson, Maryland Car Donations
Donate Your Vehicle and Save Lives!
Help Bring Breast Cancer Numbers Down With Towson, Maryland Car Donations!
Has anybody ever told you that the easiest way to get your hands off your clunker is to participate in Towson, Maryland car donations? If the concept of donating an unwanted vehicle is new to you, then you're reading the right page!
Donating your old and unwanted car to us at Breast Cancer Car Donations wouldn't require you to spend a single dollar just so you could get rid of your beater. The process is absolutely hassle-free, and you don't even have to lift a finger for it except to make a call! Best of all, your donation will be used to serve a noble purpose: to save as many lives as possible from breast cancer.
How Breast Cancer Impacts Lives
Do you know that according to the 2017 Cancer Data released by the Maryland Department of Health, more and more people have been diagnosed with breast cancer from 2010 t0 2014?  They further confirmed that it has officially become the second foremost cause of cancer death among females within the state, accounting for 16.2 percent of cancer deaths. In 2014 alone, 4,771 new breast cancer cases were diagnosed, and 862 women lost their lives to this illness.
For the entire United States, each year 252,710 women are estimated to receive breast cancer diagnosis and over 40,500 will die. To give you an idea about how common breast cancer is across all states, the National Breast Cancer Foundation, Inc. reports that one in every eight women will develop malignant cancer cells in her breast tissues within the course of her lifetime.
When breast cancer sticks out its ugly head, the woman being diagnosed would feel that time is against her. Suddenly, bucket lists would be different – traveling to Europe is replaced by making it to her next birthday or spending this year's Christmas with the family. If you know someone who's had or has breast cancer, you know what we're talking about.
It Doesn't Have to Be That Way
We don't have to tremble in fear when we're confronted by breast cancer. Medical research has leaped forward in the past few years by conducting carefully controlled clinical trials in the pursuit of discovering promising new treatments. With increased awareness of the disease and its risk factors, proper screening, early diagnosis, and appropriate treatment, we could trample breast cancer under our feet.
These initiatives are being translated into comprehensive breast health services that are delivered by IRS-qualified nonprofit organizations that seek to provide equal opportunities for all individuals across the nation regardless of age, gender, ethnicity, and socio-economic background. We at Breast Cancer Car Donations raise funds to make these services happen by setting up programs such as car donations in the area.
Simply put, when you donate your unwanted vehicle through our service, you help save thousands of lives from breast cancer. Call 866-540-5069 and turn your clunker into a lifeline for someone with breast cancer.
If you have more than one vehicle you wish to dispose of, you can donate them all to us. We accept nearly all types of vehicles, including even boats and planes.
You're Not Forgotten!
As a donor, you're entitled to awesome benefits as well! Check out this list of rewards that are waiting for you:
Quick and painless donation process!
When you take part in Towson, Maryland car donations, a pleasant giving experience is guaranteed. No need to break a sweat, spend countless hours and endure poor customer service while going through the entire process. In a matter of minutes, you're done!
Breast Cancer Car Donations will shoulder all pickup and towing expenses!
As soon as we get our hands on your vehicle, our insurance coverage will automatically apply to your donated vehicle.
No stressful paperwork for you!
Our team of experts will handle all documentation concerns: replacement of a lost title, transfer of ownership, issuance of your tax-deductible receipt, etc.
You can claim a top tax write-off for your vehicle donation if you itemize your taxes on your federal tax return. The amount of deduction will be based on the actual sale price of your vehicle or its fair market value, whichever is greater.
Avoid the hassles associated with selling!
You won't have to worry about spending more cash for repairs and aesthetics to make your car more appealing to prospective buyers. We'll take your car even if it's not in running condition! Plus, you don't really want to go through all the trouble of putting up ads and dealing with strangers let alone haggling with them, do you?
Get rid of the biggest clutter in your garage and you'll have that storage space restored in no time!
You won't need to spend for the maintenance and general upkeep of a car that you've been wanting to part ways with.
Good karma will naturally go your way if you help save thousands of lives by donating your car.
How to Join Towson, Maryland Car Donations 
Donating your beater is so easy that it's like shooting fish in a barrel! You could do it now! Our Towson, Maryland car donations process entails only three simple steps:
Fill us in with your vehicle's year, make, model and a few other details.
Tell us the date and time of pickup that's convenient for you and we'll get the job done. The guys from the professional towing company will hand you the towing receipt that would release you from all liabilities from the day of pickup.
Receive your IRS tax-deductible receipt.
Within a matter of days after we sell your donated vehicle at auction, you'll receive your tax-deductible receipt in the mail. You'll use this document to itemize your deductions.
Save Lives Today!
Make a powerful contribution to your community by helping us bring breast cancer numbers down in Towson, Maryland and all over the country. Contact us at 866-540-5069 to get free towing services and more for Towson, Maryland car donations!
or Call Us Now at 866-540-5069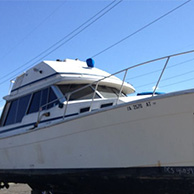 Excellent customer service!