Timonium, Maryland Car Donations
Donate Your Vehicle and Save Lives!
Timonium, Maryland Car Donations: Making Strides to End Breast Cancer
Do you know that you can help thousands of people overcome breast cancer by participating in our Timonium, Maryland car donations? If someone you know has been diagnosed with this disease, then this message would undoubtedly strike a chord with you.
We know that there are many ways to demonstrate and express our support for those who are going through their breast cancer journey. However, if you have an unwanted clunker that you've been meaning to part ways with, donating it to Breast Cancer Car Donations would be a powerful contribution that would benefit all individuals and families that have been affected by breast cancer.
The Harrowing Truth About Breast Cancer
Timonium, Maryland has an estimated 9,925 residents as of 2017-2018 with females comprising 54 percent of its population. According to the Centers for Disease Control and Prevention, breast cancer is the most common type of cancer among women, regardless of race or ethnicity. Furthermore, the National Breast Cancer Foundation, Inc., confirmed that in the United States, a woman is diagnosed with breast cancer every two minutes.
The Cancer Statistics Center predicts that in 2018, the estimated new cases and the estimated deaths related to breast cancer within the state of Maryland will be 5,940 and 810, respectively. It doesn't take a rocket scientist to figure out that this deadly disease could hit anyone. The numbers are disturbing, and we can't afford to be passive about the danger and just cross our fingers hoping that breast cancer won't come knocking on our doors.
How Timonium, Maryland Car Donations Can Help Beat Breast Cancer
Timonium, Maryland car donations is a program that was set up by Breast Cancer Car Donations for the purpose of raising funds on behalf of our certified 501(c)3 nonprofit organization partners that deliver free and accessible comprehensive breast health services across the United States. These services include:
Financial assistance for breast cancer screenings and diagnostic tests;
Provision of newly-diagnosed patient kits;
Guidance counseling for breast cancer patients;
Comprehensive breast cancer treatment (surgery, radiation, chemotherapy, and doctor's visits);
Follow-up care for breast cancer survivors for five years after remission (annual mammograms, doctor's visits, and lab work);
Access to resource referrals, support groups, and survivor events.
Today, you can touch as many lives as possible by joining Timonium, Maryland car donations. You can donate your unwanted vehicle by calling 866-540-5069 now!
What Timonium, Maryland Car Donations Can Do for You
Giving your beater away through our service would entitle you to enjoy awesome donation benefits! Check these out:
We want you to have a smooth and seamless donation process, that's why we made ours convenient for you. All you need is access to the internet or a phone. You won't even need to spend more than five minutes doing it.
We'll handle all the paperwork!
Our team will take care of all required documentation, including title transfer and the release of your tax-deductible receipt.
With Breast Cancer Car Donations, towing is free! Also, you don't have to be present on the day of pickup if you let the towing company know where they could locate your keys and title inside your vehicle.
We'll send you a 100-percent tax-deductible sales receipt within 30 days after the sale of your car. The receipt shows the amount for which your car was sold at the auction. The amount serves as the basis of your tax deduction claim when you file your itemized federal income tax return for the next tax-filing season.
Goodbye to extra expenses for insurance, maintenance, and repairs for a car you don't use!
No need to sell your car on your own!
Trying to sell your car on your own is both stressful and time-consuming. You'll need to put up ads, negotiate with strangers, haggle with prospective buyers, and wait for a decent offer. Plus, if you're selling a car that's not in excellent running condition, you might need to shell out extra cash for repairs to make it more marketable.
Regain space in your garage!
Who doesn't need storage space?
Give Timonium, Maryland Car Donations a Try!
We accept almost all types of vehicles including cars, vans, trucks, motorhomes, SUVs, ATVs, motorized wheelchairs, motorcycles, riding lawnmowers, tractors, snowmobiles, jet skis, buses, boats, planes, helicopters and so much more! You can even make multiple donations if you wish!
Like we said, our car donation process is designed for our donors' convenience. It's so quick and painless that you'll get rid of your unwanted beater in a jiffy! Here's our easy three-step Timonium, Maryland car donations process:
We'll need your contact details and a few bits of information about your vehicle such as its year, make, model, current mileage, running condition, and availability of its title.
Schedule your free pickup.
We'll arrange for a professional towing company in your area to haul off your vehicle as soon as you confirm your vehicle's location and your desired time and date for the pickup. A towing receipt will be handed to you on the same day. That receipt releases you from liability thereafter and allows you to lawfully cancel your insurance coverage, dispose of your license plates and de-register your vehicle at your local DMV.
Receive your tax deduction receipt.
After we auction off your car, we will send you your 100-percent tax-deductible receipt by mail, indicating your donated vehicle's final selling price. This will serve as the basis of your tax deduction claim when you file your itemized federal tax return for the next tax-filing season.
We Can Fight Breast Cancer Together
Give away the car you don't want any more to give breast cancer victims the fighting chance they need to beat the terrible disease. Contact us at 866-540-5069 to save lives and get free towing services for Timonium, Maryland car donations!
or Call Us Now at 866-540-5069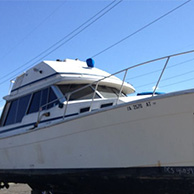 Excellent customer service!