Suitland, Maryland Car Donations
Donate Your Vehicle and Save Lives!
We Turn Your 'Trash' into Treasure That Helps Save Lives through Suitland, Maryland Car Donations
If you're thinking about getting rid of an old unwanted car, you might as well do it for a worthy cause by donating it to our Suitland, Maryland car donations program. We at Breast Cancer Car Donations will turn your donated vehicle into a life-saving instrument for American women who are currently battling breast cancer.
By teaming up with us, you'll also be supporting our nonprofit organization partners, the American Breast Cancer Foundation and Women Involved in Nurturing, Giving, Sharing, Inc. These are two of the nation's leading IRS-certified 501(c)3 non-profits that share our mission of saving the lives of breast cancer patients by offering them all the necessary services to fight off the devastating disease. These services include financial assistance to uninsured and underserved breast cancer patients to help them pay for their treatment including surgery, oncology services, hospital fees, and outpatient medication.
These nonprofits also provide beneficiaries easy access to health facilities, clinics, and hospitals that provide breast cancer screening, diagnosis, and treatment.
Using the funds gathered from our Suitland, Maryland car donations program, our charity partners are also able to support breast cancer research on new and better ways to prevent, detect, manage, and treat the disease with the ultimate objective of finding a cure for it.
They are also engaged in raising public awareness on the signs and symptoms of breast cancer to promote early detection.
A Simple and Straightforward Way of Donating
If you're looking for a charitable car donation program in the city that offers top service to their donors, look no more since we are here to offer you what you've been looking for.
As our way of thanking you for your generous car donation, we at Breast Cancer Car Donations will make sure that your Suitland, Maryland car donations process will be as quick, easy, and convenient as possible. Moreover, we'll also make sure that you'll have a most rewarding giving experience.
Here's a brief guide on how our simple three-step donation process works:
Step 1:
Give us a call at 866-540-5069. Provide us your contact information and a few details about the vehicle you're donating such as its make and model, year, mileage, VIN, general condition, and title availability. Another option would be for you to fill out our online donation form, giving us the same information mentioned earlier.
Step 2:
Once we have verified the information you provided, we will make arrangements with a professional towing company in your area to pick up your vehicle. The towing fee is on us, and you don't have to pay for anything. The tow truck will pick up your vehicle on your preferred place, time, and date or as early as 24 to 48 hours after we make the towing arrangement. The towing company will hand you a towing receipt, a document that releases you from all liabilities on your car, allowing you cancel its registration with the DMV, dispose of its license plates, and stop paying for your car insurance.
Step 3:
After we auction off your car, we will send you your 100-percent tax-deductible receipt by mail, indicating your donated vehicle's final selling price. This will serve as the basis of your tax deduction claim when you file your itemized federal tax return for the next tax-filing season.
The Types of Vehicles You Can Donate
You need not be ashamed to offer for donation your automobile that's not in good running condition. We at Breast Cancer Car Donations accept nearly all types of vehicles. If you have questions about your car's eligibility for our Suitland, Maryland car donations program and other related matters, feel free to contact us.
We normally accept vehicle types such as:
General vehicles: cars, vans, trucks, SUVs, trucks, pickups, and motorcycles
Watercraft: yachts, motorboats, fishing boats, pontoon boats, jet skis
RVs and campers: RVs, campers, 5th wheelers, recreational vehicles, motorhomes, pop-up trailers Specialty vehicles: ATVs, riding lawnmowers, snowmobiles, motorized wheelchairs, golf carts, tractors, and farm equipment
Fleet vehicles: buses, passenger vans, cargo vans
Aircraft: private jets, planes, and helicopters
Breast Cancer Car Donations is also open for multiple vehicle donations. If you're planning to get rid of your noisy lawnmower and beat-up truck at the same time, go ahead and give them to us!
The Benefits of Donating Vehicles to Us
Participating in our Suitland, Maryland car donations program doesn't only mean helping breast cancer patients and their families; it also means giving yourself the opportunity to show the best part of yourself while getting substantial material benefits yourself.
Here are some of the rewards you'll receive when you donate a vehicle to us at Breast Cancer Car Donations:
You will receive a maximized tax deduction since we will refurbish your vehicle before auctioning it off to increase its sales value. We'll also send it to one of the best auction houses in the city where it can fetch the best price.
You can save the time and trouble from selling your vehicle. You don't have to go through the hassles of listing and discussing the value of your car just to sell it. You can just simply donate it and you're done.
You can free yourself from the hassles and expenses of maintaining and repairing your car. You won't have to worry about it anymore after you donate it to us.
The greatest reward of them all is the feeling of happiness you will have, knowing that you did the amazing act of helping save the lives of people afflicted with breast cancer.
Transform Lives Today!
Over 250,000 new cases of invasive breast cancer are expected to hit the country this year. Many of the victims will find it difficult to find the means to pay for the high cost of their treatment. As a result, destitute patients may decide to forego treatment—which could mean certain death for them.
You can help save their lives by taking part in our Suitland, Maryland car donations fundraiser. The proceeds from the sale of your donated vehicle will be used to pay for the cost of their treatment.
Call us at 866-540-5069 and be amazed at how we'll turn that car you already consider as trash into a treasure that could help transform the lives of breast cancer patients!
or Call Us Now at 866-540-5069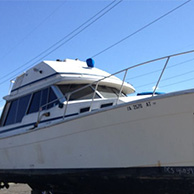 Excellent customer service!