Stockbridge, Georgia Car Donations
Donate Your Vehicle and Save Lives!
Stockbridge, Georgia Car Donations: Help Save Lives of Breast Cancer Patients in Your City
Breast cancer is one of the most common types of cancer among women in the United States. Survival rates continue to increase due to innovations and better treatment options as well as enhanced screening that detects cancers when they are most curable.
With women having more knowledge of the warning signs of breast cancer, the importance of self-exams management options, as well as second opinions, they are better prepared than ever before to confront a breast cancer diagnosis — something that one in eight women will face over the course of her lifetime.
Breast cancer is regarded as the second leading cause of cancer death in women next to lung cancer. According to the American Cancer Society, about 266,120 new cases of invasive breast cancer will be diagnosed in women in 2018, excluding about 63,960 new cases of non-invasive cancer, also known as carcinoma in situ or CIS. About 40,920 women will die from breast cancer this year, the report states.
Most women diagnosed with breast cancer are devoid of any family history of the illness. While massive progress has been done in terms of treatment and research for breast cancer, medical experts continue to do their best to try and outsmart this disease.
Why We Are Here in Stockbridge, Georgia
We at Breast Cancer Car Donations have relentlessly been pursuing our car donation programs all over the country. We do this to boost the financial resources of our dedicated non-profit partners so they can provide more assistance to those affected by breast cancer and conduct more activities with the ultimate goal of stopping this pernicious disease.
Here in this city, we have set up our Stockbridge, Georgia car donations program, a platform where you can join us in the fight against breast cancer while at the same time allowing you to dispose of your old and unwanted vehicles and obtain a handsome tax deduction and other perks in the process.
If you have an old car or van or boat or any other vehicle that you wish to do away with, consider donating it to us and help save the lives of women suffering from breast cancer in Stockbridge.
Stockbridge: What You Need to Know
As of 2017 estimate, there are 27,328 people living in Stockbridge, Georgia. Of this number, roughly 54.8 percent are women. Stockbridge, Georgia is a city in the Atlanta metropolitan area. This region was first established by Europeans in 1829 when the Concord Methodist Church was structured.
The initial post office in this city was founded in 1829, and it was unified as a town in 1895. In August 1920, Stockbridge was unified as a city and was said to be named after Thomas Stock, Georgia State Senate President in the 1820s.
The city has lots of attractions including the Martin Luther King Jr. National Historic Site, Georgia State Museum of Science and Industry, Atlanta Cyclorama, Georgia Aquarium, and a lot more.  Local art museums also abound in the city including the High Museum of Art, the Spelman College Museum of Fine Art and the Center for Puppetry Arts.
All these attractions could be enjoyed even by breast cancer patients in the city if they can only find people who would be willing to help them in fighting the disease. Will that be you?
Where Funds from Your Car Donations Will Go
The proceeds from the sale of Stockbridge, Georgia car donations will go straight to our two charity partners — the American Breast Cancer Foundation (ABCF) and Women Involved In Nurturing, Giving, Sharing, Inc. (WINGS). These are two of the nation's most trusted non-profits. They use the funding we give to them to sustain and improve their existing services, such as:
Providing financial assistance to uninsured and underserved breast cancer patients, covering their surgery, oncology services, consultation, hospital fees and outpatient medication;
Connecting these patients to local facilities that offer free and accessible resources, information and other comprehensive breast health services;
Raising public awareness on breast cancer prevention, diagnosis, and treatment;
Pursuing research on prevention, screening, diagnosis, and treatment of breast cancer; and
Sponsoring charity and outreach events for the benefit of breast cancer patients
The Benefits You'll Get for Donating a Car to Us
Whether it is farm equipment or a snowmobile that you want to get rid of, when you participate in our Stockbridge, Georgia car donations program, you will play a crucial role in fighting the menace of breast cancer.
At the same time, you will receive several perks from us as our way of saying "thank you" for your generous contributions. Here are these rewards:
Receive a hefty tax deduction
Save money by not paying any more for car repair, registration, and insurance
We'll pay for the pick-up and towing of the vehicle you're donating
More space in your backyard or garage to house your new car
Avoid the difficulties of selling your car
No need to bother with paperwork – we do that for you
Give yourself a deep sense of personal satisfaction for supporting a noble cause
Our Quick and Easy Car Donations Process
We purposely made our Stockbridge, Georgia car donations process quick and easy so you save time and effort. There are only three easy steps to get your unwanted car removed from your garage no cost to you
Step 1:
Give us a call at 866-540-5069. Provide us your contact information and a few details about the vehicle you're donating such as its make and model, mileage, and vehicle identification number. Another option would be for you to fill out our online donation form.
Step 2:
Once we have verified the information you provided, we will make arrangements with an affiliate tow company from your area to pick up your car. The towing fee is on us, and you don't have to pay for anything. The tow truck will pick up your vehicle at your preferred time and date or as early as 24 to 48 hours after we make the towing arrangement. We will hand you a donation receipt, a document that releases you from all liabilities on the car you donated, allowing you to de-register your vehicle, dispose of your license plates properly, and cancel your insurance coverage. Keep the receipt since you may need it for tax purposes.
Step 3:
After we auction off your car, we will send you your 100-percent tax-deductible receipt by mail, indicating your donated vehicle's final selling price. This will serve as the basis of your tax deduction claim when you file your itemized federal tax return.
You can donate not just cars but all other vehicles you own. We accept nearly all types of vehicles in our Stockbridge, Georgia car donations program. They include SUVs, vans, cars, trucks, riding lawn mowers, sports cars, motorcycles, jet skis, yachts, other boats, and even non-commercial airplanes. You may consult our Accepted Vehicles page to see the complete list of vehicles.
Start Saving Lives!
Have you made up your mind on joining our Stockbridge, Georgia car donations program? Call us right now at 866-540-5069 to start saving lives!
or Call Us Now at 866-540-5069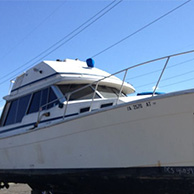 Excellent customer service!