Springfield, Missouri Car Donations
Donate Your Vehicle and Save Lives!
Springfield, Missouri Car Donations: Make Miracles Happen!
Do you know that participating in our Springfield, Missouri car donations program would pave the way for miracles to happen in the lives of those who have breast cancer? If you're a person who wants to help breast cancer patients while getting rid of an unwanted clunker that you haven't used for ages, then donating that car to Breast Cancer Car Donations may be the best option for you.
A Road to Cure and Care for Cancer
Springfield, Missouri has always been known as the birthplace of Route 66, the eminent highway that runs from Chicago to Los Angeles. Now, Springfield, Missouri is known not only for Route 66 but also for its active programs to fight a worthy cause through Breast Cancer Car Donations. As many would say, it's like building a road to cure breast cancer and care for those who are suffering from it.
According to the Centers for Disease Control and Prevention (CDC), 236,968 women and 2,141 men in the United States were diagnosed with breast cancer as of 2014. Over the years, breast cancer has remained one of the most common cancers that affect women and the second cause of female cancer death.
Cars for a Cause
To help save the lives of those who are battling such a deadly disease, non-profit organizations like American Breast Cancer Foundation (ABCF) and Women Involved in Nurturing, Giving, Sharing, Inc. (WINGS) work tirelessly to establish programs that aspire to:
Provide financial assistance to uninsured and underserved men and women who are battling breast cancer;
Connect breast cancer patients with local facilities so that they can access the medical services, support, and resources that they need;
Help individuals get medical services for screening, diagnosis, and treatment of breast cancer;
Raise funds to campaign for breast cancer awareness across the country;
Fund research for the most effective treatment of breast cancer.
For these highly regarded non-profits to focus on their life-saving goals, Breast Cancer Car Donations operates vehicle donation programs on their behalf to generate the additional funding they need to reach new heights in breast cancer research, outreach operations, and treatment modalities. If you are willing to support their mission, consider making car donations in the area now by calling 866-540-5069! Remember, an old junk to you could actually usher in someone else's miracle.
A Two-Way Welfare
Donating your car is more than just being able to get rid of it and at the same time help breast cancer patients and non-profits. If you think about it, it's actually a win-win move. You get to take part in the fight against breast cancer and you also get to enjoy major benefits such as:
Eliminate the need to sell your car.
You don't have to constantly search for buyers or put up sale signs in your yard and online. You also don't have to go through the hassle of handling all the paperwork that comes with selling your car.
Do you want to keep spending for an unwanted or old car's insurance and maintenance? Not only that, if you intend to sell a clapped-out car and get a good offer, you'd have to spend more money on repainting and repairs to make it appealing to buyers.
Free up your parking space for FREE.
With Springfield, Missouri car donations through Breast Cancer Car Donations, you will be able to enjoy free towing services delivered by professionals. As soon as your car gets picked up, you can now make use of that empty parking space for something that you would enjoy.
Once your car gets auctioned, we will send you a receipt of the sale via mail. This receipt can be used when you itemize your next income tax deduction. The tax-deductible amount will be determined depending on the value of the car.
How It Works
Like 1-2-3, making Springfield, Missouri car donations is almost effortless!
Step One;
Fill out our online donation form or call us at 866-540-5069 to donate. We will need your contact information, your vehicle information including the year, make and model, current mileage and overall condition, as well as your most convenient day and time for your vehicle's pick-up. Once all the details are verified, we will then schedule an appointment with a local professional towing company.
Step Two:
The towing company will then pick up your vehicle. Breast Cancer Car Donations will take care of all the expenses, so you don't have to shell out a dime for this. It's also made convenient for you as your presence during pick-up is not at all mandatory.
Step Three:
We will sell your car at the auction house that offers the highest selling price. Once your car has been sold, you will receive a tax-deductible receipt via mail. This document will then be used for you to enjoy the tax deduction that you deserve in exchange for your generosity.
Help Save Lives Today
Breast Cancer Car Donation accepts a variety of vehicle types — from simple cars, watercraft, and special vehicles to large fleet cars and recreational vehicles. Whatever type of vehicle you have that's uselessly taking up space in your backyard, has the potential to make a person with breast cancer outlive the disease.
Call us at 866-540-5069 to enjoy free towing services for Springfield, Missouri car donations!
or Call Us Now at 866-540-5069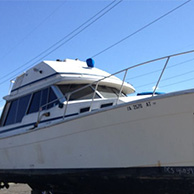 Excellent customer service!