Spring Valley, New York Car Donations
Donate Your Vehicle and Save Lives!
Be a Ray of Hope for Breast Cancer Victims With Spring Valley, New York Car Donations
If there's nothing more important to you than to get that rusty old beater of yours out of your property, then it's the best time for you to take part in our Spring Valley, New York car donations program. What could sound any better than parting ways with your unwanted vehicle AND save thousands of lives from breast cancer at the same time? When you donate a vehicle to us at Breast Cancer Car Donations, you do yourself and your community an enormous favor!
What About Breast Cancer?
These days, almost every one of us has heard about the horrendous effects of breast cancer – how it slowly takes the living daylights out of the person it affects and how it drains out that person's finances because of costly breast cancer treatment. The last thing that anybody would ever want to hear from a doctor is "You have breast cancer."
This disease occurs when a malignant tumor forms in a person's breast tissues. According to the National Breast Cancer Foundation, one out of eight women in the United States will have breast cancer within her lifetime. On average, a woman gets diagnosed with breast cancer every two minutes and a woman dies of it every 13 minutes.
Breast cancer commonly affects older women because the risk of getting it increases with age. In fact, the New York State Department of Health confirms that more than three-quarters of breast cancer patients are women who are 50 years old or above. Statistics show that white women are more prone to having breast cancer than black women, but black women are more likely to die from it.
Spring Valley, New York Car Donations Can Help Fight Breast Cancer
We at Breast Cancer Car Donations believe that if comprehensive breast health services become accessible to every individual across America, the chances of surviving the disease will increase tremendously. This is exactly the reason why we operate Spring Valley, New York car donations where our certified 501(c)3 nonprofit partners generate funding from. The proceeds from the sale of every donated vehicle will help them deliver essential services including:
Financial assistance to indigent breast cancer patients to help pay for their doctor's visits, ultrasounds, mammograms, and lab works;
Provision of cost-free breast cancer treatment such as chemotherapy, surgery, and radiation;
Follow-up care for breast cancer patients for five years following remission;
Provision of educational tools to affected individuals such as the Newly Diagnosed Patient Kits
With your clunker, we can help more individuals who are going through their breast cancer journey. If you want to donate it today, join Spring Valley, New York car donations by calling 866-540-5069 today.
How to Participate in Spring Valley, New York Car Donations
You can be a ray of sunshine in the life of a breast cancer patient in less than a few minutes with Spring Valley, New York car donations! You can count on us to give you the best giving experience that you could possibly have. To give you an overview, here are the three simple steps that you'll need to follow:
First, you'll need to get in touch with us by filling out our online donation form or calling 866-540-5069 to speak to one of our donors' reception officers. Give us your personal contact details and your vehicle's year, make, model, current mileage, overall condition, location, and availability of its title.
Schedule your speedy pick-up!
Once we give you a call to verify your given information, you may give us the best time and date for towing your vehicle at NO COST to you! On the day of pickup, the professional towing company that we've assigned to do the job will hand you a towing receipt that you could use to legally cancel your car's registration and insurance.
Receive your tax-deductible receipt by mail!
Within 30 days after we sell your vehicle at auction, we'll send you your 100-percent IRS tax-deductible sales receipt that you can use to claim your tax write-off for the next tax season. If your clunker sells for less than $500, you can claim as your tax deduction either its actual selling price or its fair market value up to $500, whichever is higher. If it sells for more than $500, you can only claim its sale price as the amount of your tax deduction regardless of its fair market value.
The Vehicles You Can Donate
You can donate more than a single vehicle at a time because Breast Cancer Car Donations accepts multiple donations at any given time. You can donate cars, trucks, vans, SUVs. ATVs, recreational vehicles, motorized wheelchairs, riding lawnmowers, tractors, boats, planes, helicopters, and more!  We accept even vehicles that aren't in their best shape!
The only critical factor when it comes to car donations is the availability of the vehicles' title. However, if you have inadvertently lost your title, you can have our title experts help you get a replacement quickly.
You Can Be A Hero Today!
With our combined efforts, we can bring down breast cancer numbers in your community today. Don't waste another minute! Contact us at 866-540-5069 and get free towing services for your Spring Valley, New York car donations!
or Call Us Now at 866-540-5069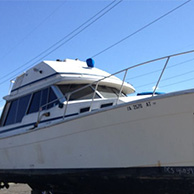 Excellent customer service!