Rockville, Maryland Car Donations
Donate Your Vehicle and Save Lives!
Be a Hero to Breast Cancer Victims Through Rockville, Maryland Car Donations
While you may only see it as simply getting rid of an old car, participating in our Rockville, Maryland car donations program will actually give you the opportunity to be a hero to women with breast cancer who are struggling to stay alive. If you have a van or truck that you have been wanting to get rid of, you might as well hand it over to us at Breast Cancer Car Donations. By doing so, you help save the lives of breast cancer-stricken individuals.
For more than 20 years now, we have been helping save and improve the lives of breast cancer patients and their families. We have partnered with two of the nation's leading breast health-focused nonprofit organizations, supporting them with the funds we generate from our various vehicle donation programs in all 50 states.
Through your vehicle donations, our charity partners—American Breast Cancer Foundation (ABCF) and Women Involved in Nurturing, Giving, Sharing, Inc. (WINGS) are able to provide essential breast health services to women in dire need of them. Your Rockville, Maryland car donations also fund the continuing research for more advanced methods of early detection, screening, prevention, and treatment of breast cancer, hopefully leading to a cure for the devastating disease.
Reasons to Work with Breast Cancer Car Donations
Donating a car to us makes so much sense. By giving us a vehicle you no longer want, you'll be helping not just breast cancer patients but yourself as well! You'll get plenty of rewards for taking part in our car donations fundraiser in the area. Here are some of them:
Receive a top tax deduction
Enjoy our simple and hassle-free donation process
Free yourself from doing loads of paperwork
Avoid wasting time, energy, and money in trying to sell your vehicle
Save money by putting an end to payments for your car's repairs, maintenance, registration, and insurance
Get rid of an unwanted or unneeded car at no cost
Provide more space in your garage or driveway
Experience the joy of serving as an instrument to save lives
How Our Simple Donation Process Works
With Breast Cancer Car Donations, you don't have to worry about an intricate or inefficient donation process. We've made sure that our Rockville, Maryland car donations process is smooth, fast, easy, and most convenient to our donors. The only thing you'll be doing is to initiate the process by informing us about your plan to donate, and from that point on, we'll take care of the rest.
From the processing of your tax documents to the free towing of your vehicle to the mailing of your tax receipt – count on us to do all of these while you just sit back and enjoy the maximized tax deduction you're about to get.
Check out our simple three-step car donation guide:
Call us at 866-540-5069 or fill out our online donation form. Give us details about the vehicle you plan to donate such as its make and model, year, VIN, current mileage, general condition, and title availability.
We start processing your car donation application. We'll ask you the most convenient date, time, and place for you to have your vehicle towed. A licensed tow truck arrives on time, as quick as 24 or 48 hours after you made the first call if that's your preference. We'll give you a towing receipt before the tow truck picks up your car. The receipt relieves you of any liabilities on the vehicle, allowing you to lawfully cancel its registration and insurance coverage.
We put up your vehicle for auction. Once it's sold, the proceeds go straight to our nonprofit partners. We'll mail you a 100-percent tax-deductible sales receipt. You'll get it within 30 days after the sale of your donated vehicle. This receipt serves as your ticket in claiming your tax deductions.
See how fast and convenient it is to work with Breast Cancer Car Donations? Make a donation with us now!
Types of Vehicles You Can Donate
Another great thing about us is the fact that we accept nearly all types of vehicles and even vehicles that are not in good running condition or have a few defects. As long as we see a good enough cash value for the vehicle you're donating, we'll take it.
The vehicles that we usually take in our Rockville, Maryland car donations program include cars, SUVs, vans or minivans, motorcycles, mopeds, campers, trailers, boats, and jet skis. You can also donate specialty vehicles such as ATVs, snowmobiles, golf carts, or any farm equipment that you may have.
If you're not sure about your vehicle type or its eligibility for our car donation program, just have a chat with us. We'll be glad to hear you out.
Help Find Ways to Defeat Breast Cancer
Breast cancer has claimed countless lives. It's time we turn the tables on this pernicious disease by at least reducing its impact and saving more lives. Help us do so. Call us at 866-540-5069 and get started with your Rockville, Maryland car donations!
or Call Us Now at 866-540-5069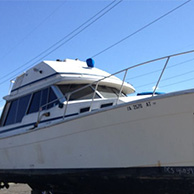 Excellent customer service!