Poughkeepsie, New York Car Donations
Donate Your Vehicle and Save Lives!
Be a Lifesaver with Your Poughkeepsie, New York Car Donations
Do you personally know a woman who has been victimized by breast cancer? Do you have an inkling of the excruciating pain and the mental torture that a breast cancer patient undergoes? Do you know how emotionally and financially draining one such illness can bring to a family?
If you are aware of the devastating effects of breast cancer to individuals and families, then perhaps it would not be too hard to convince you to join our Poughkeepsie, New York car donations program for the benefit of breast cancer sufferers.
For more than 20 years now, we at Breast Cancer Car Donations have been managing car donation programs all over the country with the sole purpose of generating funds to serve as weapons in the fight against breast cancer and as tools to help the millions of its victims. We are committed to supporting certified 501(c)(3) nonprofit organizations battling the terrible disease by providing them the funds to be able to provide accessible and comprehensive breast health services in every community in the nation.
Breast Cancer in America at a Glance
According to the National Cancer Institute, breast cancer is now the most common cancer among American women, with one out of eight women expected to develop invasive breast cancer at some point in her life. In 2015, there were an estimated 3,418,124 women afflicted with breast cancer in the United States.
Breast cancer is also the second leading cause of death in women, with the chance that a woman will die from breast cancer placed at about one in 38, or about 2.6 percent.
This year, based on experts' estimate, the United States will see 268,670 new cases of invasive breast cancer, along with 63,960 new cases of non-invasive (in situ) breast cancer. About 41,400 women in the U.S. are expected to die in 2018 from breast cancer.
Where Your Car Donation Will Go
When you take part in our Poughkeepsie, New York car donations fundraiser, we'll take your donated vehicle to one of the best auction houses within our network to be sold. Proceeds from the sale will be used by our charity partners to provide financial assistance to uninsured breast cancer patients to cover the cost of their chemotherapy and radiation treatments and surgical procedures.
Our partners will also use the funding to provide individuals free access to breast cancer screenings and diagnostic tests and to support groundbreaking research on breast cancer prevention, screening, diagnosis, treatment and/or cure.
They also provide counseling for breast cancer patients and their families and educate the public on the importance of preventive measures as well as early detection of breast cancer.
What You'll Get for Your Generosity
When you contribute to our Poughkeepsie, New York car donations program, you'll not only help provide much-needed assistance to needy breast cancer patients; you'll also put yourself in a position to receive rewards for your act of charity.
To thank you for generosity, we at Breast Cancer Car Donations have prepared a set of perks for you to enjoy. They include:
Free pickup and towing
No paperwork
Quick, convenient and simple donation process
Avoid the hassle of selling an unwanted vehicle
End to costly maintenance and repairs
Recover space in your garage or backyard
How Our Car Donations Process Works
Our Poughkeepsie, New York car donations program consists of just three simple steps where you only need to do the first one, with us taking care of the rest.
You have two options: fill out our online donation form or call us at 866-540-5069. Tell us the type of vehicle you want to donate, its make and model, mileage, VIN, general condition, and title availability. Tell us also how we can contact you.
We tow your car for free.
After verifying the information you shared, we'll get back to you and arrange for the pickup of your vehicle with you telling us when, what time, and where we can pick up your car. We'll be there on schedule. Before we leave with your car, we'll give you a donation receipt that releases you from all liabilities on your car. This allows you to de-register your vehicle, dispose of its license plates properly, and cancel its insurance coverage. Keep the receipt since you may need it for tax purposes.
Get your tax deduction receipt
We'll then sell your car at auction. Once it's sold, we'll mail you your 100-percent tax-deductible sale receipt, indicating your donated vehicle's final selling price. This will serve as the basis of your tax deduction claim when you file your itemized IRS income tax return for the next tax-filing season.
The Types of Vehicles We Accept for Donation
We accept almost all types of vehicles in our Poughkeepsie, New York car donations fundraiser as long as they come with proof of ownership. We cannot sell vehicles at auction if they don't have titles. However, if you've misplaced or lost your title, we can easily assist you in obtaining a replacement title quickly.
Here's a list of the acceptable vehicles that you can donate to Breast Cancer Car Donations:
Cars: sedans, vans, SUVs, trucks, motorcycles
RVs: recreational vehicles, motorhomes, campers, travel trailers, pop-up trailers, 5-wheelers
Specialty vehicles: ATVs, snowmobiles, motorized wheelchairs, riding lawn mowers, tractors, farm equipment
Fleet vehicles: cars, passenger vans, cargo vans, SUVs, pickups, trucks, buses
Boats: sailboats, motorboats, fishing boats, yachts, pontoon boats, houseboats, personal watercraft (like jet skis)
Non-commercial aircraft
Provide that Ray of Hope
Fear, pain, and deep sorrow can overwhelm a woman diagnosed with breast cancer, especially if she and her family do not have the means to pay for her treatment. However, with your car donation to Breast Cancer Car Donations, she'll see a ray of hope amid the darkness. Imagine her joy when her ensuing treatment that you helped provide will lead to her recovery. Isn't that something worth cherishing?
Contact us at 866-540-5069 and get free towing services for your Poughkeepsie, New York car donations!
or Call Us Now at 866-540-5069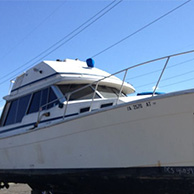 Excellent customer service!