Potomac, Maryland Car Donations
Donate Your Vehicle and Save Lives!
Potomac, Maryland Car Donations: Give Your Old Vehicle the New Purpose of Saving Lives
The charitable act of joining our Potomac, Maryland car donations program can go a long way in saving the lives of women afflicted with breast cancer. By donating your old and unwanted car to us at Breast Cancer Car Donations, you enable us to generate funds for nonprofits dedicated to providing comprehensive breast health services to all individuals, particularly indigent women suffering from breast cancer.
Breast cancer has been named as the second leading cause of cancer fatalities for women in our country, with more than 40,000 dying every year. Fortunately, there has been a 3 percent increase in the number of survivors over the past 60 years. Nevertheless, the issue still needs to be addressed as many breast cancer sufferers lack the financial resources to pay for their treatment.
With your Potomac, Maryland car donations, you'll help these women and their families get the support they need. When you work with us, you'd also be teaming up with two of the nation's most respected nonprofit organizations, the American Breast Cancer Foundation and Women Involved in Nurturing, Giving, Sharing, Inc. These nonprofits deliver vital and much-needed assistance to breast cancer patients.
Our Fast and Convenient Car Donation Process
Are you looking for a charitable car donation program in Potomac, Maryland that offers quality service? Go for Breast Cancer Car Donations! We guarantee our donors a donation process that's not only quick and efficient but also completely cost-free!
When you participate in our car donations fundraiser in the city, you won't be dealing with the burden of paperwork. We'll be the ones to manage this, including the processing and mailing of your tax deduction receipt. We'll even assign a professional towing service for you, and we'll be the one to pay the towing fee.
As soon as you've made up your mind to make a donation, let us know. You may either reach us through a phone call or you may fill out our online donation form, whichever you prefer. We'll ask for specific details about your vehicle, such as its make and model, mileage, VIN, general condition, and title availability.
After we verify the information you've given us, we'll agree on a date, time, and place for picking up your car. The tow truck usually arrives a day or two later. Don't forget to leave your car keys and title behind if you can't be around at the time.
Funds generated from your donated vehicle will be collected when we place it up for auction. We'll use the funds to support our nonprofit partners in sustaining and expanding their various assistance programs for breast cancer patients and their families.
We will send you by mail your 100-percent tax-deductible sales receipt after your car is sold. This paper shows your donated vehicle's final selling price that will serve as the basis of your tax deduction claim when you file your itemized federal income tax return for the next tax-filing season.
For more information about us, have a look at our frequently asked questions page.
'Why Should I Choose Breast Cancer Car Donations?'
In case you don't know yet, your participation in our Potomac, Maryland car donations program would benefit not just breast cancer patients but you as well. There are many reasons to be happy about when you get to collaborate with us, one of which is our smooth-sailing donation process. Apart from that, there are several other great things to come out of your old automobile:
You get a chance to receive a top tax deduction. The amount will depend on your car's selling price at auction. We will try our best to maximize your tax write-off by refurbishing your car before putting it on the auction block so that it could be sold at a price approximating its fair market value.
You no longer have to spend lots of cash for your vehicle's unnecessary maintenance or upkeep. You can finally save enough to be able to buy a brand-new car!
You don't have to go through the complicated process of advertising or selling your car. You don't need to waste your time looking for potential buyers or making negotiations with annoying hagglers. We will be the one to sell your car for you to a wide network of used car buyers.
You get rid of an old and unwanted car without spending a dollar, without much effort, and without paperwork!
You'll feel happy when you know how big a role your donated car will play in saving the lives of breast cancer victims.
If you're interested in getting all these benefits, call us at 866-540-5069 and get started with your Potomac, Maryland car donations!
'What Vehicles Do You Accept for Donation?'
It doesn't really matter to us if you're donating a car that's not in good running condition. As long as there's still a good enough value to it, we'll be very happy to have it with us. Just talk to us here if you have any concerns about your vehicle's eligibility for our Potomac, Maryland car donations program.
Here are the types of vehicles we accept:
General vehicles: cars, vans, trucks, SUVs, trucks, pickups, and motorcycles
Watercraft: yachts, motorboats, fishing boats, pontoon boats, jet skis
RVs and campers: RVs, campers, 5th wheelers, recreational vehicles, motorhomes, pop-up trailers Specialty vehicles: ATVs, riding lawnmowers, snowmobiles, motorized wheelchairs, golf carts, tractors, and farm equipment
Fleet vehicles: buses, passenger vans, cargo vans
Aircraft: private jets, planes, and helicopters
We also love to accept multiple vehicle donations. You can donate to us as many vehicles as you want!
Give Your Old Car a New Purpose
You'll give your old and battered car a new purpose by donating it to us at Breast Cancer Car Donations. We'll turn what you may already consider as useless into a vital tool to help save the lives of breast cancer patients. Call us now at 866-540-5069 get started with your Potomac, Maryland car donations!
or Call Us Now at 866-540-5069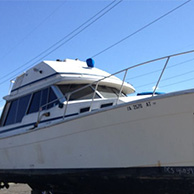 Excellent customer service!