Pasadena, Maryland Car Donations
Donate Your Vehicle and Save Lives!
Turn Your Clunker into a Lifesaver Through Pasadena, Maryland Car Donations
If you could somehow feel the pain and suffering of our fellow Americans who are stricken with breast cancer, then you'd probably embrace the chance to help them through our Pasadena, Maryland car donations program.
We at Breast Cancer Car Donations are committed to helping save the lives of countless women and even some men who have been diagnosed with breast cancer, the most common and also second deadliest form of cancer in women in the United States.
How Your Car Donation Will Be Used to Help Cancer Victims
When you take part in our Pasadena, Maryland car donations program, we'll take your donated car to the best auction house in your city within our network. Proceeds from the sale will be used by our IRS-certified 501(c)(3) nonprofit organization partners to deliver essential breast health services to all individuals who need them.
Donating your car to this noble cause would make you a champion of your community. The funds you help create will enable our nonprofit partners to provide financial assistance to indigent women so they could undergo breast cancer screenings, diagnostic tests, and treatment once they are diagnosed with the disease.
Your contribution will also be used to raise public awareness of the signs and symptoms of breast cancer to promote early detection.
At the same time, with your car donation, you will be supporting breast cancer research to find new and better ways to prevent, detect, manage, and treat the disease with the ultimate objective of finding a cure for it.
The Perks You'll Get for Supporting Our Cause
When you share your blessings to make other people's lives better, you make your life better as well. Donating your old car to our Pasadena, Maryland car donations program would gain you certain perks. Here are some of them:
Enjoy the convenience of going through a quick and hassle-free donation process.
We designed our car donation process with our donors' welfare and utmost convenience in mind. It only takes three easy steps to dispose of your old shabby car and save lives at the same time.
Get absolutely free pickup and towing.
That dusty vehicle in your garage that you've long wanted to get rid of will finally be hauled away for free!
Free your hands from paperwork.
When you donate your car to us, we'll do all the required paperwork for you—from title transfer to tax-deductible receipt issuance.
Since we work with IRS-certified 501(c)3 nonprofits, your donation will qualify you for a hefty tax deduction. You can count on us to work hard so you could obtain the maximum tax write-off for your donated car.
Avoid the hassle of selling a used vehicle.
Selling a used car can irritate you no end since you have to do all sorts of things and deal with all sorts of potential buyers. You avoid all that by letting us do the selling of your car for you.
Free yourself from costly repairs and maintenance.
Stop wasting your money by taking your car to the auto repair shop every now and then.
Have a clutter-free garage.
Regain the space in your garage where you can now park that brand-new car you intend to purchase.
How to Dispose of Your Clunker in 3 Easy Steps
You can bid goodbye to your unwanted car by just following the three easy and hassle-free steps of our Pasadena, Maryland car donations process:
Either fill out our online donation form or call us at 866-540-5069 to start your car donation process. We'll need just a few bits of information about you and the vehicle you're donating such as its make and model, year, VIN, general condition, and title availability. This would only take a few minutes of your time.
Allow us to tow your car for free.
We'll assign a licensed towing company to pick up your vehicle at your preferred date, time, and place. Before your car is hauled off, the company will issue you a towing receipt that releases you from all liabilities on your car, enabling you to lawfully cancel your car registration and insurance coverage.
Get your tax deduction receipt.
You'll receive by mail a tax-deductible receipt within 30 days after the sale of your car. The receipt shows the selling price of your vehicle. If your vehicle was sold for less than $500, you can claim as your tax deduction the selling price or your vehicle's fair market's value of up to $500, whichever is higher. On the other hand, if your car is sold for more than $500, you can claim as your tax deduction the exact amount for which your vehicle was sold.
The Types of Vehicles You Can Donate
We at Breast Cancer Car Donations accept almost any kind of vehicle, running or not. Here's a list of the cars we accept for our Pasadena, Maryland car donations:
General vehicles: cars, vans, trucks, SUVs, trucks, pickups, and motorcycles
Recreational vehicles: RVs, campers, 5th wheelers, recreational vehicles, motorhomes, pop-up trailers Specialty vehicles: ATVs, riding lawnmowers, snowmobiles, motorized wheelchairs, golf carts, tractors, and farm equipment
Fleet vehicles: buses, passenger vans, cargo vans
Watercraft: yachts, motorboats, fishing boats, pontoon boats, jet skis
Aircraft: private jets, planes, and helicopters
Ditch Your Car and Save Lives!
Can you imagine the impact that your vehicle donation can have on the lives of women struggling to free themselves from the clutches of breast cancer? Thanks to your generosity, you can help save the lives of those women. Contact us at 866-540-5069 and turn your clunker into a lifesaver through Pasadena, Maryland car donations!
or Call Us Now at 866-540-5069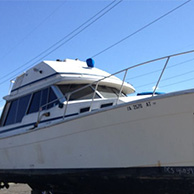 Excellent customer service!