Oxon Hill, Maryland Car Donations
Donate Your Vehicle and Save Lives!
Oxon Hill, Maryland Car Donations Help Individuals Overcome Breast Cancer
Taking part in our Oxon Hill, Maryland car donations program is the best move you can make if you're looking to dispose of your old and unwanted car. You would not send your beater off to the nearest car graveyard if you knew that it could serve a higher purpose when you donate it to us at Breast Cancer Car Donations for the benefit of breast cancer patients in the United States.
All About Oxon Hill, Maryland
Oxon Hill is located in the southern part of Prince George's County, Maryland. As of July 1, 2017, the census-designated place had a population of 18,599, half of whom comprised of women.
The early residents of Oxon Hill were from the Naval Research Laboratory or Air Force personnel. In addition, the apartment communities that are situated near D.C. are informally called by their original name "Glassmanor" although official names were already designated to them.
Breast Cancer and How It Affects Us
Being diagnosed with breast cancer is one of the scariest things that can happen to a person. It's both financially and emotionally straining. In the United States, death rates for breast cancer are higher than those for any other cancer types besides lung cancer. According to Breastcancer.org's U.S. breast cancer statistics, about 40,920 women are expected to die from the disease in 2018.
Without quick and proper treatment, the death rates could continue to rise. With the increasing breast cancer incidence rates in our country, vehicle donations made to our car donations fundraiser in the area would be of extreme help in providing breast cancer patients with the support and resources they need to fight off the disease.
If you have a car, motorcycle, or a boat that's just sitting unused in your garage, maybe it's time to donate it to serve a worthy cause. Once you donate it, there will be plenty of benefits waiting for you – including a hefty tax deduction.
The Nonprofits Involved in Oxon Hill, Maryland Car Donations
We at Breast Cancer Car Donations raise funding on behalf of certified 501(c)3 nonprofit organizations through our Oxon Hill, Maryland car donations program. The proceeds from the sale of your donated vehicle will go directly to these charities:
American Breast Cancer Foundation (ABCF)
ABCF dedicates its time to raising funds to enable women to undergo breast cancer screening to facilitate diagnosis and early detection of the disease that would greatly increase their chances of beating the disease. ABCF connects those diagnosed with breast cancer to local facilities where they would be able to have access to the support and resources they need to win the battle against the disease.
Women Involved in Nurturing, Giving, Sharing, Inc. (WINGS)
WINGS' mission is to bridge the gap between the diagnosis and treatment of breast cancer by providing affected individuals with a comprehensive treatment and other health services.
By donating your car to us, you'll be making a significant contribution to your community. If you want to donate your unwanted vehicle today, you can speak to one of our donors' reception officers by calling 866-540-5069.
What You Can Gain from Donating
Donating a vehicle to Breast Cancer Car Donations support our humanitarian cause entails a lot of benefits not only for our beneficiaries but also for our donors. Aside from the feeling of satisfaction and fulfillment you'll get from helping others who are in need, there are a lot of other good things that await you in our Oxon Hill, Maryland car donations program:
Donating your old vehicle to a qualified charity entitles you to a maximum tax deduction if you itemize your taxes. Since the charities we work with are IRS-approved 501 (c)(3) nonprofits, donations made to them would qualify you for a tax deduction for the next tax season.
Hassle-free donation process
You'll be able to get rid of a car you no longer want by just calling us within the comforts of your own home.
Save yourself from making costly payments for a car you don't even use
Monthly maintenance and insurance payments are quite expensive. Donating your car could help you keep your money instead and use it for a much better purpose.
Convenient disposal of unwanted vehicles
Donating eliminates the time wasted on posting listings and negotiating for the sale of your vehicle that you just want to be rid of. By donating it, you'll be able to dispose of your car and be done with it.
We'll take care of the paperwork
It is important to us that our donors go through a smooth donation process. With that, if you lost the title of your car, you need not worry. We'll help you secure a replacement title quickly.
Vehicles You Can Donate
If you have unwanted vehicles just sitting in your garage, donate them now to us! We highly appreciate multiple donations. To give you an idea what vehicles we accept, here is a list that may be of help to you:
Cars: sedans, SUVs, vans, trucks, motorcycles, buses, pickups
Boats: motorboats, sailboats, yachts, houseboats, fishing boats, jet skis
RVs: Recreational vehicles, campers, travel trailers, pop-up trailers, 5-wheelers
Specialty vehicles: ATVs, snowmobiles, motorized wheelchairs, riding lawn mowers, tractors, farm equipment
Non-commercial airplanes
Save a Life Today
Whether you're donating a perfectly running car or a car that doesn't start, you'll be able to make a difference in the lives of people afflicted with breast cancer. What are you waiting for? Fill out our online donation form or contact us at 866-540-5069 to join Oxon Hill, Maryland car donations today!
or Call Us Now at 866-540-5069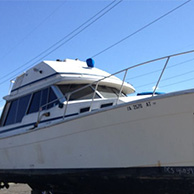 Excellent customer service!