Oregon Car Donations
Donate Your Vehicle & Transform Lives!
Join Oregon Car Donations and Help Fight Breast Cancer
Countless women and even some men in the United States who are valiantly fighting breast cancer need all the support they can get. Various nonprofit organizations are doing their share to help them financially and at the same time raise awareness on the frightening impact of breast cancer, especially when it is detected late.
It is the goal of Breast Cancer Car Donations to contribute to the campaign against breast cancer by encouraging people to take part in Oregon car donations.
Screening is very important for the early detection of cancer. But there are people in the state who just cannot afford the cost of this test, much less the treatment if they are found to be positive for breast cancer. That's why Oregon car donations are being encouraged as a way to provide support to cancer sufferers and help save or extend their lives.
Oregon: The 'Beaver' State
Oregon has a spectacular beauty that never fails to amaze tourists and locals. The state is home to vast forests, fertile valleys, volcanic peaks, plateaus, as well as its rugged coastline. It is an awe-inspiring experience for people to be standing on one of the cliffs in the state that overlook the Pacific Ocean.
Oregon is home to America's deepest lake, the Crater Lake. This lake has a depth of 1,932 feet. It is a sight that everyone should not miss. On a brilliant day, the lake has a brilliant blue color with an evergreen forest surrounding it. The lake is distinctly wondrous and a standout piece of the state's gorgeous terrain.
The state is known as the leading manufacturer of plywood and timber.
Breast Cancer Statistics in Oregon
Despite the vastness of its area, Oregon only has an estimated population of 4 million as of 2016. Currently, the state has a growth rate of 8 percent — the 22nd highest in the United States.
There are approximately 1.9 million women in Oregon. In terms of breast cancer incidence, the state has the second highest rate in the country with 128.6 incidents for every 100,000 population. Breast cancer is the leading form of cancer among women from all ethnic and racial groups in the state.
Early detection of breast cancer benefitted 74 percent of women in Oregon. The good news is that the mortality rate is lower in Oregon compared to other states. However, the leading cause of cancer death among Asian Pacific Islander women and Hispanics is still breast cancer.
Oregon Car Donations Create an Impact
Breast Cancer Car Donations serves as your link to nonprofit organizations. All that you need to do is to get in touch with us once you're ready to donate your vehicle. We will transform your Oregon car donations into a funding resource for spreading breast cancer awareness and supporting breast screening, diagnosis, and cancer treatment.
How to Participate in Oregon Car Donations
Donating a car is easy and fast. When you work with us, you simply need to do the following:
Fill out our online form or call us to inform us of your decision to donate your vehicle to support the campaign against breast cancer. If you have questions concerning this, we will answer all of them.
We will set up a time to pick up your vehicle free of charge.
The proceeds that we will get from selling your donated vehicle through auction will be used to generate funds for nonprofit organizations dedicated to fighting breast cancer.
We will mail you a tax receipt that you can use for documentation as well as tax deduction purposes.
Consider donating an old car or truck! Various types of vehicles including trucks, SUVs, motorcycles, RVs, boats, and vans can qualify for Oregon car donations. Donors may likewise give away their golf carts, jet skis, airplanes, and riding lawn mowers.
Reasons to Take Part in Oregon Car Donations
It all makes sense to donate a car, doesn't it? Here are some of the benefits you might want to take into account:
You will make a difference by helping in the early detection of breast cancer and supporting the treatment of breast cancer sufferers in the state.
Donating your car is hassle-free.
There is no need to advertise.
The donation process is easy and fast.
You no longer need to enter into a negotiation with a would-be buyer or trader.
You will be freeing up some space in your driveway or garage.
You will be free from any responsibility involving the maintenance of your car and insurance.
You will receive handsome tax benefits.
Donate a Car Now and Make a Difference
Spreading awareness about breast cancer can go a long way. By helping people become more aware and knowledgeable about this devastating illness, they will know how to avoid getting it. And if some of them still get hit by this disease despite their precautionary moves, they will be more prepared to deal with it.
Leave no room for procrastination. Instead, strive hard in all ways to be of help, to be kind, and to be charitable.
Call us now at 866-540-5069.
Donate a Car to Oregon Breast Cancer Nonprofits Today!
Looking for more information about donating in a particular area of Oregon? Click on one of the cities closest to you from the list below.
or Call Us Now at 866-540-5069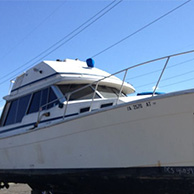 Excellent customer service!