Eugene, Oregon Car Donations
Donate Your Vehicle and Save Lives!
Eugene, Oregon Car Donations: Struggling Breast Cancer Patients in the Beaver State Need Your Help
Screening tests for breast cancer have enabled early detection and diagnosis, facilitating treatment and thus saving the lives of numerous patients. However, there are a whole lot of breast cancer patients in the country today who have not benefitted from screening tests and have been diagnosed with the disease at a later stage, making treatment much more difficult and expensive. These are the patients who are in desperate need of medical and financial assistance.
This is why Breast Cancer Car Donations exists. We operate on behalf of reputable cancer nonprofit organizations, helping fund their vital projects and services through vehicle donations.
When you take part in our Eugene, OR car donations program, you'll be supporting our IRS-certified 501(c)3 nonprofit partners in helping uninsured and underserved breast cancer patients gain access to various medical services. Your donated vehicle will also help them cover their hospital and medication fees, lessening the financial burdens for patients and their families. Additionally, cancer research facilities will get their own share of your vehicle's proceeds.
Breast Cancer Statistics as of 2019
BreastCancer.org estimates that there will be 268,600 new cases of invasive breast cancer and 62,930 non-invasive breast cancer in the United States this year, with 41,769 women dying from the disease.
As of January 2019, breast cancer has affected over 3.1 million women throughout the country. This figure comprises of women currently undergoing treatment and those who have successfully finished treatment.
Breast cancer is the second most commonly diagnosed cancer among American women, next to skin cancer. Experts estimate that about 30% of newly diagnosed cancers in 2019 will be breast cancers.
A Quick Guide to Our Donation Process
Unlike other car donation programs in Eugene, Oregon, we offer a donation process that's incredibly convenient and 100% stress-free! With us, you won't have to deal with tasks involving paperwork, nor will you be wasting cash for a towing company. We'll cover everything for you!
Making a Eugene, OR car donation with us will only take a few minutes of your time. To let you know what we mean, here's a summary of our donation process:
1. Get in touch with us.
You can either give us a call at 866-540-5069 or fill out our online donation form to jumpstart the process. We'll need to collect certain details about your vehicle, such as its year, make, model, mileage, present condition, and title availability. We'll also ask for your personal contact details, as we will be contacting you back after we verify all information pertaining to your automobile.
2. Say goodbye to your clunker!
You'll be the one to pick a date, time, and location for your vehicle's free pickup. Before our driver leaves with your car, he will hand you a towing receipt that releases you from any liabilities on your vehicle from that day onwards. You'll also need this document when you decide to de-register your car at the local DMV.
Should you be someplace else at the time of pickup, that's completely fine with us. Just be sure to leave your vehicle's title and keys behind, and also, give us a heads up!
3. Say hello to a big tax deduction!
Several days following the successful auction of your Eugene, OR car donation, we'll send you your 100% tax-deductible sales receipt by mail. The receipt tells you the final selling price of your vehicle, which will serve as the basis of your tax deduction claim when you file your itemized federal income tax return in the next tax season.
If your car was bought for more than $500, you can claim the exact selling price as your tax deduction. If we sold it for $500 or less, you can claim either its selling price or its fair market value, whichever is higher. For more information, refer to our FAQs page or talk to our experts at 866-540-5069.
Receive Rewards for Your Eugene, OR Car Donation
We at Breast Cancer Car Donations love seeing our beneficiaries AND donors happy. As our way of showing you our appreciation, we're giving you tons of benefits to enjoy. While you're already aware of the tax benefits that await our donors, you might be curious to know the other perks that you will get to enjoy. Here they are:
You dispose of an unwanted clunker without spending a dime.
You get to schedule our free pickup at your own convenience.
You skip the difficulties of advertising and reselling a used car.
You avoid the hassles of paperwork.
You save money when you stop paying for your car's upkeep, repair, and insurance fees.
You free up space in your garage.
You get an opportunity to team up with the country's leading nonprofits that are battling breast cancer.
You experience a sense of fulfillment knowing that you're supporting a worthy cause with your Eugene, OR car donation.
Kinds of Vehicles We Usually Accept
There's no reason to be worried about donating an automobile with a few missing parts, or perhaps one that's no longer in good running condition. As long as it's not a complete wreck, we'll gladly have it for our Eugene, OR car donations program.
We welcome almost all types of vehicles whether used on land, air, or sea. Here's a list of what we normally accept for donation:
Standard cars: sedans, buses, pickups, SUVs
Recreational vehicles: campers, motorhomes, travel trailers, pop-up trailers
Motorcycles: mopeds, dirt bikes, cruisers, sports bikes
Specialty vehicles: motorized wheelchairs, ATVs, golf carts, riding lawnmowers
Aircraft: non-commercial planes, helicopters, choppers, gliders
Watercraft: jet skis, sailboats, catamaran boats, fishing boats
Do you think you have to get your car fixed first before handing it over to our Eugene, OR car donations program? Talk to us first! We're pretty sure we'll take it as it is!
Get the Donation Process Started Today!
Donating an old clunker might sound nothing special to you, but it's really a powerful way to help save lives. You get to support a number of patients, fund vital research, and spread breast cancer awareness with it. Make a Eugene, OR car donation with us now!
Call Breast Cancer Car Donations at 866-540-5069! Your tax deduction awaits you!
or Call Us Now at 866-540-5069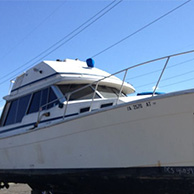 Excellent customer service!