Salem, Oregon Car Donations
Donate Your Vehicle and Save Lives!
Salem, Oregon Car Donations: Help Save Lives and Enjoy Tax Benefits
Everyone knows that breast cancer is one of the deadliest diseases in the world. In the U.S. alone, the disease claims tens of thousands of lives in just a single year. Together with Breast Cancer Car Donations, you can help reduce the numbers and give suffering victims a second shot at life.
You can do this by taking part in our Salem, OR car donations program. When you do so, you'll be extending your support to needy breast cancer patients in your area who are fighting for their dear lives. You'll play a vital role in saving their lives.
Where Your Donation Will Go
Breast Cancer Car Donations has partnered with two of the country's top cancer nonprofit organizations, the American Breast Cancer Foundation (ABCF) and Women Involved in Nurturing, Giving, Sharing, Inc. (WINGS). Through our nationwide car donation programs, we help fund these nonprofits to help them in delivering a wide range of breast health services to uninsured and underserved patients.
The proceeds from the sale of your Salem, OR car donation will enable these charities to sustain their delivery of the following services:
Providing financial assistance to uninsured and underprivileged patients
Providing patients access to medical resources
Sponsoring outreach programs to benefit patients and their families
Holding local and national campaigns to generate more public awareness about breast cancer
Helping fund research on breast cancer prevention, screening, diagnosis, and treatment
Benefits Galore for Our Donors
The needy breast cancer patients in your city will not be the only beneficiaries of your Salem, OR car donation. In fact, you'll also be getting your own share of rewards when you team up with us. To repay you for your generosity, we're giving you the privilege to enjoy these perks:
A quick and convenient donation process
Allow us to take care of your documents while you simply sit and wait for your tax-deductible receipt to arrive in your mailbox. Our team will manage all the paperwork on the transfer of ownership, issuance of your tax receipt, and statement forms that verify your car donation.
We'll coordinate with a local licensed towing company and cover all the fees for its services. You can even set the date, time, and place for the pickup of the vehicle you're donating.
Now that you've gotten rid of your clunker, you don't have to pay for its repairs, maintenance, and insurance anymore. Think about the bundles of cash you could finally save!
Avoid the hassles of reselling a used vehicle yourself.
Donating your automobile instead of reselling it can be a huge time- and money-saver. You'll be skipping the troubles of newspaper listings and ad placements, and you don't have to waste money paying for costly repairs anymore.
Free up space in your garage
Tired of seeing your garage all messed up? Well, now is your chance to finally give it the makeover you've always longed for!
Our donors can all agree that getting a tax deduction is the greatest reward they can get from their Salem, OR car donations. Depending on your car's selling price, you could get a deduction of $500 or even higher!
A Donation Experience That's 100% Stress-Free
If you're planning to donate a car in Salem, Oregon, Breast Cancer Car Donations is your best pick. Aside from the tax benefits that you'll get from your donation, you'll also be amazed by the convenience of our donation process. We've made sure that our donors wouldn't experience any stress as they donate, which is why we've come up with this quick and simple three-step process:
1. You get in touch with us.
Once you've made up your mind to contribute to our Salem, OR car donations program, let us know about it through a phone call. Tell us a bit about the vehicle you plan to donate, including its make and model, how old it is, and its present condition and mileage. Another option is to fill out our online donation form, whichever works best for you.
2. We haul your vehicle away.
Expect a tow truck in your place, or at the location you specified, a day or two following your offer to donate. Our driver will issue you a tow receipt, thereby giving you the freedom to de-register your car at the local DMV anytime you wish to.
If you can't be around at the time of the pickup, that's completely alright with us. Just be sure to inform us ahead of time. We'll ask you to leave your vehicle's title and keys behind since we need them in selling your vehicle at auction.
3. We mail you a 100% tax-deductible sales receipt
Within 30 days following the sale of your Salem, OR car donation, we'll send you your 100% tax-deductible sales receipt. See to it that you keep this document safe since you'll need it when you claim your tax deduction in the next tax filing season.
Have a question for us? One of our specialists would love to help you out! Send us a message online or give us a call at 866-540-5069.
Vehicles We Take as Salem, Oregon Car Donations
Here at Breast Cancer Car Donations, we accept not just cars. We actually welcome nearly all types of vehicles regardless of their age, mileage, and condition. You might be surprised to learn that we gladly accept even vehicles with certain parts that are no longer functioning.
The only instance when we turn down an offer is when the vehicle being offered for donation is an abandoned or stolen one. This is why we require our donors to submit the vehicle's title together with their donation. Don't hesitate to ask for our assistance if your vehicle's title is no longer in your possession.
Apart from cars, feel free to donate other vehicles such as trucks, vans, buses, motorcycles, scooters, and mopeds. We also love accepting RVs, motorhomes, travel trailers, and campers, as well as unique ones like riding lawnmowers, motorized wheelchairs, ATVs, tractors, golf carts, and snowmobiles.
Boat and plane donations are also acceptable in our Salem, OR car donations program. Whether you got a jet ski, fishing boat, yacht, sailboat, or catamaran boat, we'll be happy to have it with us.
Get Started Today!
Tired of seeing your clunker sitting idly in your driveway? Use it to save lives now! Make a Salem, OR car donation with us and call us at 866-540-5069!
or Call Us Now at 866-540-5069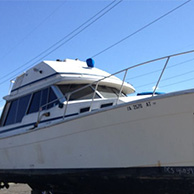 Excellent customer service!