Portland, Oregon Car Donations
Donate Your Vehicle and Save Lives!
Portland Car Donations: You Can Help Increase Survival Rates of Breast Cancer Patients
What is Breast Cancer and How Does This Affect Your Community?
Breast Cancer is a life-threatening disease in which malignant cancer cells multiply in the breast. A person can be predisposed to breast cancer if he has a genetic abnormality that was inherited from a parent or a genetic abnormality that happens as a result of the normal aging process.
U.S. breast cancer statistics show that 12 percent of American women will be diagnosed with this disease within their lifetimes. To illustrate this further, in the U.S. a woman is diagnosed with breast cancer every two minutes and one woman dies from it every 13 minutes. This makes breast cancer the second leading cause of cancer death among women across the nation.
The fact of the matter is that breast cancer chooses no one. It would unfortunately and eventually affect a number of the 294,565 women in Portland. However, there is a way to mitigate, if not eliminate, its devastating effects.
Who We Are and What We Can Do to Help
We at Breast Cancer Car Donations manage car donation programs, such as our Portland car donations program, on behalf of certified 501(c)3 nonprofit organizations so that they can focus on running their programs that are directed towards breast cancer prevention, screening, diagnosis, treatment, and cure. We're proud of our partnership with:
American Breast Cancer Foundation (ABCF)
ABCF seeks to provide education, medical access, and financial assistance to the uninsured and underserved people who are battling breast cancer across the United States. Its link and referral systems allow breast cancer patients free access to local resources, services, and information that are ethnically and linguistically appropriate to the needs of these individuals. Its mission is to reduce disparities in access to breast cancer diagnosis and treatment particularly among the poor.
Women Involved in Nurturing, Giving, Sharing, Inc.

 

(WINGS)
WINGS provides breast cancer treatment including surgery, oncology services, hospital fees, outpatient medications and other services, as needed. The people behind WINGS aim to fill the vacuum that exists between detection and treatment. Beyond treatment, WINGS is dedicated to raising breast cancer awareness and outreach.
When you make Portland car donations, you can be confident that the proceeds of your vehicle's sale would be used to fund programs that provide accessible and comprehensive breast health services that would exclusively benefit the people of Portland, Oregon. Your donation would help nonprofits to improve their existing prevention strategies and develop better treatment modalities. In other words, you can help increase the survival rates of those who are affected by breast cancer in your city when you donate that useless clunker of yours that you've been holding on to for quite some time now.
How to Donate a Car in Portland
You don't have to break a sweat or lift a finger (except to call us) to get your junky old car off your hands. Our car donations process is so ridiculously simple that you could get it done in no time! Here's how:
You can call us at 866-540-5069 and tell us more about your vehicle. When was it purchased and what's the brand and model? You can also choose to fill out our online donation form.
Schedule your FREE pickup.
Just give us the time and place and we'll be there to haul your vehicle away free of charge!
Receive your IRS tax-deductible receipt.
Within a few days after we sell your vehicle, you will get your tax-deductible receipt by mail. As soon as you itemize your deductions on your federal tax return, you can claim your top tax deduction!
The Types of Vehicles That We Accept
We're not picky! Breast Cancer Car Donations accepts nearly all kinds of vehicles for Portland car donations as long as you show us your proof of ownership. In case you're wondering, we'd be more than happy to take multiple donations too!
Still not sure your vehicle would make the cut? Here's a complete list of the vehicles we accept:
Cars:

 sedans, vans, SUVs, trucks, motorcycles

Boats:

 sailboats, motorboats, fishing boats, yachts, pontoon boats, houseboats, personal watercraft (like jet skis)

RVs:

 recreational vehicles, motorhomes, campers, travel trailers, pop-up trailers, 5-wheelers

Specialty vehicles:

 ATVs, snowmobiles, motorized wheelchairs, riding lawn mowers, tractors, farm equipment

Fleet vehicles:

 cars, passenger vans, cargo vans, SUVs, pickups, trucks, buses
Together We Can Make a Difference
There are over 3.3 million breast cancer survivors in the United States. With our combined efforts, we can still help those who are affected by breast cancer to live better, live longer and to never die from this disease.
Help give the women of Portland a real chance at fighting against breast cancer. Contact us or call us at 866-540-5069 and get free towing services for your Portland, Oregon car donations!
or Call Us Now at 866-540-5069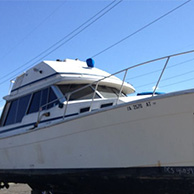 Excellent customer service!