Olney, Maryland Car Donations
Donate Your Vehicle and Save Lives!
Olney, Maryland Car Donations: Help Breast Cancer Patients Live Longer and Better Lives
Participating in our Olney, Maryland car donations program not only gives you a chance to dispose of an unwanted vehicle; it also gives you an opportunity to help breast cancer patients live longer and better lives. By making a vehicle contribution to Breast Cancer Car Donations, you would be able to make a positive impact on the lives of breast cancer-stricken individuals in your community.
What You May Not Know About Breast Cancer
According to Breastcancer.org, about one in eight American women is at risk for developing invasive breast cancer within her lifetime. The risk doubles if the person has a first-degree relative who has a history of the disease.
The treatment costs for breast cancer could cause a financial strain for many families – whether the breast cancer patient is insured or not. If the patient is unemployed, the expenses may become overwhelming. This is exactly the reason why many people who have been diagnosed with breast cancer choose to discontinue their expensive treatment.
Approximately 266,120 new cases of invasive breast cancer are expected to be diagnosed in women in the United States this year, and 40,920 women are expected to die because of it. Without receiving proper treatment, the numbers may still rise. When you take part in our Olney, Maryland car donations fundraiser, you'll be able to give breast cancer patients a chance to enjoy longer and healthier lives.
Discovering Olney, Maryland
With a total population of 35,336, Olney is a culturally diverse and family-friendly town that has gone through many changes. The town is situated in the north-central part of Maryland and is about 20 miles from Washington D.C.
Olney's welcoming and peaceful atmosphere is what draws people to the small town. The residents are down to earth and are ready to offer help when one needs it the most. If you're an Olney local, lending a hand comes naturally to you.
How You Can Help Individuals with Breast Cancer
For every vehicle donated to our Olney, Maryland car donations program, a portion of the proceeds will go to the ongoing research for breast cancer while the rest will be directly given to the nonprofit organizations that we at Breast Cancer Car Donations are in partnership with. With the funds, our partners would be able to focus their efforts on saving the lives of women with breast cancer by granting them access to programs that deliver vital breast health services. The services include:
Raising public awareness about the early diagnosis, prevention, and treatment for breast cancer;
Women empowerment programs that would encourage and inspire women to overcome this disease;
Providing funds that would help individuals with breast cancer with the costs of surgery, lab tests, screenings, and other health services.
You can't even begin to imagine how your car donation could impact the lives of those whose lives were touched by breast cancer. If you're interested in donating to us your unwanted vehicle, call 866-540-5069 to kick-start your donation process today!
The Perks of Participating in Olney, Maryland Car Donations
Participating in our car donation program comes with a lot of benefits for the donors. For contributing to our cause with your car donation, you deserve to reap your share of rewards.
Here are the things you can expect to enjoy when you donate your car to Breast Cancer Car Donations:
Easy and straightforward donations process
With just three steps, you'll not only get a chance to rid yourself of an old clunker, you would also get a chance to save thousands of lives.
Our partnership with 501 (c)(3) nonprofit organizations makes your car donation eligible for a tax deduction that you can claim in the next tax season.
No need to sell your car by yourself
By donating your car, you'd avoid going through the hassle of advertising and negotiating for your car's sale.
Donating your car means putting an end to costly maintenance and insurance payments for a car you don't even use anymore.
Feel good knowing that you donated your vehicle to support a worthy cause.
Vehicles That We'd Gladly Accept
We at Breast Cancer Car Donations accept a wide variety of vehicle donations in our Olney, Maryland car donations program. We'll make sure to find something useful for each donated vehicle—whether they're working or not.
Here is a list of vehicles we will be happy to accept:
Motorcycles
Boats
Cars
Trucks
Vans
SUVs
Jet skis
Snowmobiles
RV
Campers
Trailers
Airplanes
Golf carts
Farm equipment
Fleet vehicles
Riding lawnmowers
If you have more vehicles to donate, we'd gladly accept them all! The more vehicles you donate, the more breast cancer sufferers we will be able to serve and the more lives we will be able to save!
How to Donate
One of the biggest perks when you take part in our Olney, Maryland car donations fundraiser is its easy and hassle-free donation process. All you need to do is to follow these three simple steps:
Fill out our online donation form or call us at 877-593-5822 to start your donation process.
Once your request is confirmed, we'll pick up your vehicle at a time and date of your choice – for free.
After your car is sold at an auction, a tax deduction receipt will be sent to your address within 30 days. You can also call us from time to time to check on the status of your donation.
Start Today!
Do you have an unused car that's just sitting in your garage? Are you having a hard time coming up with ways to dispose of it? Get rid of it by simply donating it to Breast Cancer Car Donations today. In doing so, you'll be able to touch the lives of thousands of people who have been diagnosed with breast cancer!
Contact us at 866-540-5069 and get free towing services for your Olney, Maryland car donations!
or Call Us Now at 866-540-5069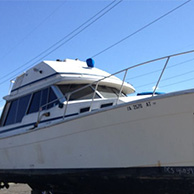 Excellent customer service!