North Tonawanda, New York Car Donations
Donate Your Vehicle and Save Lives!
North Tonawanda, New York Car Donations: Turn Your Vehicle into a Tool to Save Lives
If you're planning to get rid of an old and unwanted car, it would be a perfect idea to hand it over to our North Tonawanda, New York car donations program. When you do so, your automobile suddenly becomes a tool for generating much-needed funds for saving the lives of women struggling with breast cancer.
Affecting hundreds of thousands of lives in the country, breast cancer remains as the second leading cause of cancer deaths among American women. Although breast cancer death rates have been decreasing for the past several years, the number of cases and deaths remains alarming. Moreover, the cost of treatment remains beyond the reach of many breast cancer patients and their families.
By teaming up with Breast Cancer Car Donations, you make it possible for these unfortunate individuals to get the assistance they badly need. We transform your North Tonawanda, New York car donations into sources of funds that our nonprofit organization partners use to deliver essential breast health services to all individuals who need them, particularly destitute breast cancer victims. Some of the services they provide include:
Providing financial assistance to uninsured and underserved breast cancer patients to enable them to get the full range of treatment;
Helping breast cancer patients manage the unpleasant side effects of treatment;
Empowering and inspiring breast cancer-stricken women and their families;
Providing funds for cancer research;
Raising breast cancer awareness to the public
How Does Our Car Donation Process Work?
One of the great things about our car donations fundraiser in the area is that our donors wouldn't have to go through a lengthy and tiresome donation process. With us, you don't need to waste your time and effort looking for a reliable and affordable towing service, nor will we require you to process any form of paperwork. Everything is completely on us! All you have to do is to reach out to us, telling us your intent to donate a car.
Once you've made up your mind to donate your car to us, give us a call or fill out our online donation form. Tell us certain details about the vehicle you're donating such as its make and model, year, mileage, VIN, general condition, and title availability.
We will then agree on a date, time, and place for us to pick up your vehicle at your convenience.
A tow truck will come to haul off your car, normally a day or two after your initial phone call to us. If you can't be around at the time of the pickup, it's fine with us. Just make sure to leave your car's title and keys behind. Before the truck leaves, you will be given a towing receipt that will free you from all liabilities on the car you're donating, which means you can now cancel its registration and insurance coverage.
Within 30 days after we auction off your vehicle, we'll send you your 100 percent tax-deductible sale receipt, indicating your donated vehicle's selling price. This will serve as the basis of your tax deduction claim when you file your itemized federal income tax return for the next tax-filing season.
That's pretty much the whole procedure you'll be going through with us. If you find it surprisingly simple and convenient, go ahead and make your donation now. Give us a call at 866-540-5069 today.
What's in It for You When You Donate a Car
Aside from the fact that you'll get to enjoy a hefty tax deduction when you take part in our North Tonawanda, New York car donations program, you'll get to receive other benefits that'll make you feel glad to work with us. Expect to receive these perks:
You no longer have to pay for your car's maintenance, insurance, or registration fees.
You remove an unwanted vehicle on your property with the least effort on your part and at no cost to you.
You free yourself from the stress of paperwork.
Your car gets towed for free.
You avoid the complicated process of selling and advertising your car.
You regain space in your garage, where you can now park the new car you intend to buy.
You get that special joyful feeling, knowing that your car donation will make a significant impact on the lives of breast cancer patients and their families.
The Types of Vehicles We Accept for Donation
Another reason why our donors love us is that we accept nearly all types of vehicles in our North Tonawanda, New York car donations fundraiser. We accept even vehicles that are not in good running condition or have a few missing or defective parts. What only matters to us is the value of your car. As long as we see that it can still generate funds, we'll be glad to have it with us.
You may find this list of acceptable vehicles helpful:
General vehicles: cars, vans, trucks, SUVs, trucks, pickups, and motorcycles
RVs and campers: RVs, campers, 5th wheelers, recreational vehicles, motorhomes, pop-up trailers Specialty vehicles: ATVs, riding lawnmowers, snowmobiles, motorized wheelchairs, golf carts, tractors, and farm equipment
Fleet vehicles: buses, passenger vans, cargo vans
Watercraft: yachts, motorboats, fishing boats, pontoon boats, jet skis
Aircraft: private jets, planes, and helicopters
We accept multiple vehicle donations. So if you're thinking of getting rid of two or three vehicles, feel free to donate them all to us!
Contact us if you have questions about our car donation process and other related matters.
Say Goodbye to Your Old Car
Are you ready to part ways with your old car and give it a new purpose? Use it to save lives of breast cancer patients. Call us at 866-540-5069 and get started with your North Tonawanda, New York car donations!
or Call Us Now at 866-540-5069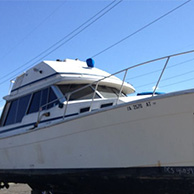 Excellent customer service!