Niagara Falls, New York Car Donations
Donate Your Vehicle and Save Lives!
Niagara Falls, New York Car Donations: Join the Fight against Breast Cancer by Giving Away Your Old Vehicle
Participating in our Niagara Falls, New York car donations program is one of the best ways you can support women with breast cancer. By giving away a vehicle that you no longer need, you provide them the hope of surviving the disease. Here's how.
Breast Cancer Car Donations is a platform that has a commitment to help breast cancer patients and their families in all ways possible. We do this by transforming old or unused automobiles into funds that empower our reputable nonprofit organization partners, the American Breast Cancer Foundation and Women Involved in Nurturing, Giving, Sharing, Inc. Your vehicle donation allows these charities to cater to all individuals seeking a wide range of breast health services, including the various modes of treatment.
Part of the funds that came from our car donations fundraiser in this area also goes to cancer research institutes, funding their studies on the devastating disease. A car that's totally useless to you can thus serve as a powerful tool against breast cancer.
A Fast and Convenient Donation Process for Our Donors
If you're already planning to donate a car in Niagara Falls, New York for the benefit of breast cancer patients, it makes sense to choose us as your partner. Apart from providing cancer-stricken women all the support they need, we also try our best to offer excellent service to our donors.
At Breast Cancer Car Donations, donors like you don't have to undergo a donation process that requires tons of documents. As a matter of fact, we'll be happy to do all the necessary paperwork for you. You don't also have to worry about looking for an affordable towing company – we have it all taken care of!
Just let us know if you've made up your mind to join our Niagara Falls, New York car donations fundraiser. You can either fill out our online donation form or give us a quick call at 866-540-5069. Once we verify certain details about your vehicle, we'll set a schedule for picking up your vehicle, which will be at your own convenience.
A professional towing will arrive on schedule for the pickup. We don't really require our donors to be around, just as long as we get hold of the vehicle's keys and title. Don't even bother paying for it! Before we take away your vehicle, we'll give you a towing receipt that releases you from any liabilities on your donated vehicle from then on. You can use this receipt to cancel your vehicle's registration and insurance.
We generate funds from your donated vehicle by auctioning it off. The proceeds are used to support the programs of our nonprofit partners that are all geared to helping breast cancer patients and their families.
Expect a 100-percent tax-deductible sales receipt in your mailbox within 30 days after we sold your vehicle. The receipt shows the amount for which your car was sold at the auction. The indicated amount serves as the basis of your tax deduction claim when you file your itemized federal income tax return for the next tax season.
Visit our FAQs page if you're eager to know more about us, our donation process, tax deductions, or anything in particular.
Great Things to Enjoy with Your Car Donation
When you take part in our Niagara Falls, New York car donations program, you give hope to breast cancer patients that they can survive the disease and live happy normal lives again. You should know, however, that you also get to have your own taste of happiness from your kind act.
There's a good number of benefits waiting for you when you donate a car to Breast Cancer Car Donations, one of which is you get a maximum tax deduction. Here are the rest of your benefits:
Go through a smooth-sailing donation process.
With us handling all the documents, the only thing you need to do is contact us.
Say goodbye to spending huge cash for a car you rarely or don't use anymore.
Now that your vehicle is off your hands, there's not a need for you to worry about paying for its repair, maintenance, registration, and insurance.
Spare yourself from experiencing the complicated and risky process of selling.
Looking for potential clients can be time-consuming and frustrating, especially if you're dealing with the stubborn ones. You might even need to give out your private details, which can be quite risky.
Get rid of an unwanted car without taking anything out of your wallet.
Everything's for free when you donate to us, including the towing!
Regain space in your driveway or garage.
Now that your old car is gone, you can park a new vehicle in your garage!
Feel great about yourself for doing a charitable act.
Thousands of women who suffer from breast cancer have the chance to receive treatment and support, thanks to your Niagara Falls, New York car donations.
Your donation can also help in the discovery of more effective ways of diagnosing and treating breast cancer and possibly the long-sought cure for the deadly disease.
Donate to us now and you'll be amazed at the wonders your old and unwanted car can do. Contact us at 866-540-5069 today.
The Types of Vehicles We Accept
At Breast Cancer Car Donations, we accept nearly all types of vehicles, even those that are no longer in good shape. As we will be sending a tow truck to haul off your vehicle, there's no need for you to be ashamed about donating a rundown automobile. Just talk to us if you're having certain problems with your car's condition.
To let you know about the vehicle types we accept for our Niagara Falls, New York car donations program, we've prepared a short list for you:
Common vehicles: sedans, SUVs, vans, trucks
Recreational vehicles: motorhomes, campers, travel trailers, popup trailers
Motorcycles: dirt bikes, mopeds, sports bikes, scooters
Watercraft: tugboats, cruise ships, jet skis, cabin boats
Specialty vehicles: motorized wheelchairs, farm equipment, ATVs, golf carts
Aircraft: helicopters, corporate jets, private planes
Make a Change with Breast Cancer Car Donations Now
Do you want to see an end to breast cancer? You can be part of the reason for it when you join forces with us at Breast Cancer Car Donations. Call us at 866-540-5069 and get started with your Niagara Falls, New York car donations!
or Call Us Now at 866-540-5069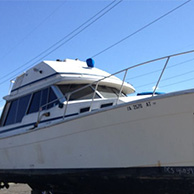 Excellent customer service!