New Orleans, Louisiana Car Donations
Donate Your Vehicle and Save Lives!
New Orleans, Louisiana Car Donations: Take a Step to Saving Lives of Breast Cancer Victims
You can play a major role in saving the lives of women afflicted with breast cancer by donating an old and unwanted car to our New Orleans, Louisiana car donations program. You can help us at Breast Cancer Car Donations in fighting this devastating disease without you leaving the comforts of your home. You can do so simply by calling us to donate your car.
Breast cancer sufferers are not just numbers. They have faces and they are everywhere. They can be in your own home, community, office, and among your friends and neighbors.
Don't you want to extend a helping hand to these people who are desperately clinging for dear life? The heroic act of saving people's lives will not cost you even a dollar and will not take much of your time and energy. All you have to do is call us at Breast Cancer Car Donations at 866-540-5069 and signify your intent to donate a car for the benefit of breast cancer victims.
As of 2017, the U.S. Census Bureau placed the population of New Orleans at 343,829. Of this number, 177,581 are women – a good number of them potential victims of breast cancer. Currently, the average risk of a woman in the United States developing breast cancer sometime in her life is about 12 percent. This means there is a one in eight chances that she will develop breast cancer.
About New Orleans, Louisiana
New Orleans is a unique city in southeastern Louisiana. The area's ideal location — sweeping the mouth of the great Mississippi-Missouri river system, which empties into the interior of North America — made it a pawn in the battles of Europeans for power over North America.
Because of the mix of foreign cultures, the citizens of New Orleans developed their own distinctive heritage and culture. People of African lineage played a role in making New Orleans the cradle of jazz music.
New Orleans is an urban area of paradoxes and contradictions: Although it shares the urban issues plaguing other U .S. metropolitan regions, it has nonetheless kept an enthusiastic and free spirit, possibly best epitomized by its carnival season, which culminates in the well-known yearly Mardi Gras, when over a million people swarm the highways.
The city boasts of a strong economic base: it is the most progressive city in Louisiana and one of the country's most significant ports, a huge tourist resort, as well as an industrial, medical, and educational center.
How Your Car Donations Will Be Used to Fight Breast Cancer
The proceeds from your New Orleans, Louisiana car donations will go straight to our two charity partners — the American Breast Cancer Foundation (ABCF) and Women Involved In Nurturing, Giving, Sharing, Inc. (WINGS). These are two of the nation's most trusted non-profits. They use the funding we generate for them to sustain and improve their existing services, such as:
Providing financial assistance to uninsured and underserved breast cancer patients, covering their surgery, oncology services, consultation, hospital fees and outpatient medication;
Connecting these patients to local facilities that offer free and accessible resources, information and other comprehensive breast health services;
Raising public awareness on breast cancer prevention, diagnosis, and treatment;
Pursuing research on prevention, screening, diagnosis, and treatment of breast cancer; and
Sponsoring charity and outreach events for the benefit of breast cancer patients.
The Rewards that Await You as Car Donor
Aside from the deep sense of satisfaction you'll get for being a life-saver, you will also get to enjoy material rewards for your generosity when you contribute to our New Orleans, Louisiana car donations program. They include:
Free pick-up and towing of a vehicle you long wanted to dispose of;
Save money by not paying any more for car repair, registration, and insurance;
No need to bother with paperwork – we do that for you;
More space in your backyard or garage to house your new car;
Avoid the hassles of selling a car.
Our Fast and Easy Car Donation Process
We made our New Orleans, Louisiana car donations process as fast and easy as possible for the convenience of our donors. All you have to do is follow three easy steps:
Get in touch with us either by filling out our online donation form or calling us at 866-540-5069. Tell us a few details about your vehicle such as its year, make, model, mileage, general running condition, and availability of title.
After we receive your request, you can schedule the fast and free pick-up at your earliest convenience. We'll immediately arrange for a local towing company to get your vehicle. We will give you a donation receipt that releases you from all liabilities on your car, giving you the right to cancel your car insurance and registration.
Within days after the sale of your vehicle, we'll send you your 100 percent tax-deductible sale receipt, indicating your donated vehicle's final selling price. This will serve as the basis of your tax deduction claim when you file your itemized federal tax return.
The Types of Vehicles You Can Donate
We accept almost all types of vehicles in our New Orleans, Louisiana car donations program. It doesn't even matter if the vehicle you're donating has a few defects and not in running condition. Chances are, we will still accept it. We only say no to abandoned cars since proof of ownership is a prerequisite for selling. We also cannot accept vehicles that are a total wreck or those with little or no value.
No need to worry if you've lost the title of your vehicle. We can help you get a replacement title so you can still donate it.
We love multiple donations because more needy breast cancer patients would benefit from them. You may find this list of acceptable vehicles helpful:
Cars: sedans, vans, SUVs, trucks, motorcycles
RVs: recreational vehicles, motorhomes, campers, travel trailers, pop-up trailers, 5-wheelers
Specialty vehicles: ATVs, snowmobiles, motorized wheelchairs, riding lawn mowers, tractors, farm equipment
Fleet vehicles: cars, passenger vans, cargo vans, SUVs, pickups, trucks, buses
Watercraft and aircraft: sailboats, motorboats, fishing boats, yachts, pontoon boats, houseboats, jet skis, non-commercial airplanes
Donate Now!
If you're ready to make your New Orleans, Louisiana car donations, call us now at 866-540-5069. We assure you of a most pleasant and rewarding donation experience!
or Call Us Now at 866-540-5069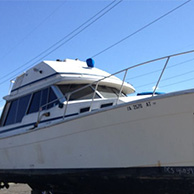 Excellent customer service!